RWBY is scheduled for a for December 9th release with soundtrack CD, original case art, booklet, illustration card and episodes 1-10 at 8,000 ($65) yen plus tax for the limited edition, 5,800 ($47) yen for standard Blu-ray and 4,800 ($39) yen for standard DVD. Plans include a limited preview screening with a special edition offered at six theaters on November 14th.
To help promote the Japanese Blu-ray release of RWBY, Warner Bros. Japan began streaming the first seven minutes of the Japanese dub of RWBY on Friday.
The cast includes:
Saori Hayami (Yukino Yukinoshita from Oregairu) will voice Ruby Rose
Yoko Hikasa (Mio Akiyama in K-ON!) is voicing as Weiss Schnee
Yuu Shimamura (Annie Leonhart in Attack on Titan) voicing the role of Blake Belladonna
Ami Koshimizu (Ryuuko Matoi from Kill la Kill) as Yang Xiao Long
Hiro Shimono (Akihisa Yoshii from Baka to Test to Shoukanjuu) as Jaune Arc
Aya Suzaki (Kana Tachibana from Gokukoku no Brynhildr) as Nora Valkyrie
Megumi Toyoguchi (Revy from Black Lagoon) as Pyrrha Nikos
Saito Soma (Swallow Cratsvalley from Chaos Dragon: Sekiryuu Seneki) as Lie Ren
Kazuhiko Inoue (Kakashi Hatake from Naruto) as Ozpin
Masumi Asano (Hakufu Sonsaku from Ikkitousen) as Glynda Goodwitch
Subaru Kimura (Kanba Takakura from Mawaru Penguindrum) as Cardin Winchester
Megumi Han (Gon Freecss from Hunter x Hunter) as Penny
Shin-ichiro Miki (Gintarou from Gingitsune) as Roman Torchiwick
The Blu-ray and DVD boxes will feature illustration by Rooster Teeth and will be released on December 9, 2015. It will be available in both Japanese and the original English dubs. English and Japanese subtitles will also be available.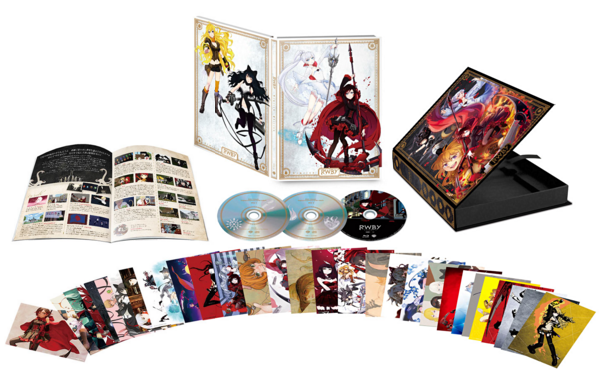 Volume 1 cover: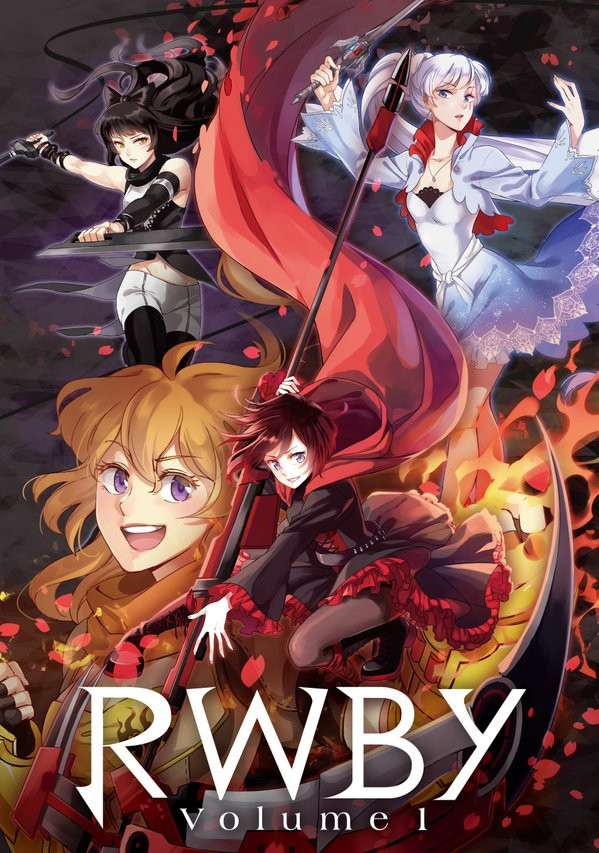 Visual:
RWBY (pronounced "Ruby") is an American anime-influenced web series created by Monty Oum for Rooster Teeth Productions. The show is set in the fictional world of Remnant, which is filled with supernatural forces. The series focuses on Team RWBY, which consists of Ruby Rose (Lindsay Jones), Weiss Schnee (Kara Eberle), Blake Belladonna (Arryn Zech) and Yang Xiao Long (Barbara Dunkelman). The first episode was released on the Rooster Teeth website on July 18, 2013, following an exclusive screening at RTX. The second volume premiered on July 4, 2014, at RTX and to the general public on July 24, 2014.
Following its announcement, the show became a viral hit, resulting in many cosplays and fan adaptations. One of these adaptations, a video game titled RWBY: Grimm Eclipse, was later officially adopted by Rooster Teeth, and is currently under development.
On February 1, 2015, Monty Oum died as the result of a coma that was caused by an allergic reaction during a medical procedure. This left the future of the series uncertain for a brief period of time until voice actor Gray Haddock announced that the series will continue, and that Volume 3 will premiere in 2015 as planned.
You can visit the Japanese website of RWBY here: http://rwby.jp/