The girls from the Fate/kaleid liner Prisma Illya series has been featured as a poster in the August 2016 issue of Megami. You can purchase this issue of Megami magazine here (get 5% off with coupon code MOE-N3Y-4YW0QK) and you can view the other posters that come in this issue here.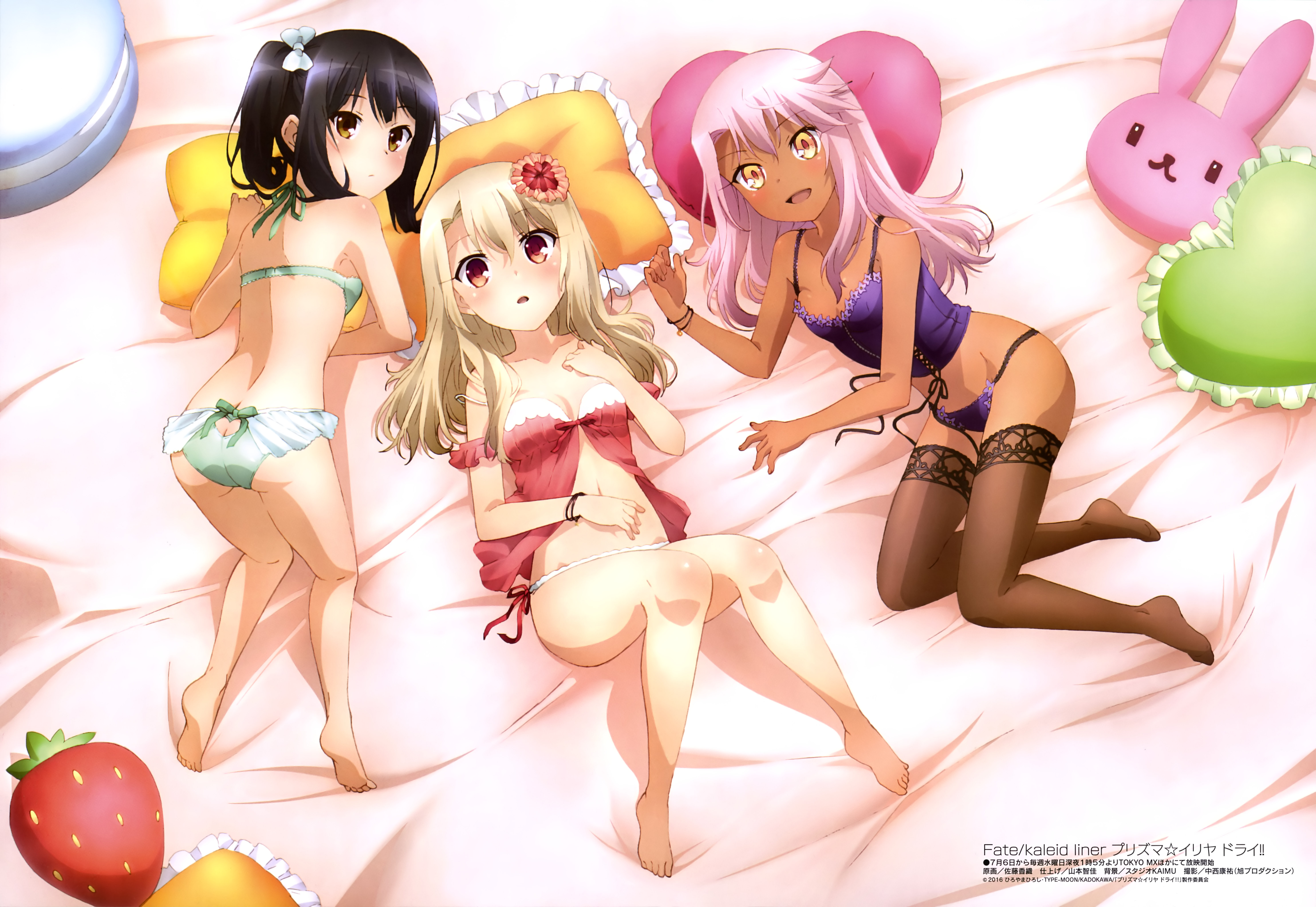 Anime visual:
Fate/Kaleid Liner Prisma Illya 3rei!! began its broadcast on July 6th on AT-X and Tokyo MX; as well as other unannounced broadcast stations.
The fourth season of the anime will be adapting the Fate/kaleid Liner Prisma Illya Drei!! manga, which is the third manga and a direct sequel to the second manga in the series, Fate/kaleid liner Prisma Illya 2wei!. The anime itself had seasons two and three focusing on the second manga series, with the most recent anime Fate/kaleid liner Prisma Illya 2wei Herz! finishing its broadcast on September 26th last year.
Two more visuals were also revealed for the upcoming season:
The main cast of the series include:
The remainder of the revealed cast includes:
The production staff from the previous anime returned for the fourth season:
Fate/kaleid liner Prisma Illya is a spin off manga series from Type-Moon's Fate/stay night franchise by Hiroshi Hiroyama. The manga follows Illyasviel von Einzbern in an alternate universe where she is a magical girl. The manga original released in 2007 in Kadokawa Shoten's Comp Ace magazine and ran for 2 volumes. A sequel series Fate/Kaleid Liner Prisma Illya 2wei! released in 2009 and another titled Fate/Kaleid Liner Prisma Illya 3rei! began in 2012, which the latter is still ongoing at 6 volumes to date. The anime adaptation of the first manga series aired in June 2013 and a second series in July 2014, both of which were produced by Silver Link (Kokoro Connect,Non Non Biyori). A third season of the anime, Fate/kaleid liner Prisma☆Illya 2wei Herz!, aired in Summer 2015.
Here is a brief synopsis of the series from MAL:
Spin-off of Fate/stay night with Illyasviel von Einzbern as the protagonist, living an alternate life as a school girl. While taking a bath, she stumbles upon Kaleido Stick Ruby, who turns her into a magical girl.
The Fate/Kaleid Liner Prisma☆Illya 3rei!! anime will be airing on July 6th on Tokyo MX and AT-X, during the Summer 2016 anime season. Further information about the anime will be revealed soon.
You can visit the anime's official website: http://anime.prisma-illya.jp/
And follow their Twitter: @prisma_illya