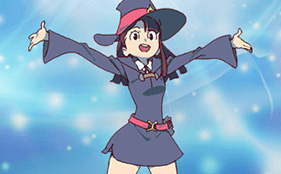 The official website for Studio Trigger's Little Witch Academia anime project revealed on Friday that a television anime series has been green-lit. The president of studio Trigger, Masahiko Otsuka, said that each episode will be 30 minutes long. You Yoshinari will return as the director of the series.
At the end of Space Patrol Luluco's last episode an announcement for Little Witch Academia featuring its protagonist "tagging in" the Little Witch Academia protagonist Akko. It is followed by video clips from the first two Little Witch Academia installments.
https://twitter.com/kagayakiru/status/746374527270133760
Little Witch Academia is a 2013 animated short produced by Trigger for Anime Mirai 2013. The short was created and directed by Yoh Yoshinari and written by Masahiko Otsuka. The short was released in theaters on March 2, 2013 and was later streamed with English subtitles on YouTube from April 19, 2013. A second short film partially funded through Kickstarter, titled Little Witch Academia: The Enchanted Parade, was released on October 9, 2015. A television anime series has been announced. Two manga series has been published by Shueisha.
Little Witch Academia synopsis from MAL:
In her admiration of Shiny Chariot, a famous witch renowned for her unorthodox yet enchanting spells, Kagari Akko, an ordinary girl, joined Witch Academia in the hope of someday becoming as spectacular as Shiny Chariot. She is determined to become a graduate of Witch Academy and make her dream come true despite not being from a lineage with witchcraft and wizardry.

The story takes places when Akko, along with her two best friends, Lotte Yansson and Sucy Manbavaran, take their first lessons to become witches; however, Akko is furious when she finds out that Shiny Chariot is not as popular in the world of the witches as she had thought.
Source: Otakomu