The official website for the anime adaptation of Kenji Saitou's Trinity Seven manga series has released the second commercial video, the anime will air this October during the Fall/Autumn 2014 anime season.
Trinity Seven Commercial 1:
Trinity Seven Promotional Video 2:
Trinity Seven Promotional Video 1:
The opening theme was also revealed a few weeks ago and will be titled "Seven Doors" and performed by ZAQ while the ending theme will have multiple ending themes performed by the cast: "BEAUTIFUL≒SENTENCE" by Magus Two (メイガス・トゥー) [Lilith Asami (CV: Yumi Hara), Arin Kannazuki (CV:Aya Uchida)], "ReSTART "THE WORLD"" by Security Politti [Mira Yamana (CV: Yoko Hikasa), Akio Fudou (CV: Ryoka Yuzuki)], "SHaVaDaVa in AMAZING♪" by Yui Levi♡ (ユイレヴィ♡)[Levi Kazama (CV: Ayane Sakura), Yui Kurata (CV: Rie Murakawa), "TRINITY×SEVENTH+HEAVEN" by TWINKle MAGIC [Liselotte Sherlock (CV: Nao Touyama), Serina Sherlock (CV: Aya Suzaki)].
The cast was also revealed earlier and is as follows:
The production crew that will be working on the Trinity Seven anime:
Director: Hiroshi Nishikiori (Azumanga Daioh, Toaru Majutsu no Index)
Series Composer: Hiroyuki Yoshino (Accel World, Guilty Crown)
Animation Director and Character Designer: Tomooka Shinpei  (Sekirei, Inukami!)
Music Composer: TECHNOBOYS PULCRAFT GREEN-FUND (Akikan!)
Animation Studio: Seven Arcs Pictures (Mahou Shoujo Lyrical Nanoha, Sekirei)
Key Visual: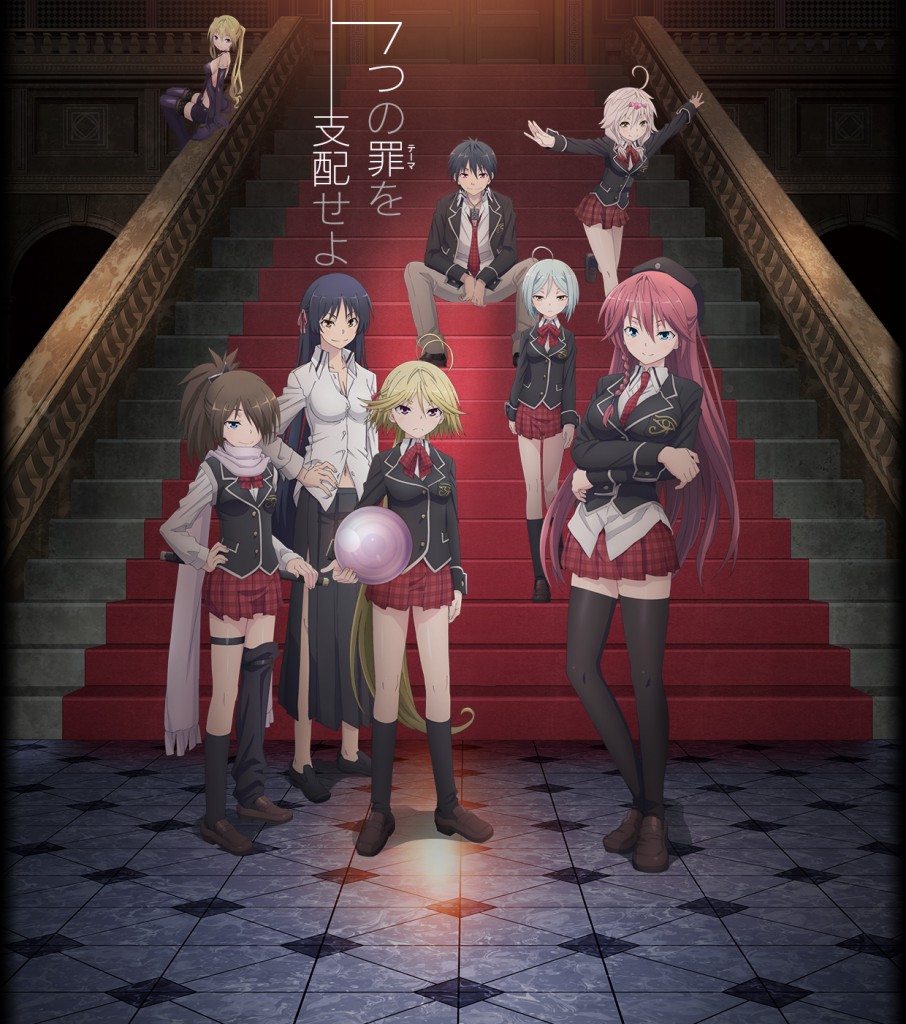 Trinity Seven: 7-nin no Masho Tsukai is a fantasy romantic comedy manga series by Kenji Saito with art by Akinari Nao. It has been serialized in Fujimi Shobo's shōnen manga magazine Monthly Dragon Age since 2010 and collected in nine tankobon volumes. An anime television series adaptation by Seven Arcs is scheduled to begin airing in October 2014.
Trinity Seven synopsis from Haruhichan:
Everyday is a normal day in the small town where Kasuga Arata lives. However, everything changed on the day of the Black Sun, and following it, a magician appears before him. The Black Sun caused the Breakdown Phenomenon which destroyed the town where he lives. Because of this, his normal life was artificially reconstructed by a Grimoire that his childhood friend had left. Just what is the purpose of the magician coming to the town? What will he do with the Grimoire's keepsake?
Source: Trinity Seven official website