One of the more anticipated series of the current season is the anime adaptation of Takahiro and Tetsuya Tashiro's manga Akame ga Kill! from White Fox (Steins;Gate, Gochuumon wa Usagi Desu ka?). A couple of the reasons was due to the dark and brooding story, and the brutality of the world. While the series has garnered positive feedback, some criticisms are held against the censorship of the series since it is airing on Japanese TV. The series is also available on Japan's largest streaming service Niconico, where it is in fact uncensored. We will be comparing the latest episode between the censored TV broadcast and the uncensored stream.
Also check out our articles on differences between the TV and Blu-ray release of various anime.
Note these contains spoilers for Episode 6 of Akame ga Kill!
The images on the left are from the censored broadcast on the Japanese TV station MX, and the images on the right are from the uncensored Niconico stream.
Click on the image for the full resolution.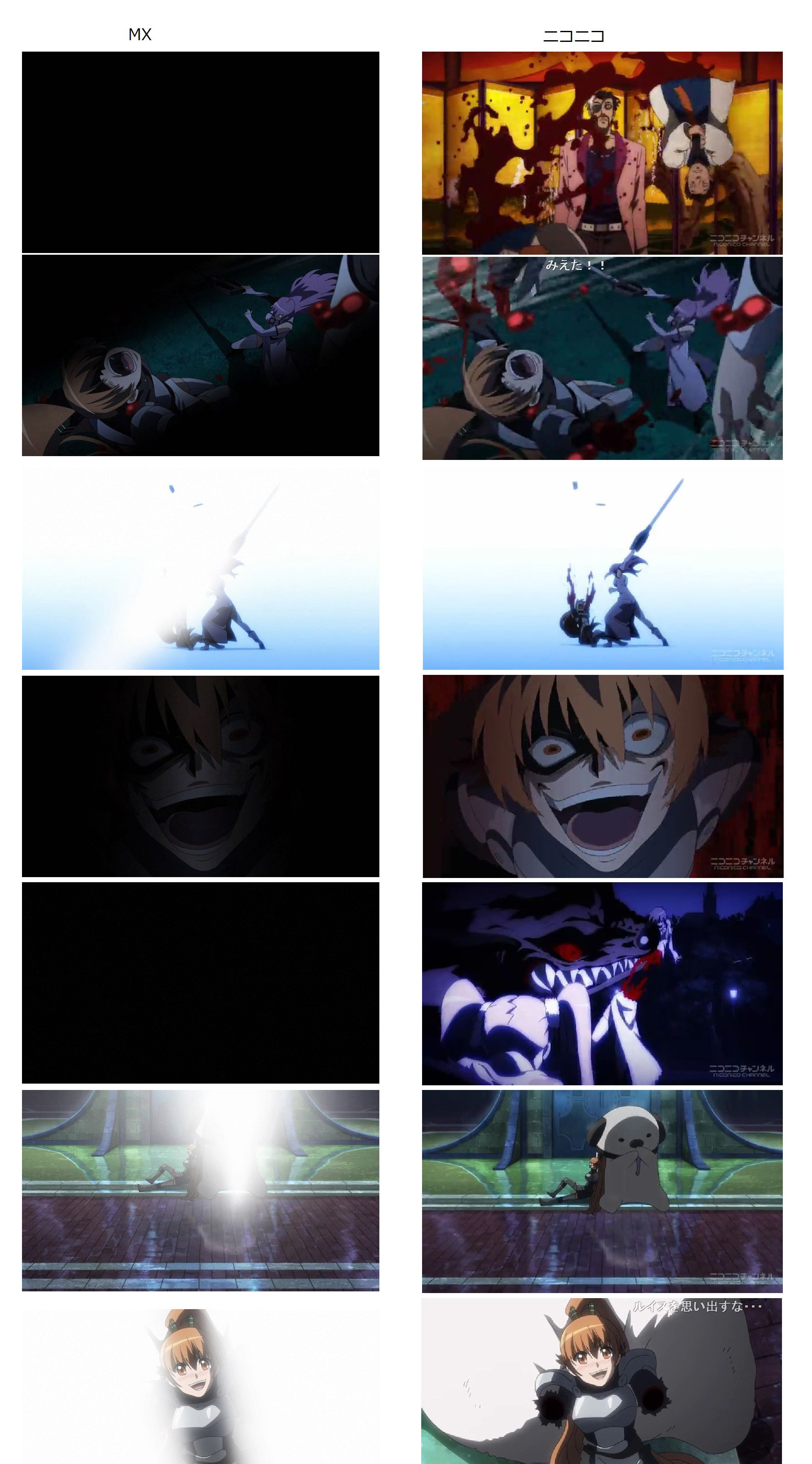 Akame ga Kill! is an original manga written by Takahiro and illustrated by Tetsuya Tashiro. The manga is a dark action fantasy that launched in 2010 and is published in Square Enix's monthly Gangan Joker magazine. To date there are 9 volumes of the manga complied. The manga has sold relatively well, with the eighth volume selling over 37,000 copies in its first week. Additionally, a prequel manga titled Akame ga Kill! Zero started serialization in October last year. It is once again written by Takahiro, but features Kei Toru as the artist.
Akame ga Kill! Synopsis from Haruhichan:
In a fantasy world, fighter Tatsumi sets out for the Capitol to earn money for his starving village, and finds a world of unimaginable corruption, all spreading from the depraved Prime Minister who controls the child Emperor's ear. After nearly becoming a victim of this corruption himself, Tatsumi is recruited by Night Raid, a group of assassins dedicated to eliminating the corruption plaguing the Capitol by mercilessly killing those responsible.
Akame ga Kill! is currently airing this season on Saturdays at midnight on MX. For the Niconico steams visit the following link: http://ch.nicovideo.jp/akame-tv
Source – Otakomu