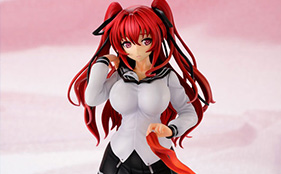 With the upcoming second TV anime adaptation of Tesuto Uesu and Nekosuke Ookuma's light novel series Shinmai Maou no Testament (The Testament of Sister New Devil) on its way, figurine company Vertex have revealed images for the sexy and busty 1/8th scale figure of Mio Naruse.
Mio Naruse is presented in a pose that looks like she's about to undress which you can actually do with this figure since her clothes are cast-off capable. She's wearing a seifuku (Japanese school uniform) which helps show off her busty body that will capture anyone's heart.
Shinmai Maou no Testament – Mio Naruse 1/8 Figure – Pre-orders are available on JList and is scheduled to be released in July 2015.