Visual novels have always remained a cult-hit genre amongst the North American market, garnering acclaim for their storytelling while, in large part, realizing that narrative with their own crisp artistic personality. Despite companies like Jast USA and MangaGamer providing physical means to purchase varying types of visual novels, the bridge for localizing Japanese media to a digital platform, such as Steam, is still burgeoning.
The overwhelming success of both Clannad and the Muv-Luv trilogy on Kickstarter has not only provided a foot in the door of mainstream recognition, but also proves that there is undoubtedly a market for localizing visual novels. Provided their Kickstarter is successful, developer XERO and publisher MiKandi Japan have heard the cry and are planning to release their latest title, Libra of the Vampire Princess, over to Steam.
Libra of the Vampire Princess will task players with experiencing life through the eyes of protagonist, Shuma Kusanagi, who discovers that he was born with a strain of vampire blood surging through him after another vampire, Iris Pumila, attempts to "awaken" him. Shuma is, thus, saved by a ring which was passed down from his mother, though he begins to realize that something inside him is changing. To make matters even worse, more and more women begin to barge into his life afterwards and an insatiable need to suck their blood is beginning to overwhelm him.
Those hoping to back the project will be happy to hear that each backer tier has a collection of fairly tantalizing rewards. The Blood Moon set, which will run you $90 USD, will net you both a digital and physical copy of Libra of the Vampire Princess along with a physical, 60-page art-book and soundtrack, all packed neatly in a collector's box.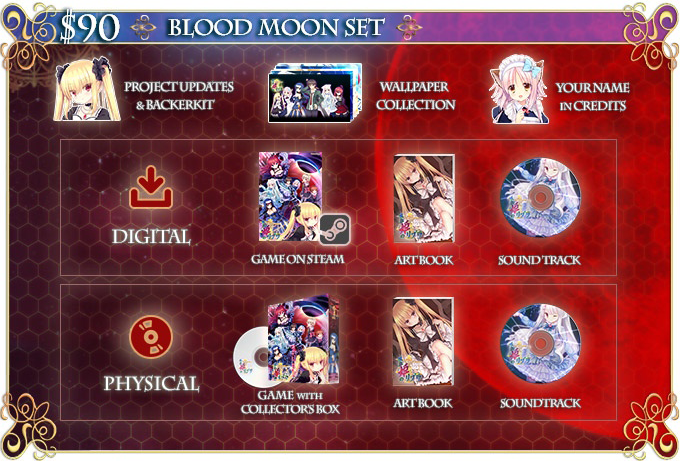 Anyone willing to dig into their wallet can back the project for $140 USD which will get you everything in the Blood Moon set, but will also include a tapestry for you to show off your vampiric, "chunnibyou" love.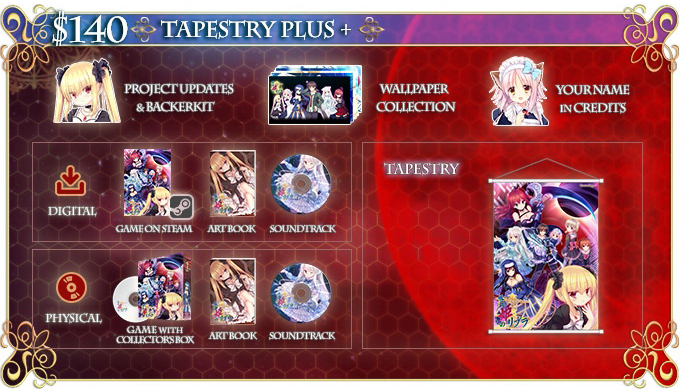 Haven't heard of Libra of the Vampire Princess? That's understandable, considering the title only released back in October of 2015 which is a major contrast to most visual novels being localized to this day. For example, World End Economica, a title recently published by Sekai Project, was originally released in August 2011 with fan-favorite Higurashi When They Cry's release also dating as far back at August 2002.
"The major risks associated with this undertaking are that [Libra of the Vampire Princess] is brand new," noted Zoe Tersche, writer for the MiKandi Blog. "The game has henceforth had little time to build a large fan base for its Japanese audience, let alone those in the states who keep an eye on foreign [visual novel] releases."
Even with the team over at MiKandi Japan understanding that Libra may not be met with many die-hard fans, drooling at the chance to get their hands on a long-awaited visual novel, their Kickstarter has received over $102,000 from 1,175 backers with only ten days remaining. This success could prove that players invested in visual novels may not necessarily just want classic visual novels, but also rather recent releases as, usually, titles do have a tendency to release in English years in advance.
"There are about 300 [visual novel] titles that are released in Japan every year," said Jonathan, a PR representative for MiKandi Japan. MOKA, President and CEO of XERO, added that even with that massive influx of titles, "the number that gets introduced to foreign countries could be five or less, maybe."
"About a year ago, I was talking about exporting games with some other makers. They said some companies were trying a different way and that's when I first heard of Kickstarter," said MOKA in their Kickstarter documentary for Libra of the Vampire Princess. "In the past, we didn't have tools to show customers what we are making or what we are thinking… [there] is like 'zero distance,' right?"
According to the Kickstarter, Libra of the Vampire Princess will clock in at a staggering "50+ hours of gameplay" with over 1 million Japanese characters to translate into English. Having already been greenlit on Steam's Greenlight platform, the title is expected to release in Fall of 2016, completely DRM-free.
It's worth noting, however, that Libra of the Vampire Princess will release on Steam with its erotic scenes censored. MiKandi Japan has confirmed that a patch will release on their website, free of charge, for anyone with the desire to play with all of the erotic content intact. This shouldn't come as much of a surprise, considering that sexual content and nudity comes with a nasty price on North American services, especially Steam.
Usually, a game will receive an Adults Only rating if the content is deemed too violent for a standard Mature rating such as the controversial shooter Hatred. On the other hand, in regards to sexual content, Valve's chief spokesperson Doug Lombardi spoke out saying that Steam "has never been a leading destination for erotic material [and] Greenlight doesn't aim to change that."
The conversation around censorship on Valve's proprietary digital service can be made even more confusing when Kindred Spirits on the Roof, a yuri visual novel expected for release in 2016, was given the thumbs-up by the Half-Life and Portal developer for publishing on Steam. Some journalists, including Andy Chalk of PC Gamer, may argue that Kindred Spirits' content is a step in a more mild depiction of sex, this still begs an even bigger question of what can now be considered acceptable to publish on Steam.
For more information, feel free to check out the Kickstarter for Libra of the Vampire Princess!