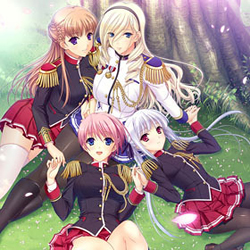 The August edition of Enterbrain's Tech Gian has announced that a television anime adaption for Ricotta's Walkure Romanze Shōjo Kishi Monogatari has been green-lit.
Walkure Romanze features Takahiro Mizuno, a student of a jousting-centered academy. Takahiro acts as the advisor for the riders of the sport, working tirelessly until the day of the competition. Unbeknownst to him, his childhood friend, Mio Kisaki, is also enrolled in the competition. She has never ridden a horse before, and Takahiro, sensing fear within Mio, decides to become her coach.
The visual novel first debuted in 2011, featuring art from Kei Komori, and written by Orgel and Hare Kitagawa, and has scored 1st place in Getchu.com's 2011 Bishoujo Game Awards in the graphics division, 2nd place in Ero, and 20th overall. The novel was also placed 20th as Getchu's best-selling game that year.
Ricotta's first visual novel, Princess Lover!, has spawned many manga and anime adaptions, and Ricotta has announced a fandisc release on August 9 2012, titled Walkure Romanze More&More, with a release date set some time in 2013.
Sources and information