Are we in the global manga boom yet? Because aside from the unstoppable rise of the manga licenses here and there, digitally and in-print, Japan is going all out to spread translated manga around the world. Here we have the Silent Manga Audition/Tokuma Shouten's Comic Zenon magazine releasing English translated manga online with readers having a choice which manga to be translated next! Right now the website has three series with their first chapters already translated in English: Seibo Kitahara and Tetsuo Hara's (artist of Hokuto no Ken) Ikusa no Ko – Oda Saburou Nobunaga Den, Molico Ross' Nobo-san to Kanojo? (Nobo and Her?) and Kei Ookubo's Arte.
The 22 manga that are available for voting are:
1. Angel Heart 2nd Season by Tsukasa Hojo (City Hunter)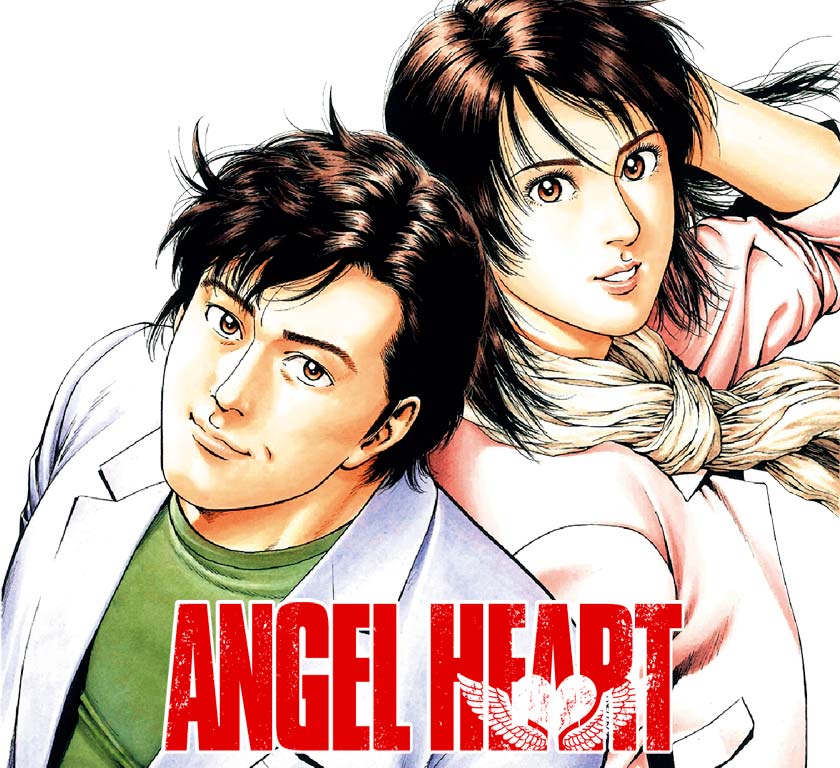 Synopsis:
"GLASS HEART": A female assassin, raised by an underground organization, dubbed "the ultimate killing machine". Racked by guilt after completing a mission, she attempts suicide… but is revived through a heart transplant operation. Only she doesn't know… the heart she receives once belonged to Kaori Makimura, one half of the "CITY HUNTER" duo. Only he doesn't know… Ryo Saeba spends his days mourning the loss of his beloved partner. Guided by one heart – with two souls, "Glass Heart" appears before Ryo;- the legendary "Sweeper", the protector of peace in the underworld of Shinjuku…
2. Chiruran: Shinsengumi Requiem by Shinya Umemura (Tenshou no Ryuuma) and Eiji Hashimoto (Tokyo 23, Konpeki no Prisoner)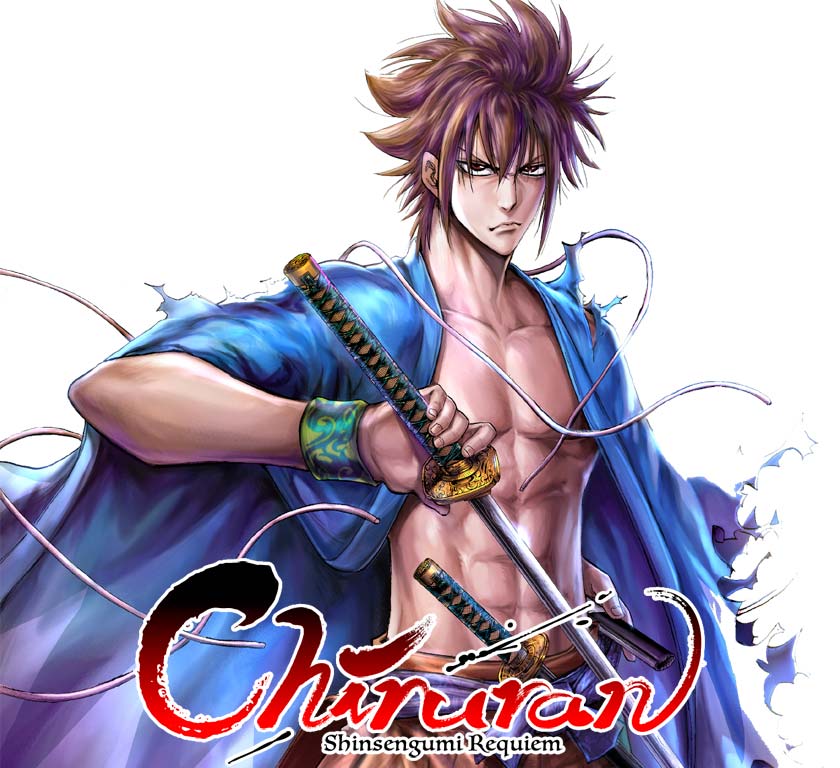 Synopsis:
On the eve of a new era, Kyoto was in chaos. Different factions were moving at cross-purposes, and with the clash of different ideals, many were resorting to violence to enforce their views. To bring back order to the streets of Kyoto, Shinsengumi – the supposed guardians of peace – were formed. A chosen group of hot blooded youth, on a mission to save Kyoto, and to prove their worth… This is a tale of proud young Samurai mercenaries, who lived and died by the sword, in a turbulent period of political upheaval. To them, a man is defined by the way he dies.
3. DD Hokuto no Ken by KAJIO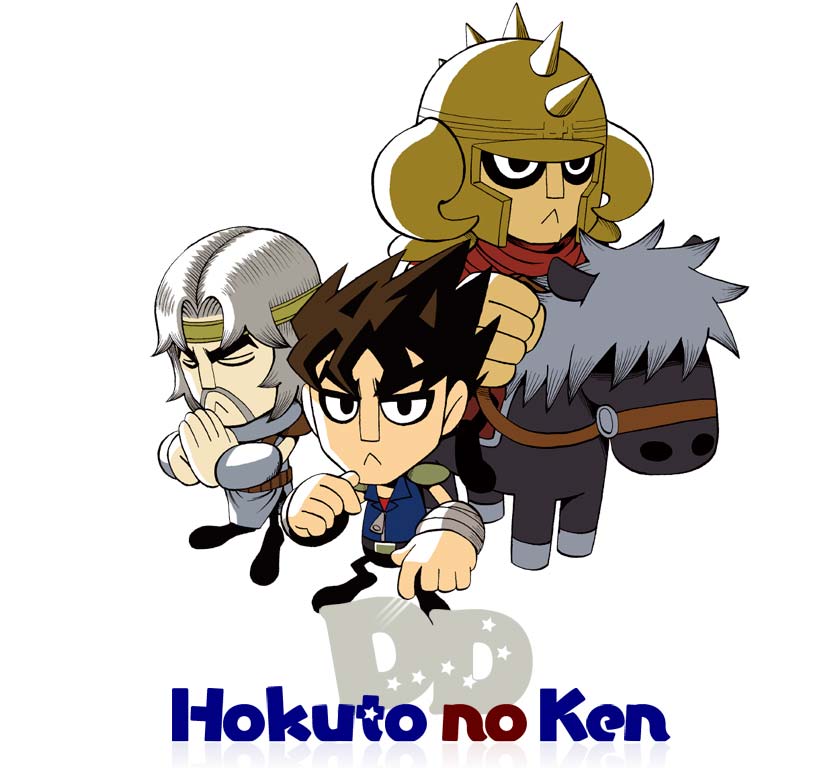 Synopsis:
Modern day Japan… a peaceful country with no violence, and surely with more than enough food and water! Having no use for their ultimate assassination technique HOKUTO SHNIKEN, Kenshin and his brothers may have a hard time adapting to everyday society (Just ask their neighbors!) With or without food and water, every day is a struggle to survive in the urban jungle of Tokyo…? At least there's lots of fun along the way♪
4. Otoriyose Ouji Ida Yoshimi (The MAIL-ORDER PRINCE, Iida Yoshimi) by Shiho Takase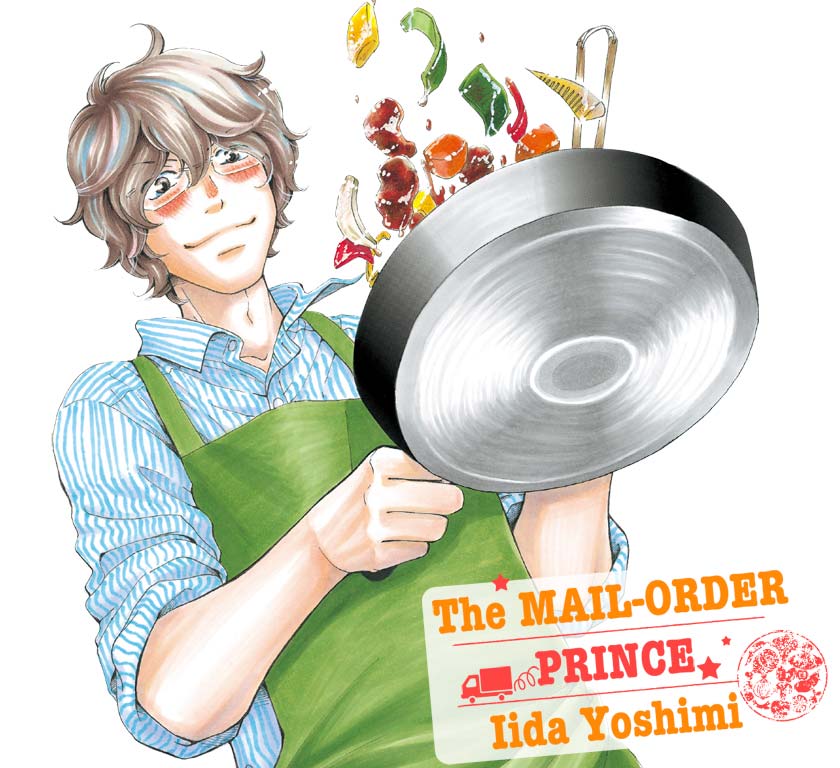 Synopsis:
Iida Yoshimi, 26 years old, software engineer. Every Wednesday is a "No Overtime Day" at work, and he runs home as quickly as he can!!! That's because Wednesday is the only day that he can make it home on time to receive his favorite "Mail-order" gourmet foods☆ At home, all alone, staring at the fresh delivery, his happiness is sure to please everyone ? (He has a real twitter account! Can you find it?)"
5. Wakako-zake by Chie Shinkyu (Takane no Hana)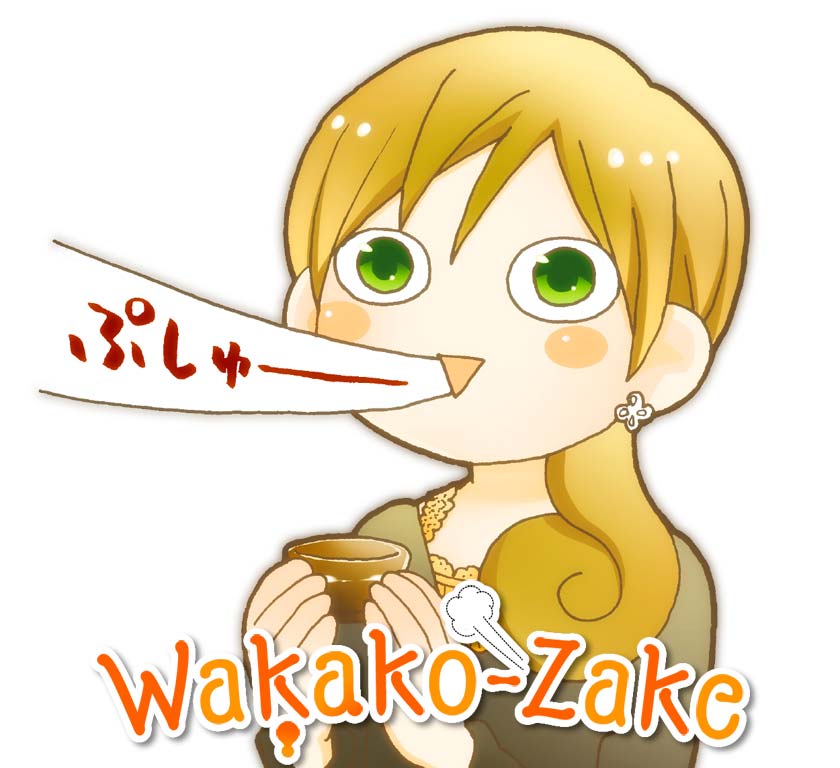 Synopsis:
Wakako Murasaki, 26 years old. A lover of fine wining and dining, each evening she wanders the town, seeking a place to quench her thirst and satisfy her hunger for quality time… the way of the solo foodie girl! Each chapter introduces some exquisite saké, with a mouthwatering side dish – a simple but delicious formula! A manga stuffed with the simple pleasures of good food and fine drink!
6. Itsuya-san by Mizu Sahara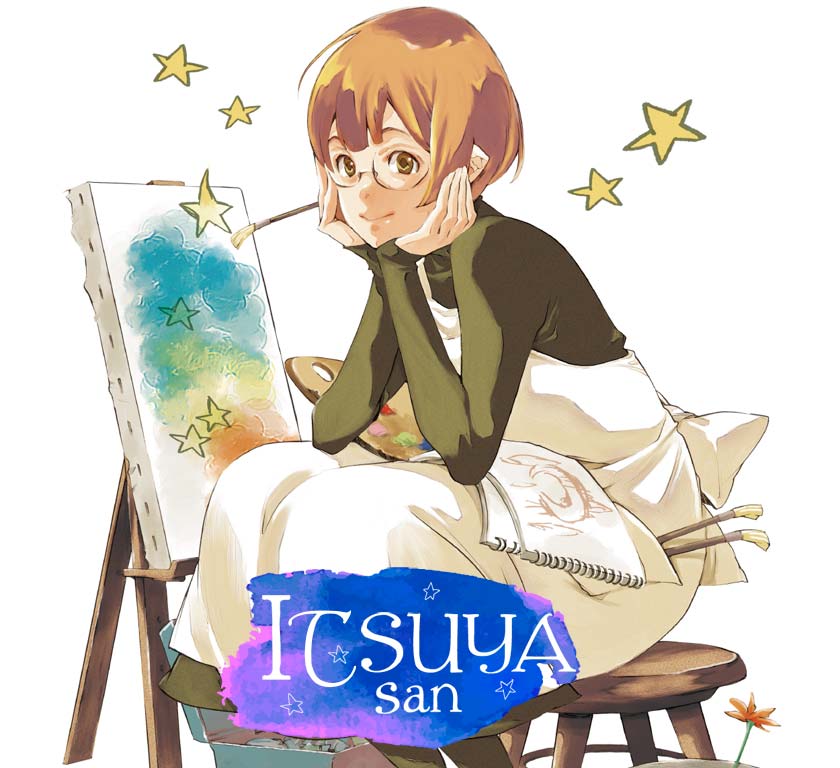 Synopsis:
From the artist of "The Voices of a Distant Star", "My Girl" and "Tetsugaku Letra", Mizu Sahara brings you another tale of tiny miracles! Substitute art teacher Itsuya-san has a somewhat mysterious power that she keeps a secret. She can breathe life into a drawing, and turn it into a real creature. After accidentally witnessing her power, junior high school student Toki uncovers an even bigger secret about her past…
7. Hanakaku: The Last Girl Standing by Katsunori Matsui (Sommelière)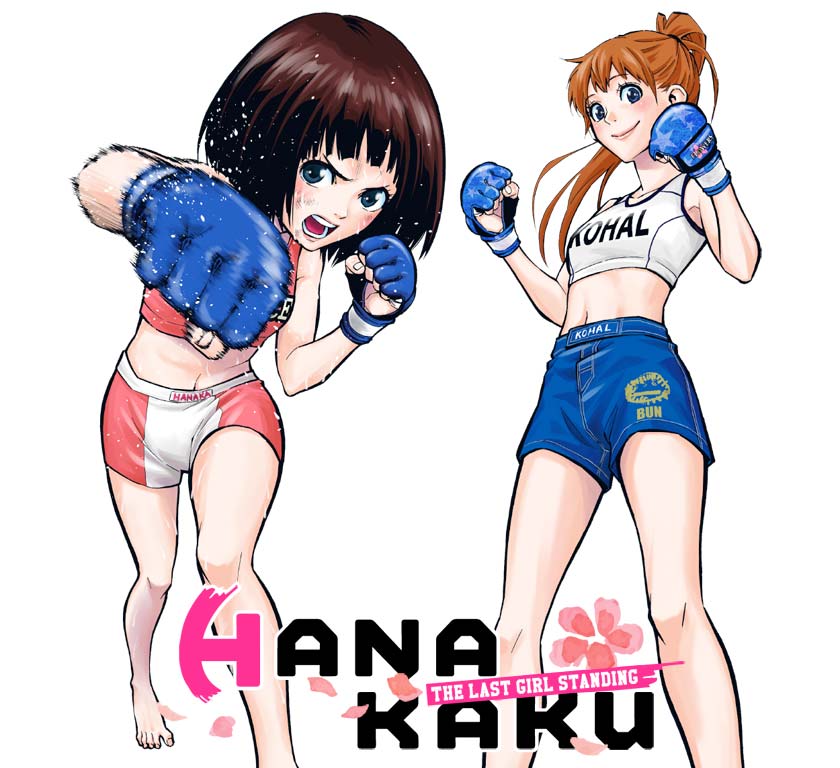 Synopsis:
Mixed Martial Arts(MMA)… The ultimate test of strength.
Hanaka – 142cm tall, Occupation: 1st year high school student… and martial artist.
Small and cute, Hanaka isn't the type of girl you'd expect to see in the ring, but she desperately wishes that she could become stronger. Moved by the words "Anyone can become strong if they try", she ventures into the world of female MMA…
8. Gifuu Doudou!!: Kaze no Gunshi – Kuroda Kanbee (The Tactician of Wind -Kuroda Kanbei) by Tetsuo Hara, Hiroyuki Yatsu (Hammer Session!) and Toshiyaki Yamada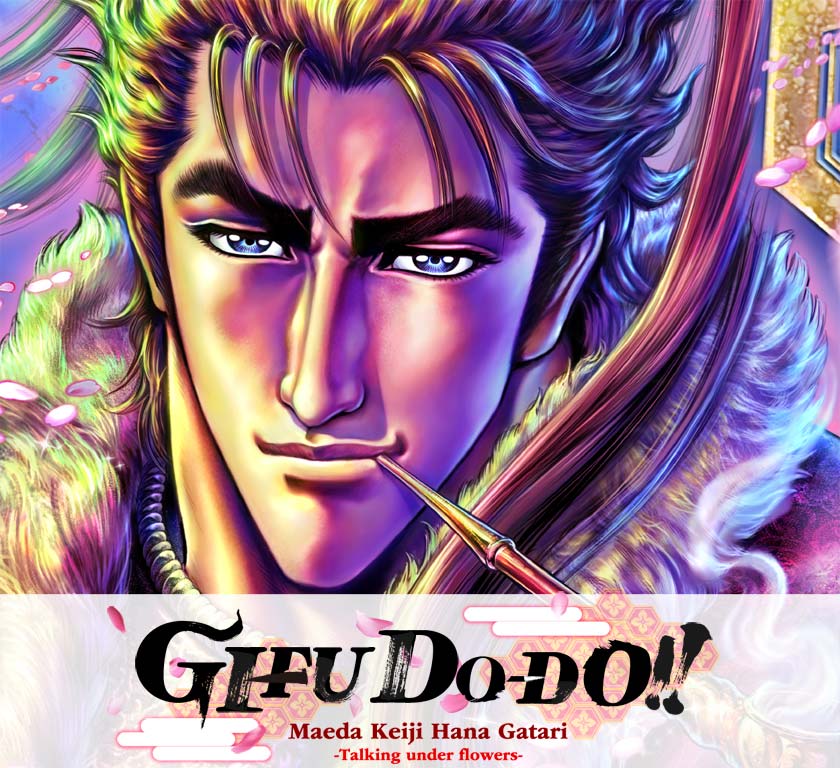 Synopsis:
Legendary Samurai Tokugawa Ieyasu united Japan, in the 16th century. At the time, he said that if it wasn't for him, there would be only one man who'd have been the ruler of Japan… This is the story of a genius strategist, Kuroda Kanbei, who used his smart tactics and wits to overcome every enemy in his way!
9. Manga Senmon Gakkousei no Seishun (The Youth of Manga School) by Ryouichi Yokoyama and Kotaro Yamada (Sei Abelia Jogakuin)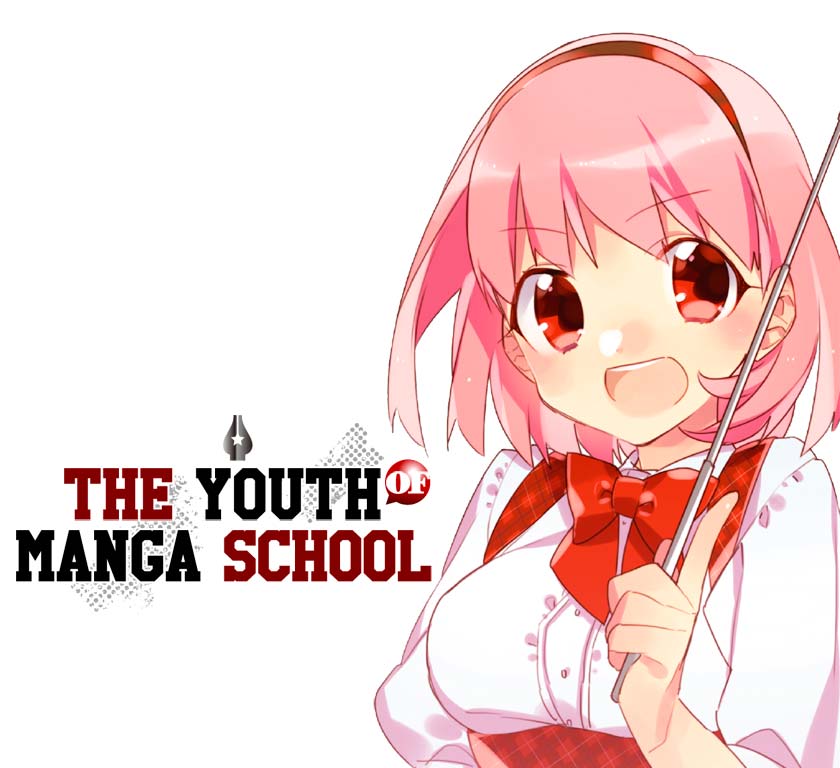 Synopsis:
Dreaming of becoming a popular manga artist, Urashima-kun enters a manga school called "Tokyo Manga Academy".
With a mixture of hope and anxiety, he takes his first step into the world of manga creation… where he encounters all sorts of strange characters! A former delinquent who loves Yaoi, a beautiful but sharp-tongued teacher, a high school girl who throws herself on the ground to apologize, a French history buff…This is a tale of manga school life, that illustrates the youth, the successes, and the failures of manga school students★
10. Genocider by Maya Miyazaki (Gokujo.: Gokurakuin Joshikou Ryou Monogatari) and Takahiro Akiyoshi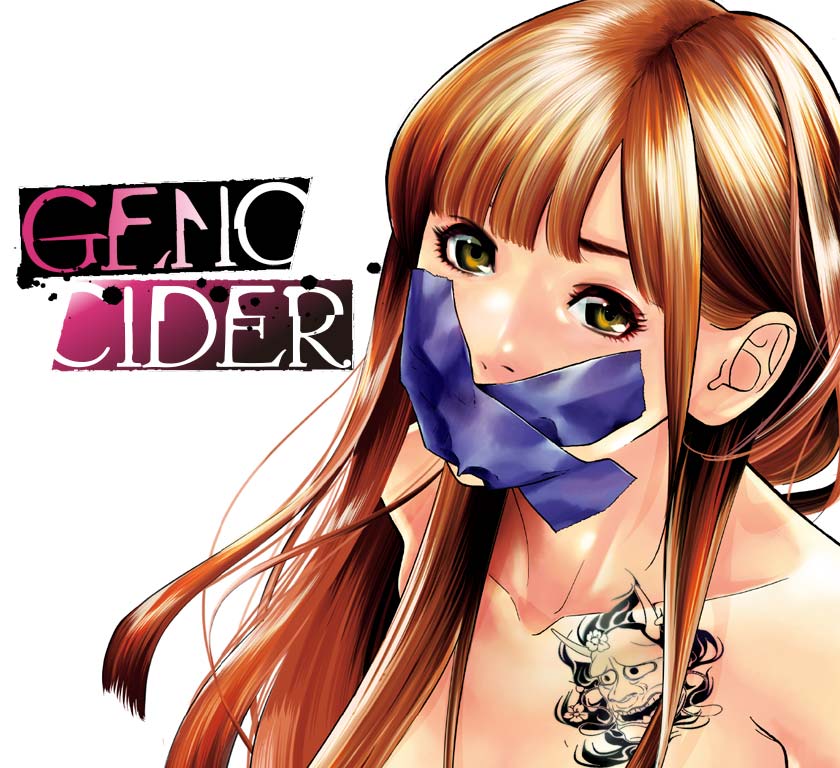 Synopsis:
Violence, abduction, extortion, drugs, blackmail… This gang will do literally anything for money.
One day, they kidnap a young girl, physically and mentally destroying her in the process. Seeing what was done to his beloved daughter, the girl's father loses his sanity, his anger turning into an obsession to find and torture every member of the gang, to ensure they die in the worst imaginable ways.
Fires of revenge rage in his heart, and keep escalating…. How will this tale of revenge end?
11. Ningyo no Ouji-sama (The Mermaid Prince) by Yuana Kazumi (Hyakuman Tsubu no Namida)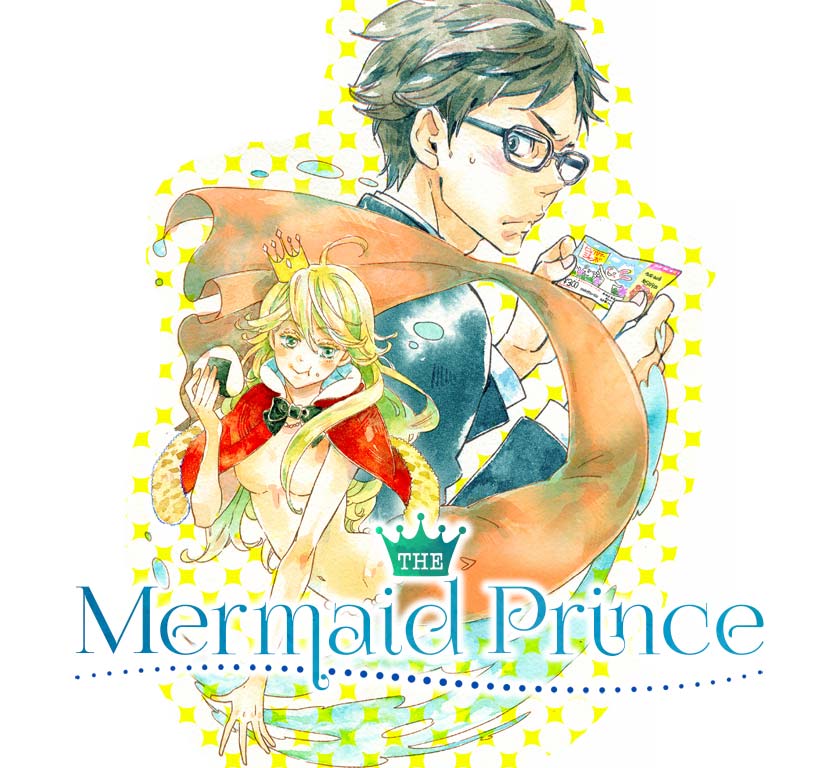 Synopsis:
After a string of failures in job hunting… part-time worker Manato encounters a beautiful mermaid named Sango. Her goal in coming to the human world is "to become a human, and fall in love." By sacrificing a portion of Manato's life, they succeed in turning Sango into a human… with a "3rd leg" on her lower half!? A chaotic rom-com about a man in love with a mermaid, and a mermaid who turns into a man!!
12. Iburigurashi (Smoked Couple) by Chiharu Ooshima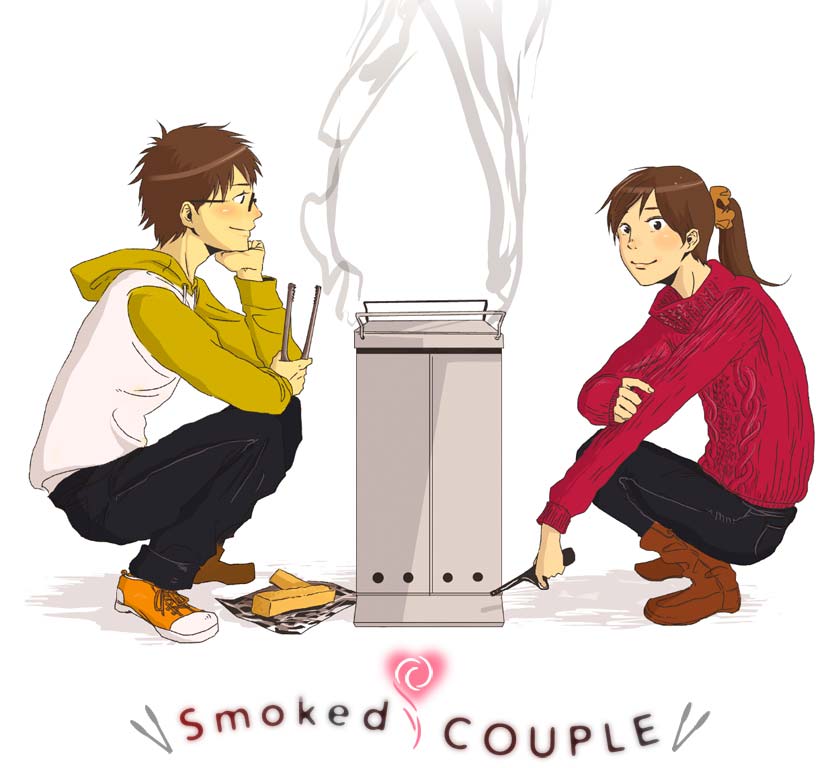 Synopsis:
Meguru and Yoriko are a couple living in the same apartment.
Always busy with work, Sunday is the only day they can spend in each other's company. One day Yoriko decides to "smoke" cook some food.
Preparing the food together, waiting for it together, eating together… as long as they're together, they're happy. Co-habitation x Smoked food manga!
13. Gifuu Doudou!!: Naoe Kanetsugu – Maeda Keiji Hanagatari (Gifu Do-Do!! Maeda Keiji Hana Gatari -Talking Under Flowers-) by Tetsuo Hara and Masato Deguchi (Tomorrows)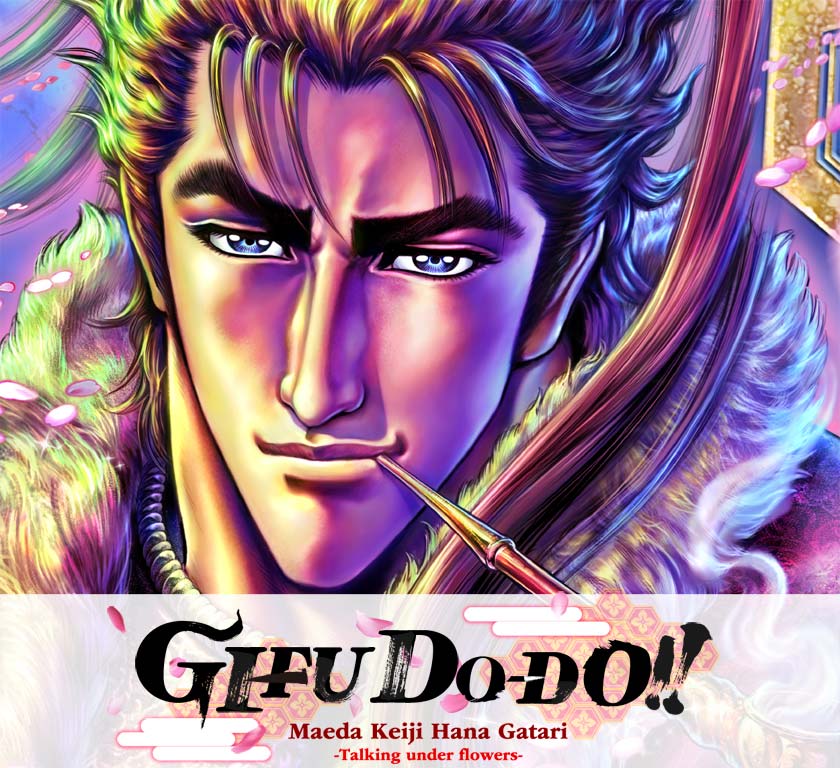 Synopsis:
16th century Japan – the Sengoku Period. A time when rival warlords vied for control of Japan. The Uesugi Clan were the protectors of Province of Echigo. Naoe Kanetsugu is the illegitimate child of his liege lord Uesugi Kenshin, a man who pledged lifelong celibacy. In this dark period of conspiracy and intrigue, Kanetsugu is one of the few men who strive to stand in the light.
In 1598, the regent Toyotomi Hideyoshi passed away, and the country was thrown into a war of succession, between Tokugawa Ieyasu and Ishida Mitsunari. This is the chain of events that lead up to the bloodest battle in the history of Japan: The Battle of Sekigahara!! This is a tale of hot-blooded men, who lived and died by their honour!
14. Kanshiki Joshi no Hayama-san (Forensics Girl Hayama-san) by Izumi Satou (artist of Reizouko Tantei)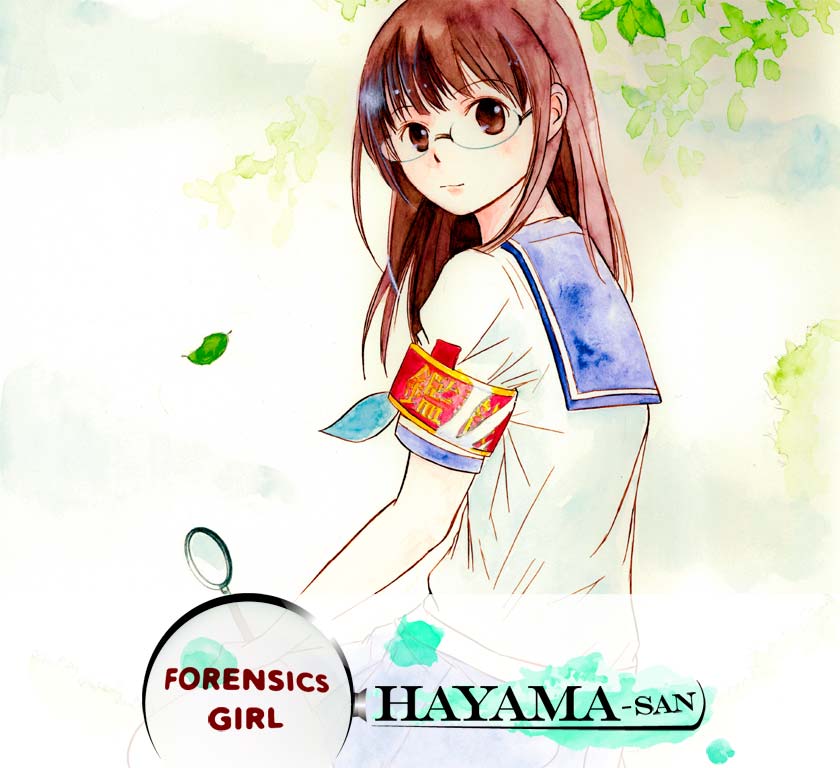 Synopsis:
Serious, eccentric and inflexible… the slightly weird high school girl Hayama. Daughter of a legendary forensics officer, she's an expert on criminal identification methods like footsteps, fingerprints, sketches, and handwriting… Using everyday tools like pencils or smartphones, she conducts investigations to expose the truth!
15. Ohayou toka Oyasumi toka (Good-Morning's and Good-Night's) by Machita
Synopsis:
Wahei is just an ordinary guy, who has nothing against his family, but thinks dealing with them is a bother. He just wants to live alone in comfort. But one day, he receives a letter from his father, along with a visit from 3 half-sisters. The letter says that the sisiters have no other relatives, so they should stay with Wahei. Wahei accepts reluctantly at first, but through his interactions with the sisters, he begins to remember the importance of family…
16. Suzuki-san wa Tada Shizuka ni Kurashitai (Suzuki Just Wants a Quiet Life) by Hirohisa Sato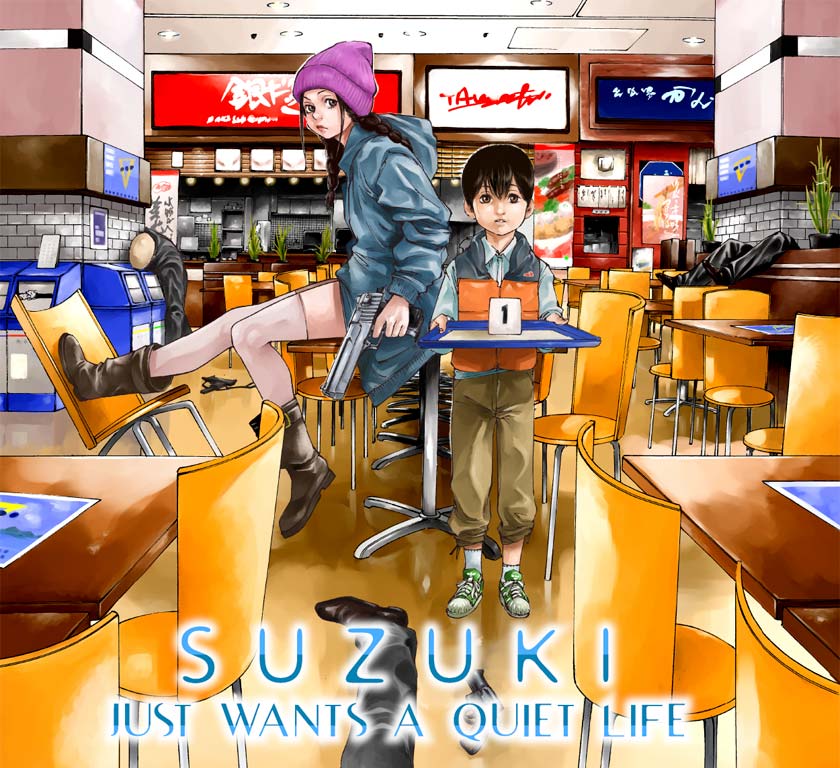 Synopsis:
With his father killed for witnessing a crime scene, Jinsuke has to live in secrecy with his mother. But they can't stay safe for long. Their pursuers catch up with them, and leave Jinsuke's mother for dead.
Their mysterious neighbour Suzuki hears the gun shot, saves Jinsuke, and gets dragged into a murderous chain of events…
On the run with the targeted boy, the solitary female assassin Suzuki discovers the warmth of human relationships for the first time.
17. Concierge Imperial by Hideyuki Ichizeki and Michihiko Toei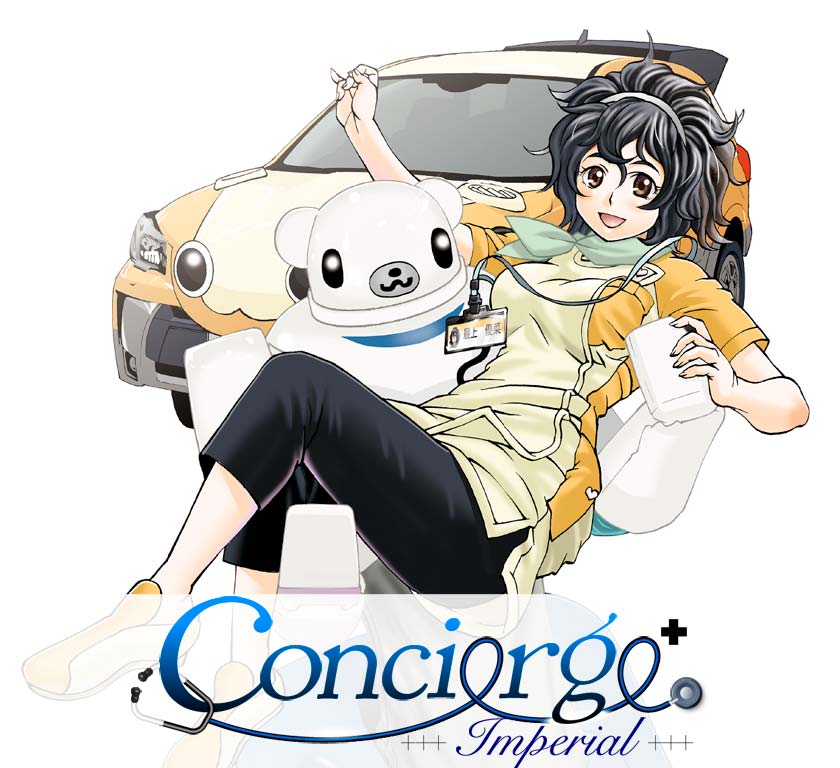 Synopsis:
"Nursing x Concierge" Yuna Mogami, the daughter of a legendary hotel concierge, starts working as a care worker at a nursing home for the elderly – which seems like a nightmare at first. People living out their final years must confront all sorts of personal and family issues– Yuna is under heavy pressure to provide the ulitmate service: "Attending people on their deathbeads" and "Making sure their final moments are happy ones". Can she deliver her imperial hospitality, for the sake of the people in need-?!
18. Dodoma (Do-do-ma) by Jun Shiraishi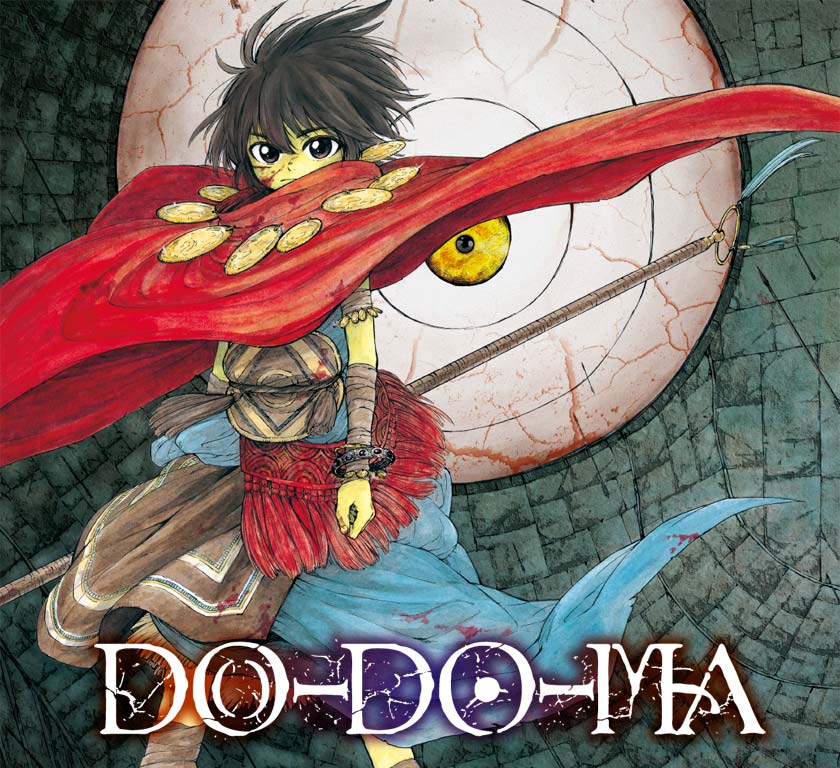 Synopsis:
"Wanokuni", a country surrounded by high walls, with an enourmous tree in the center. Two brothers, Mana and Shino, live here in peace with their friends and neighbours. However, those peaceful days abruptly come to an end with the arrival of two mysterious women from the outside world… Suddenly, Wanokuni is under attack! With his friends dying around him, Mana discovers that Wanokuni is in fact a giant living creature, and that the enemy have arrived in another giant creature. Here the story begins… the brothers Mana and Shino face a great battle, which will decide the fate of their world!
19. Obaachan Shoujo Hinata-chan (Granny Girl Hinata-chan) by Asa Kuwayoshi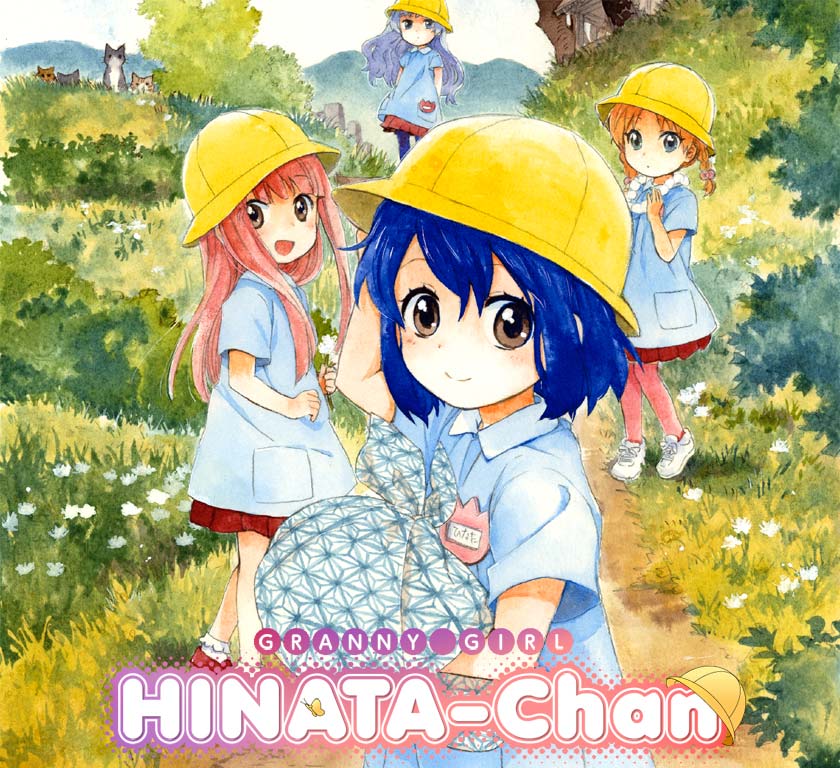 Synopsis:
Worldly knowledge and artistic refinement! Hinata-chan is on a completely different level to your average toddler 🙂 But she has a secret… that she's the reincarnation of an 88 year old grandma, with her memories intact! Enjoying green tea on the veranda, a taste for pickles, and an old-fashioned dialect! Why has she been reincarnated? A comedy full of old-wives wisdom♪
20. Hakoniwa to Papillon (Hakoniwa and Papillon) by Saki Akamura (Kagerou Daze Koushiki Anthology Comic: Downer)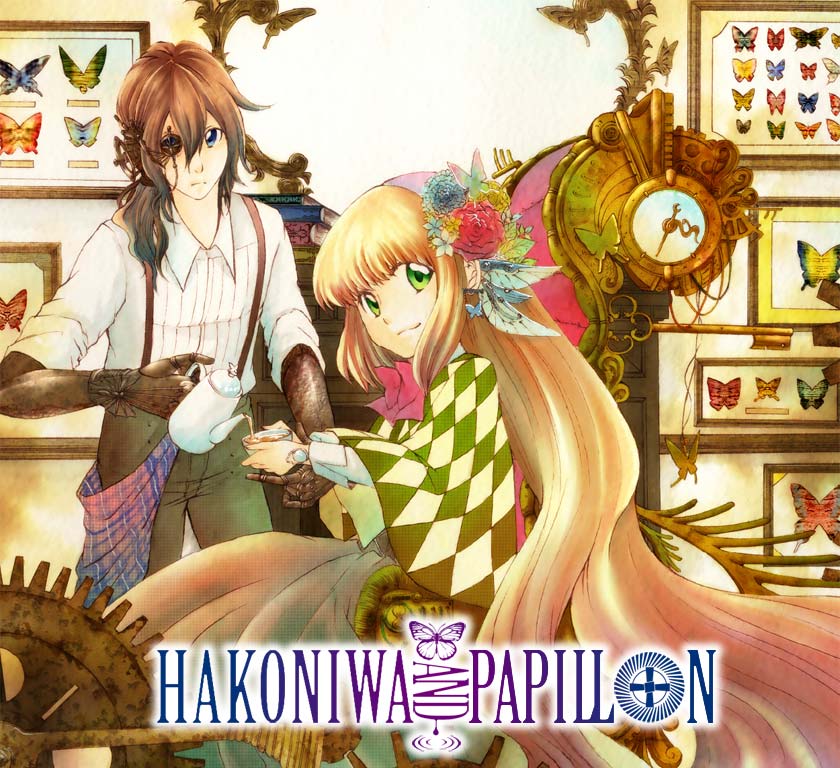 Synopsis:
The genius scientist Alincia works for the government, researching combat robots in the confinement of a land called the "Hakoniwa".
She passes away at the young age of 18, only to wake up the very next day, as the new baby Alincia who appears in Hakoniwa…
Resurrected as a clone each time she dies, Alincia continues her war research, all the while keeping her true motives a secret…
21. Narusawa-kun wa Oishii Kao ni Koishiteru (Delicious Foods, Delicious Faces -Narusawa-kun loves scrumptious looks-) by Rei Yamada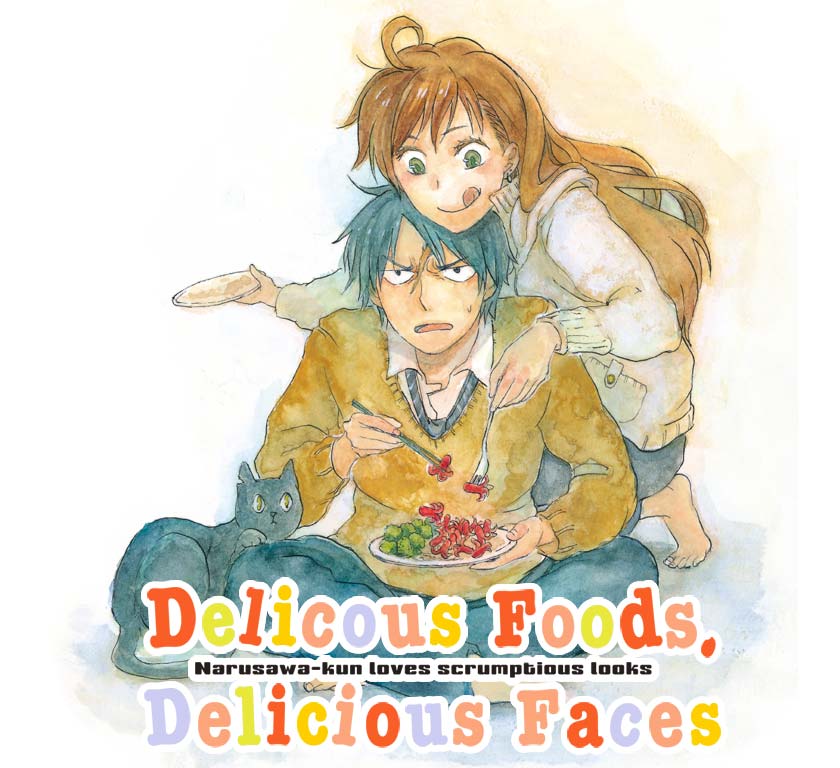 Synopsis:
Narusawa-kun, a loner with an ugly scar on his forehead, and a perpetual scowl on his face. Despite his scary looks, he has a soft spot for girls who enjoy their food.
Watching a cute girl eating happily is his passion in life.
One day, a mysterious Italian girl appears before Narusawa… and she just happens to have his "preferred way of eating"!? A sensational rom-com about a lonely guy and a cheerful girl☆
22. Tokyo Share Story by Motoko Takahashi and Rieko Tada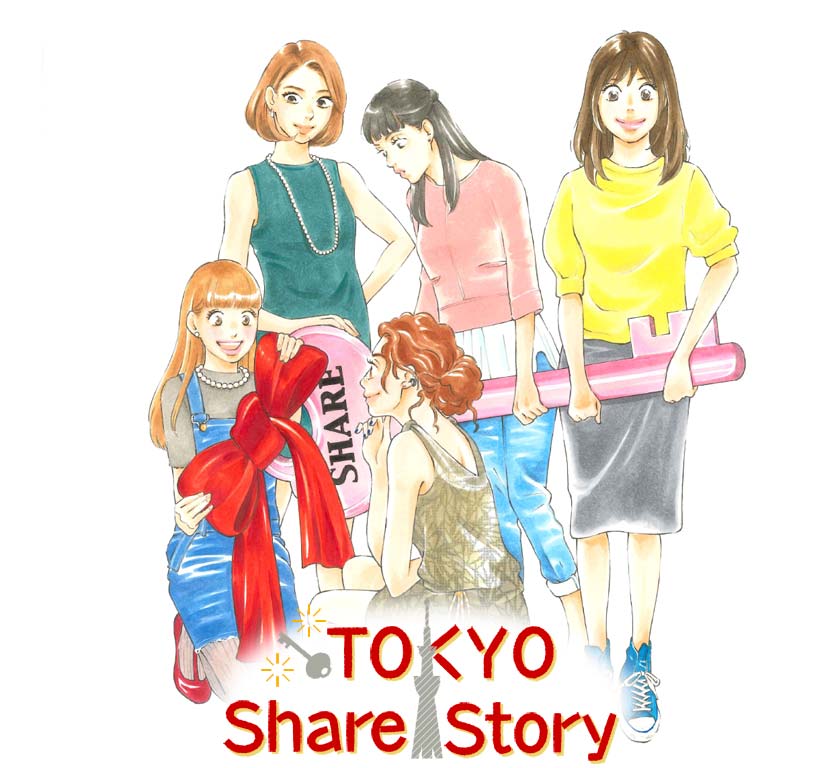 Synopsis:
Haruka Toyama – 38 years old, scriptwriter, and recently single. After breaking up with the man who should have been her "last love", her romantic future seems bleak. One day, she sees a special TV report about sharehouses, and decides to start one of her own, for "40-ish" women. She wants somebody to share not only happiness and sadness, but also the "future" with. Together with 4 other single, "40-ish" women, all full of personality, she begins her new communal lifestyle. Sometimes they clash, and sometimes they help each other. This is the story of a new bond between 5 women – all of them single.
Visit this page to vote for your choice manga! And don't forget to share it since it is also included as a voting point!