This is my first post here, so for those who don't know me, I blog over at Geekorner-Geekulture, and the upcoming post is an excerpt from my Winter 2016 season preview, of the 5 shows I'm most looking forward to in the upcoming season, that begins on January 5th, just two weeks away! Hopefully, this post will help you find shows you might've overlooked, but which are worth your time. As such, the focus will not be on sequels, as fans of Teekyu don't need me to tell them the 7th season is coming up. Also, unlike many other preview lists, there's less focus on premise and plot, and more focus on the people working on the show. As Asterisk War and Tale of the Worst One had shown us this last season, premises are similar, but it's the people working on the show that make the difference.
5) Active Raid: Kidou Kyoushuushitsu Dai Hakkei / Active Raid: Special Public Security Fifth Division Third Mobile Assault Eighth Unit: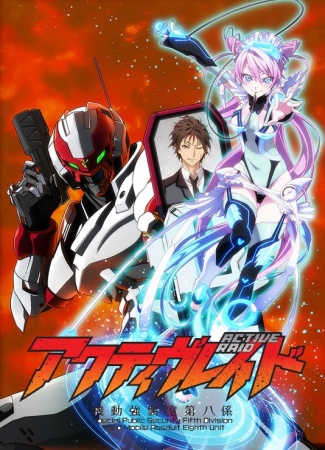 Long before I was a prolific anime watcher, I read manga (we didn't have streaming or even torrents back then, but we had comic shops), such as Ghost in the Shell and Silent Mobius, so I'm predisposed towards a show about a military force tackling opposition while wearing exoskeletons. The CG in this show seems very well done, but the character designs seem a bit too light and insubstantial for the tone I'd expect from the show. Anyway, mature characters, serious organization, and good mecha action are enough for me to buy in.
And if they weren't, this series is co-directed by Akitaya Noriaki (Bakuman and Joukamachi no Dandelion) and Taniguchi Gorou (Code Geass, Infinite Ryvius, Planetes, Scryed, and Maria the Virgin Witch), and Gorou's done a lot of stuff that I liked a lot. Composer Arakawa Naruhisa has done stuff such as Maouyu Maou Yuusha, Spice and Wolf, and Martian Successor Nadesico, but also stuff that fell apart such as Outbreak Company, and the divisive Yosuga no Sora and Gonna be the Twin Tails!!. So I'm gonna hope Gorou is the main director, and that Arakawa puts forth his better side.
Interest Rating: 2/3. This might be a case of me willing a show to be good in spite of some alarm bells, but man, please be good.
Airing Date: January 7th. Preview.
4) Dimension W: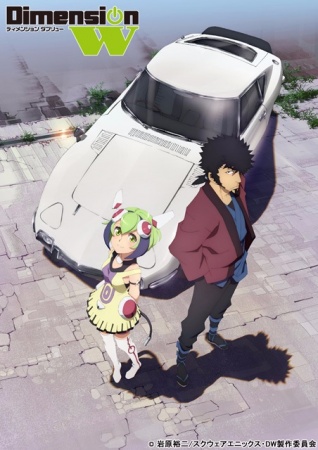 Poor Director Kamei Kanta, after directing Usagi Drop he went on to direct OreShura, Nanana's Buried Treasure, and Saekano, the last of which I really hated. But even as I hated it, it was very well-directed, just directed on all the things I didn't care for. Now though, he is joined by Suga Shoutarou, Series Composer for OreGairu (both seasons), Uchouten Kazoku, The Seven Deadly Sins, and Isshuukan Friends. I'd be willing to watch most stuff those two cook up together, but a gritty action-filled criminal-hunting, with some deeper musings on the side? Sign me right up. The lead reminds me of a cross between Lupin and Samurai Champloo's Mugen. This show could be fun, and this show could be great. It might even be both.
The mangaka, Iwahara Yuji, wrote King of Thorn, as well. Promising.
Interest Rating: 2.5/3. I just hope "cyborg ally, might actually discuss deeper issues," won't turn into another Plastic Memories, or Tokyo ESP, that just flopped. But there are good people here.
Airing Date: January 10th. Preview.
3) Shouwa Genroku Rakugo Shinjuu: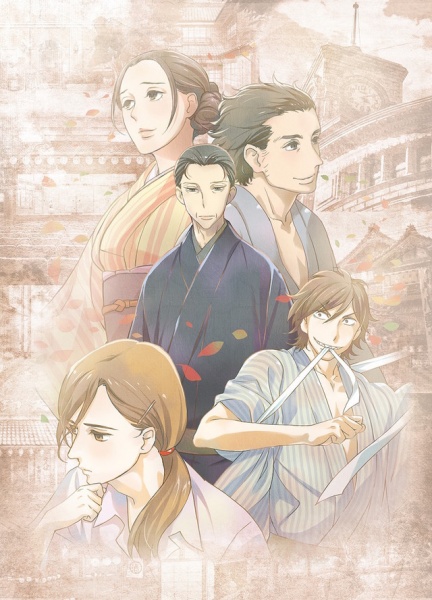 Another drama featuring adults, aimed at adults. Will wonders never cease? A historical drama, a man is released from prison and becomes an apprentice for a comic storyteller (a cross between a storyteller and a comedian, not a manga author). The storyteller has a charge, a woman whose father was also a storyteller, but she can't follow in his footsteps, because she is a woman. The setup is rare enough that it immediately demands my attention, and the good-looking previews cemented it.
To top it off, it's directed by Omata Shinichi, who directed Sankrea, Rozen Maiden (2013), which had really good direction, as well as various episodes within Studio SHAFT productions. Series Composition is by Kumagi Jun, who was in charge of Hamatora, the Persona 3-4 anime, and Aquarion Logos. I'm going to hope for the best.
Curiously, mangaka Kumota Haruko's other works all focus on BL (Boy's Love).
Interest Rating: 2.5/3. Strong director, strong source material. Drama. All the things I usually have to turn to western live-action for. Don't mind if I do!
Airing Date: January 8th. Calmer Preview, more conflict-based preview. And great music.
2) Boku Dake ga Inai Machi / ERASED (Literal translation: "The Town Where Only I am Missing"):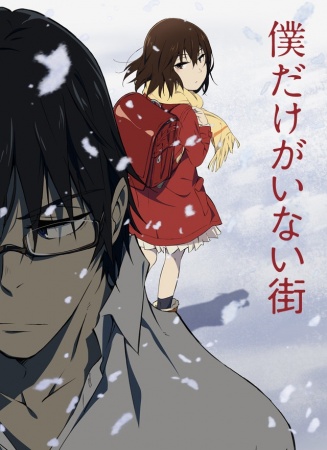 Manga is read by all walks of life in Japan, and has many intricate and highly considered stories. We mostly get the junk, or stuff aimed at younger crowds as anime adaptations (or the "GrimDark Mature!!"), so it's nice to receive something like this. I haven't read the source material, but I'm highly hopeful. The premise, of a failing mangaka who can travel back shortly in time to prevent accidents reminds me of Early Edition, which I watched with my family as a teenager. An adult protagonist is another thing I appreciate, even if he's going to get transported back to his childhood, where he'll try to decipher the disappearance of a girl from the past. The only thing giving me pause is that mysteries of this sort lend themselves to binge watching much more than being watched weekly, but I'm going in. I'm hopeful.
Director Itou Tomohiko worked on Gin no Saji's 1st cour, Occult Academy, Sword Art Online, assistant director on The Girl Who Leapt Through Time, Summer Wars, and Death Note. Even those who did not like Sword Art Online (which I'm not one of), should be able to tell the series is quite well directed, with distinct flair. Series Composer Kishimoto Taku worked on Gin no Saji, Haikyuu, and Usagi Drop; not a lot of stuff, but all good.
Interest Rating: 2.5/3. Adult protagonist, time-travel, mystery, good director and series composer, how will I not have high hopes?
Airing Date: January 7th. Preview.
1) Akagami no Shirayuki Hime / Snow White With The Red Hair 2nd Season: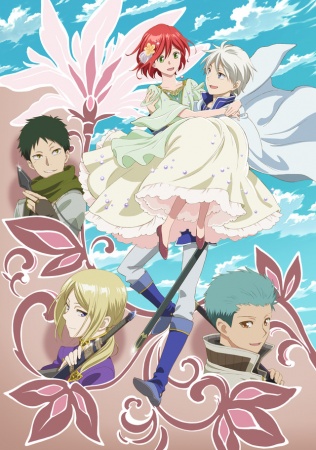 I know I said I'm going to highlight mostly new shows, but what can I do, this is the show I'm most looking forward to, and by a large margin.
In case you missed it, here are my final thoughts on the first cour of the show. The show brings up plot-threads it doesn't make use of, the characters are way too competent, and the show is at times very moralistic about work ethic. There's not a lot going on. It's mostly just watching nice characters with nice chemistry, in a show with good music and lovely backgrounds. And each week after watching it, I felt good. So what if it does nothing new, and isn't "great". It's good for my heart, and that's good enough for me. The "Will they, won't they?" Is obvious to everyone from the get-go, and they're making progress. And they're going to keep making progress and spending time together.
This will not be another Chuunibyou Ren, so it's all good. And if it somehow is, you'll have to pick me up from the floor.
Interest Rating: 3/3. I'm looking to this so much because regardless of what it does or doesn't do with plot, it's almost guaranteed enjoyment and relaxation, and that's worth a lot.
Airing Date: January 11th.
These are only my 5 most-looked forward to shows, if you'd like to see what other shows I'm interested in, or what shows I'm wary of, don't forget to check the post from which this is excerpted, which covers the vast majority of the shows this upcoming season, omitting a few shorts and sequels.
So, what are the shows you guys and gals are the most looking forward to, and what's your impression of the season as a whole? I for one am pleasantly surprised.