It has been revealed yesterday at the TBS Anime Festa 2015 as well as the official anime website and TBS' anime companion website the premiere date, additional staff, cast, character designs, key visual and promotional video of the upcoming Fall 2015 anime, Lance N' Masques (Lance and Masks, LN'M). The first episode of the anime is slated to air in these dates and channels in Japan:
TBS – Friday, October 2 at 1:46 a.m.
BS-TBS – Sunday, October 4 at 1:00 a.m.
Anime Staff:
Director: Kyohei Ishiguro (Shigatsu wa Kimi no Uso, Danchi Tomoo)
Scriptwriter: Hideaki Koyasu (Himouto Umaru-chan, GJ-bu)
Editing: Akinori Mishima (NHK ni Youkoso!, The [email protected])
Character Designer & Chief Animation Director: Kenji Oota
Director of Photography: Yoshihiro Sekiya (Baccano!, Magi: The Labyrinth of Magic)
Art Director: Hiromichi Itou (Nanatsu no Taizai, Tales of Symphonia The Animation: Sylvarant-hen)
Color Design: Ritsuko Utagawa (Gintama, Kiniro Mosaic)
Sound Director: Satoshi Motoyama (Death Parade, Yahari Ore no Seishun Love Comedy wa Machigatteiru.)
Anime Cast and Character Designs: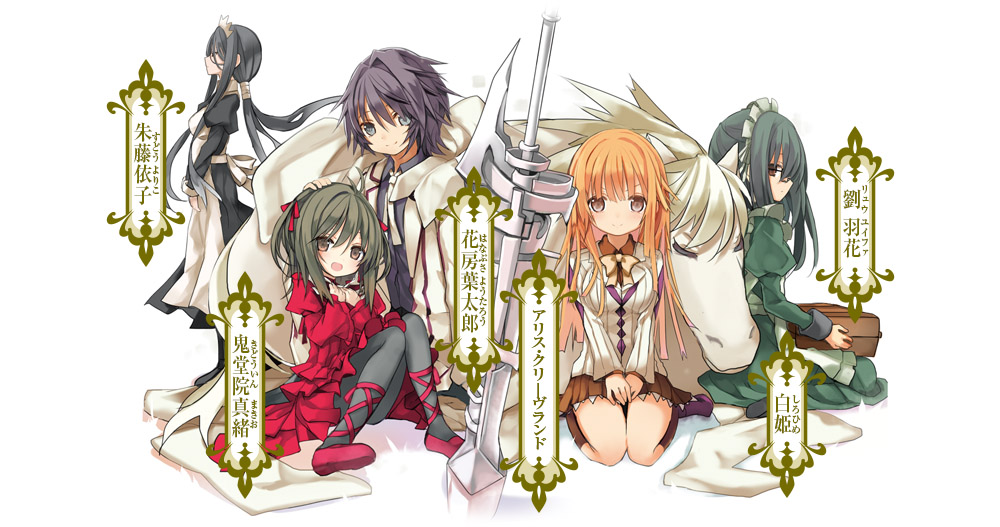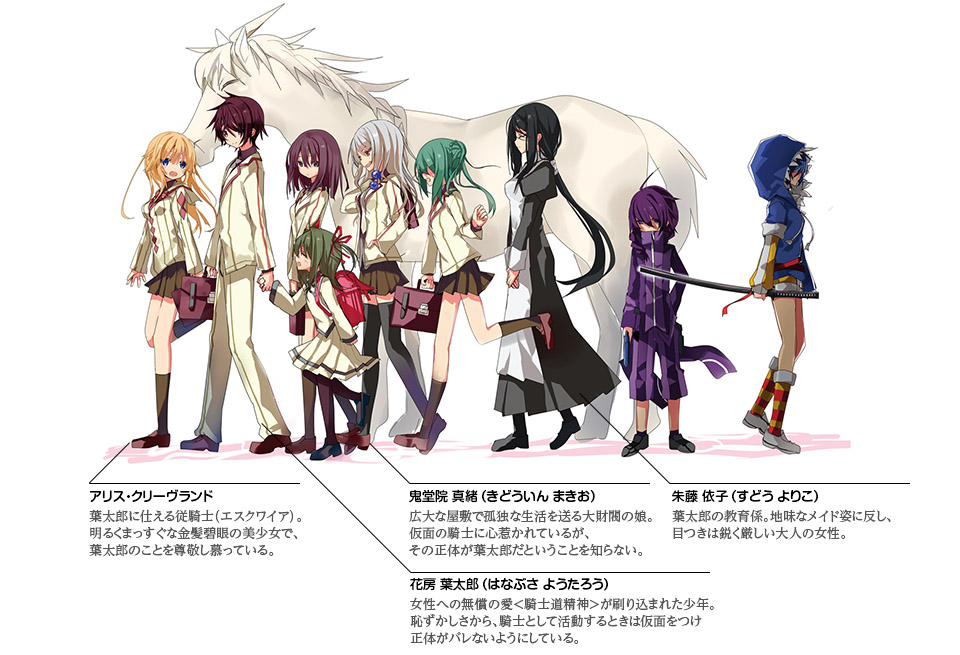 Ari Yozawa (Gekkan Shoujo Nozaki-kun's Chiyo Sakura, Monster Musume no Iru Nichijou's Papi) as Makio Kidouin

Suzuko Mimori (Kamisama Hajimemashita's Nanami Momozono, Love Live! School Idol Project's Umi Sonoda) as Alice Cleveland

M.A.O Ichimichi (Jitsu wa Watashi wa's Akano Koumoto, Sekai Seifuku: Bouryaku no Zvezda's Renge Komadori) as Ryuu Yuifa

Mami Koyama (Akira's Kei, Dr. Slump's Arale Norimaki) as Tafei
Akira Ishida (Gintama's Kotarou Katsura, Fairy Tail's Zeref) as Shin Hanabusa
Anime Banner: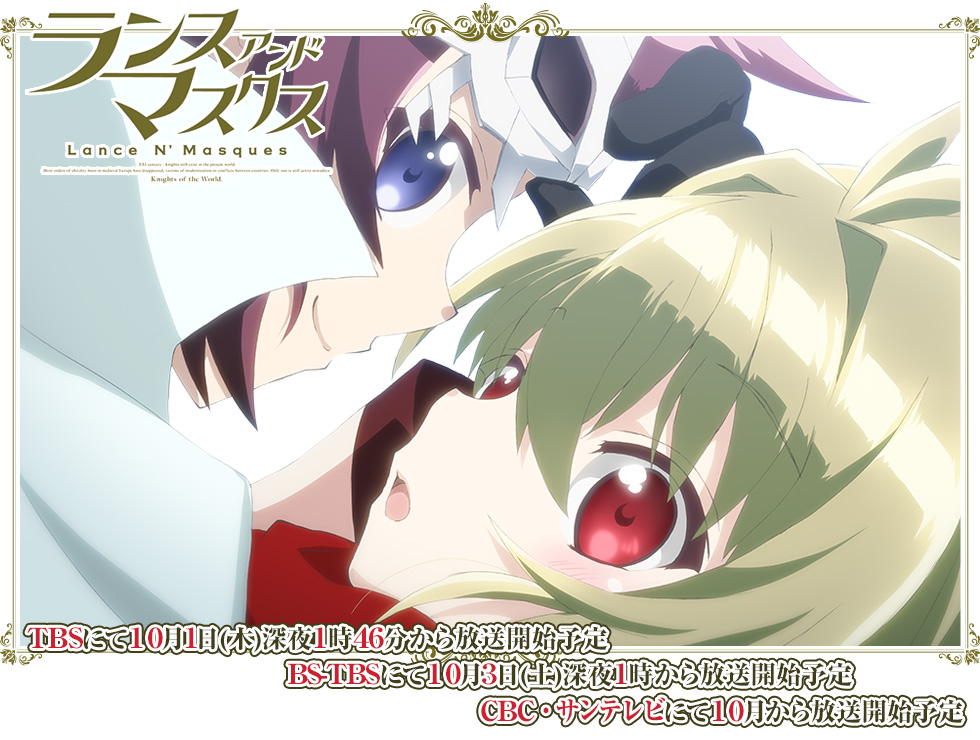 Anime Key Visual: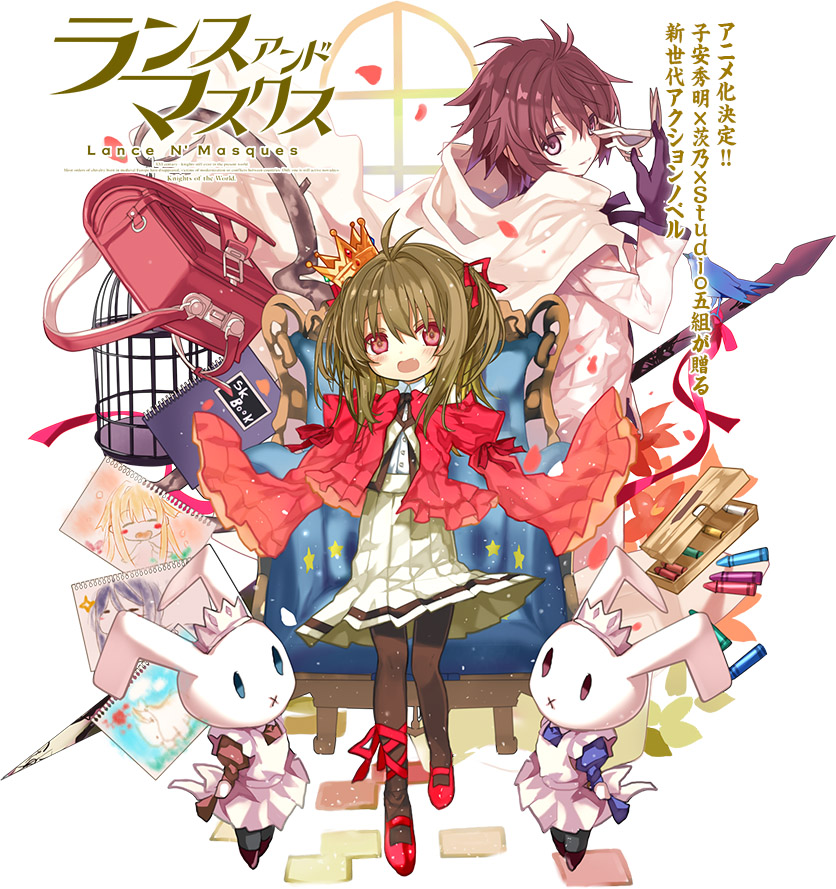 Anime CM:
Anime PV:
The anime was based from a battle-fantasy light novel series written by Hideaki Koyasu (Kamisama Hajimemashita: Kurama-yama Yawa, Katekyo Hitman Reborn! Secret Bullet) and illustrated by Shino (Kamisama no Inai Nichiyoubi, Clockwork Planet). The novel was published under Pony Canyon Books since December 3, 2013 and currently has four compiled light novel volumes. The fourth light novel volume was released on March 3, 2015.
Additionally, Pony Canyon USA will be releasing the anime in North America and will is planned to be dubbed if it has been received well by viewers.
Synopsis of Lance N' Masques from MAL:
The battle action novel series revolves around Youtarou Hanafusa, a young man who is part of the last remaining order of knights in the 21st century, "Knights of the World." As he fights as the mysterious Knight Lancer, he must hide his identity behind a mas
Source: Otasuke