North American publisher XSEED Games have revealed that they will be porting Acquire's Akiba's Trip: Undead & Undressed to Steam next week on May 26th for European and North America users. The game itself will be utilising the PlayStation 4 version which comes with high definition graphics and additional content.
AKIBA'S TRIP: Undead & Undressed launches on Steam May 26th for $29.99, €26.99, or £19.99 w/ a 10% discount 1st week! pic.twitter.com/DeuWBsLkfj

— XSEED Games (@XSEEDGames) May 14, 2015
The Steam release of the game will be a port of the PS4 version, which released late last year. The PS4 version comes with additional costumes, weapons and modes, including a sandbox mode known as the ToyBox. The game itself released on the PlayStation 3 and PlayStation Vita by XSEED last Summer. The game itself will have support for multiple resolutions as the PS4 release was in 1080p and the PS3 version in 720p.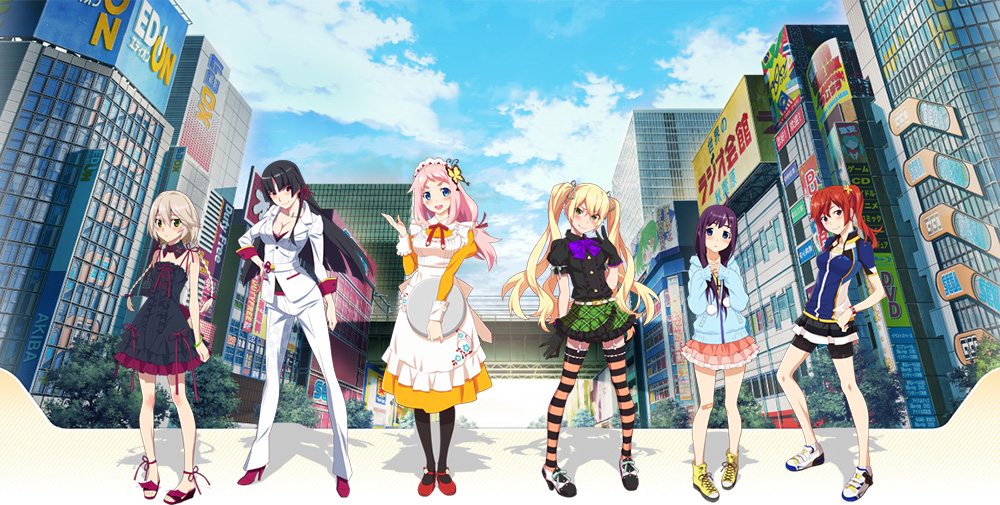 Here is the game's PS4 launch trailer:
And the Japanese release trailer:
Here is a collection of screenshots of the game:
Here is XSEED's official statement from the game's PS3 and Vita release:
In AKIBA'S TRIP: Undead & Undressed, players work to repel a brooding malevolence that has suffused Tokyo's popular electronics district, Akihabara (Akiba for short), which has been painstakingly remodeled in the game to resemble its real life counterpart. Akiba has been invaded by creatures known as "Synthisters" who prey on the otaku patrons of Akihabara like vampires, but feast on their will to live and energy to socialize rather than their blood. Only direct exposure to sunlight can destroy the Synthisters, and it's up to players to ensure that that's just what they get. If only it weren't for those pesky clothes protecting them from the sun's harmful rays…

That's where players come in. It's their task to roam this sanctuary of anime and gaming fanatics, identify the outwardly human Synthisters with the help of a handy smartphone app, and then beat and pull at them until they've been relieved of their clothes, exposing them to sunlight and sending them to the netherworld. Everyday objects from baseball bats to comic books to motherboards can be used as weapons, and players can take their enemies' unique clothing for their own personal use as well.

AKIBA'S TRIP: Undead & Undressed tells the story of a young man named Nanashi who was lured into a trap and transformed into one of the walking undead. Lucky enough to be spared the worst of his fate by the kiss of a mysterious Synthister hunter named Shizuku, Nanashi is sworn to rid Akihabara of the Synthister threat. Together with the rest of his companions in an organization unofficially dubbed the "Akiba Freedom Fighters," Nanashi and Shizuku must uncover the truth behind the Synthister plague and save Akiba from being overrun by their kind.
The first Akiba's Trip released on the PlayStation Portable on May 19th 2011 in Japan, with an updated version titled Akiba's Trip PLUS releasing in June 2012. The game is developed and published by Acquire. The game is set in a recreated setting of Akihabara, with many shops and stores being identical with the real district. The game is an action adventure game where players must strip vampire-like enemies so their skin is revealed to the sunlight. The player can also romance various female characters. Akiba's Trip 2 released on the PS3 and Vita in Japan in November 2013. An international release of the second game was produced in late 2014 under Akiba's Trip: Undead & Undressed. It was published by XSEED games in North America and by NIS America in Europe.

Akiba's Trip: Undead & Undressed will be out on Steam on May 26 worldwide and will cost $29.99, €26.99, or £19.99. During the first week of launch the game will receive a 10% off discount.
You can visit the game's International website here: http://akibastrip.com/
And the Japanese website here: http://www.akbstrip.jp/
Source – Akiba's Trip 2 Website, XSEED Twitter