A new visual for BONES' (Fullmetal Alchemist: Brotherhood, Darker than Black: Kuro no Keiyakusha, Noragami) upcoming anime adaptation of Kafka Asagiri (Shionomiya Ayane wa Machigaenai.) and Hirukawa35's supernatural manga, Bungou Stray Dogs, has been revealed in the February 2016 issue of Animage. Osamu Dazai and Atsushi Nakajima are illustrated by series' character designer Nobuhiro Arai.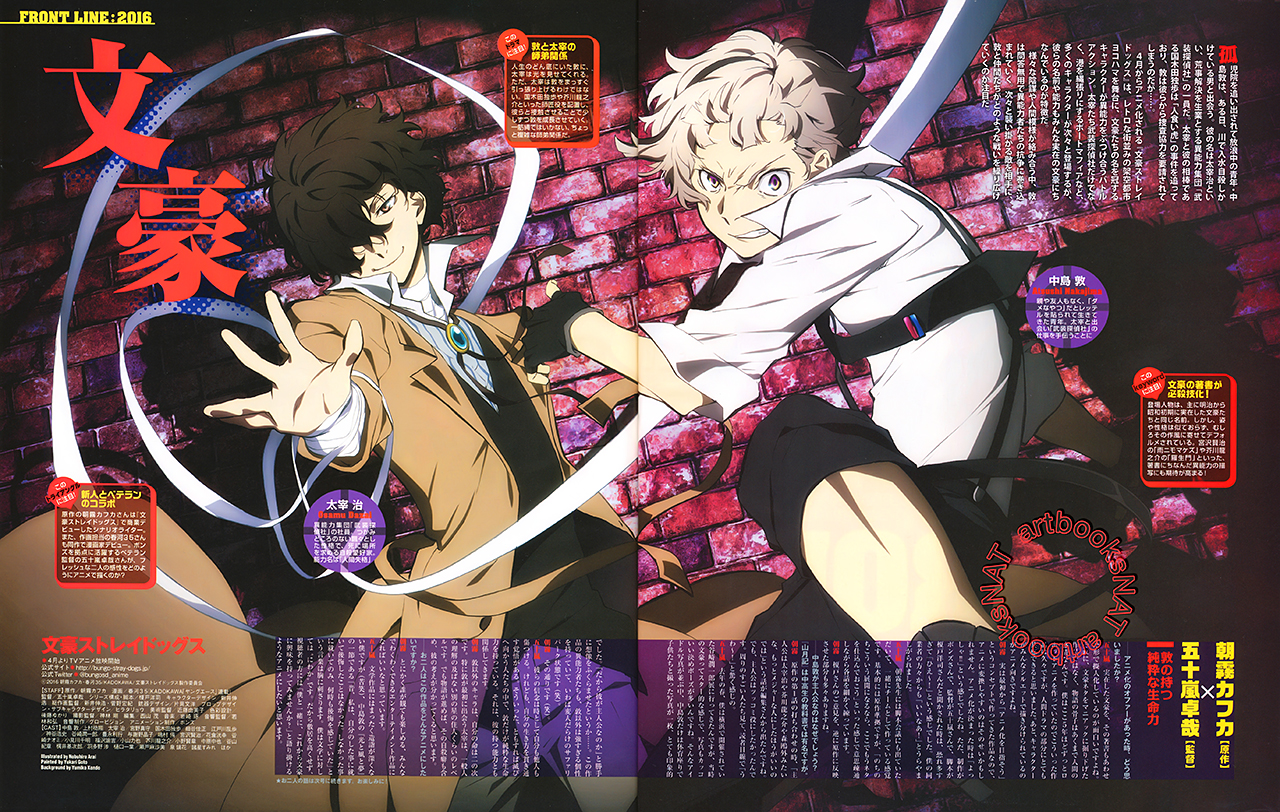 Another visual for the series has been revealed in the February 2016 issue of NewType. You can purchase this issue here (get 5% off with coupon code MOE-N3Y-4YW0QK).
Here's the most recent visual for the anime:
Staff:
Director: Takuya Igarashi (Soul Eater, Ouran Koukou Host Club)
Script: Yoji Enokido (FLCL, Captain Earth)
Animation Studio: BONES (Fullmetal Alchemist: Brotherhood, Darker than Black: Kuro no Keiyakusha, Noragami)
The cast includes:
Yuto Uemura (Tsukito Totsuka from Kamigami no Asobi) will voice Atsushi Nakajima
Mamoru Miyano (Taichi Mashima from Chihayafuru) as Osamu Dazai
Yoshimasa Hosoya (Daryun from Arslan Senki) as Doppo Kunikida
Hiroshi Kamiya (Yato from Noragami) as Ranpo Edogawa
Toshiyuki Toyonaga (Mikado Ryuugamine from Durarara!!) as Junichirou Tanizaki
Hiroyuki Kagura (Shouta from Turnover) as Kenji Miyazawa
Yuu Shimamura (Aida Surugan from Gundam: G no Reconguista) as Akiko Yosano
Chiaki Omigawa (Maka Albarn from Soul Eater) as Naomi Tanizaki
Rikiya Koyama (Kiritsugu Emiya from Fate/stay night) as Yukichi Fukuzawa
Kensho Ono (Slaine Troyard from Aldnoah.Zero) as Ryuunosuke Akutagawa
Visual:
Bungou Stray Dogs is a Japanese manga written by Kafka Asagiri and illustrated by Harukawa35, follows a detective agency whose members are modeled after great writers in Japanese history and have supernatural powers. The series has been serialized in Young Ace since 2012, and there are currently eight volumes in print. Bungou Stray Dogs has more than 1.7 million copies of its volumes in circulation.
Synopsis of Bungou Stray Dogs from Haruhichan:
Nakajima Atsushi was kicked out of his orphanage, and now he has no place to go and no food. While he is standing by a river, on the brink of starvation, he rescues a man whimsically attempting suicide. That man is Dazai Osamu, and he and his partner Kunikida are members of a very special detective agency. They have supernatural powers, and deal with cases that are too dangerous for the police or the military. They're tracking down a tiger that has appeared in the area recently, around the time Atsushi came to the area. The tiger seems to have a connection to Atsushi, and by the time the case is solved, it is clear that Atsushi's future will involve much more of Dazai and the rest of the detectives!
Source: artbooksnat