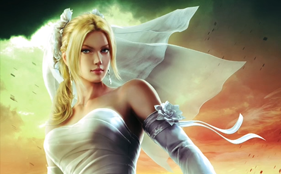 Nina Williams is an irish, cold-blooded assassin that made her first appearance in the original Tekken game and has been in every Tekken game ever since. Nina's fighting style consists of lethal blows, grapples, throws, and choke holds. Her and her sister, Anna Williams, were put into Cryogenic Sleep and were experimented on for 15 years, which explains why Nina still looks so young. Before the years of Cryogenic Sleep, however, she was impregnated without her consent and gave birth to Steve Fox (who appears in Tekken 4 and onward).
Williams was drugged by an underground force when she was young in order to cultivate the perfect assassin. She has a deep hatred for men ever since her defilement in Tekken 2. The only man she has ever trusted was her father, who died shortly before Tekken 2. After her father's death Nina was controlled by Ogre. Thus, she was unable to feel any emotion.
Nina also stars in her own action game, Death by Degrees.
It was recently revealed that Nina Williams will return in Tekken 7 as a playable character. This strong woman isn't afraid to stomp on you, in her gorgeous Fatal Bride costume. Hell hath no fury like a woman scorned.
Last month it was revealed that the Street Fighter character Akuma will also be joining the game as a playable character.
https://twitter.com/AllGamesBeta/status/692238987533144064
Source: Jefusion
Somewhat of an aspiring journalist.
110% weeb.