The first promotional video has been posted for Denki-Gai no Honya-san, the anime adaptation of Asato Mizu's manga which will be airing this October under the fall 2014 anime season. The series began in Kadokawa's Monthly Comic Flapper magazine in July 2011. To date there are 7 volumes released with the 7th volume being recently released last May.
Denki-Gai no Honya-san PV:
Animator/storyboard artist Masafumi Sato will be directing the Shin-Ei Animation (Doraemon, Crayon Shin-chan) production. Milky Holmes' Makoto Moriwaki is supervising director, re-teaming with Kazuyuki Fudemasu on series composition and animator Yurie Kuniyuki stepping up to do character design and animation direction.
Cast from a 2013 drama CD reprise their roles, minus Mako as Fu (Rotten)-girl and Tomokazu Sugita as Sommelier.
Hio-tan – Natsumi Takamori 

(Mei Misaki from 

Another

)

Sensei – Minami Tsuda 

(Megumi Yoshikawa in 

Wake Up Girls!

)

Rotten Girl: Ayana Taketatsu (Kotori Itsuka from Date A Live)
Kameko – Mai Aizawa (Anna Moeki from Ai Mai! Moe Can Change!)
Ero Hon G Men – Yu Kobayashi (Sigui from Queen's Blade)
Tsumorin – Satomi Sato (Wendy from Fairy Tail)
Kantoku – Yoshitsugu Matsuoka 

(Kirito in 

Sword Art Online

)

Sommelier – Takahiro Tomita (Kunimi from Diamond no Ace)
Umio – Ryota Osaka 

(Motoki Yaze in 

Strike the Blood

)
25-year-old voice actress Ayana Taketatsu's 6th solo single will be featured as the OP theme for the anime. The CD single will go on sale in Japan on October 15.
The ED song will be performed by a newly-formed voice actress unit denk!girls. The four members of the units are: Natsumi Takamori (Hiotan), Minami Tsuda (Sensei), Ayana Taketatsu (Fu Girl), and Mai Aizawa (Kameko). The CD single will be released on October 29.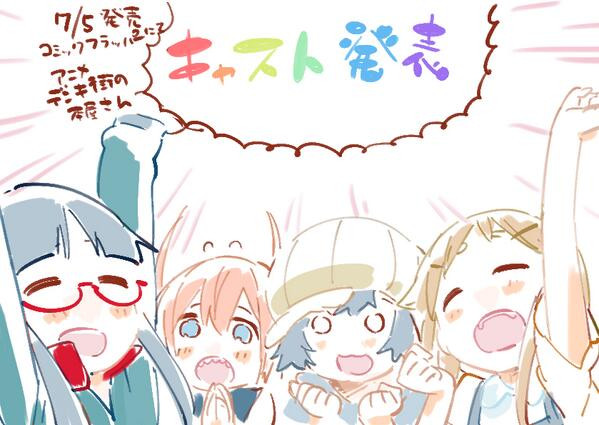 The cover of the June 2014 issue of Comic Flapper announcing the anime: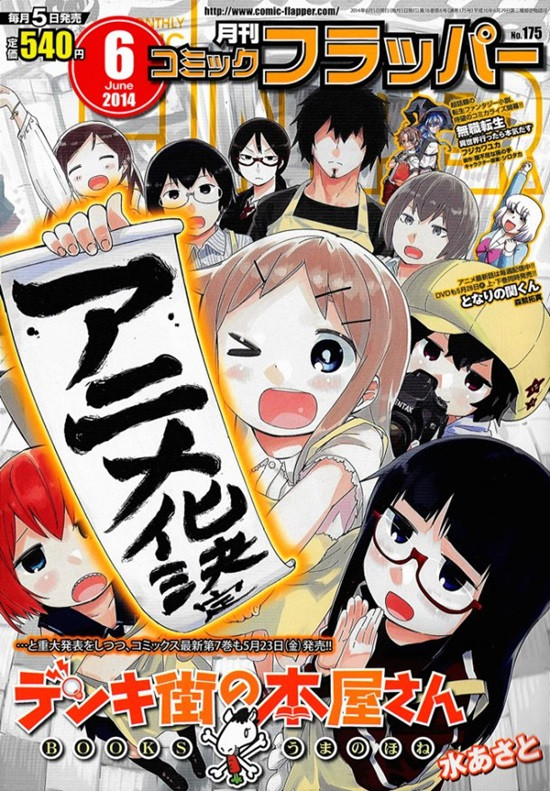 Volume 1-6 cover:
Denki-Gai no Honya-san synopsis from Haruhichan:
Umio is a shy kid who just started his part time job at a manga store smack dab in the middle of the city. But his lifestyle isn't as glamorous as the neon lights that illuminate the city. Umio's closest friends are his co-workers who are all unique characters, to say the least, and although they're nice people, they have their quirks. They are a tight knit group of friends, have nicknames for each other and spend their weekends inside, sheltered from the extravagant scene happening on the outside.
Source: Crunchyroll