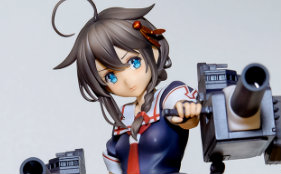 With the anime based on the popular browser game Kantai Collection reaching its peak, figure companies are releasing their 2015 products quickly. One of these available in late September is the popular destroyer, Shigure from the Shiratsuyu Class. This beautiful 1/8 scale figure features Shigure's aqua blue eyes, and  guns and hair from her remodel.
Kantai Collection – Shigure Kai Ni 1/8 Figure – Pre-orders are currently available on JList and is scheduled to be released in September 2015.
Shigure Kai can be pre-ordered here.
Business Major at University and lover of all things cute. Ask me about my figure collection