If you did not get enough of her during our last review, prepare for another dose of fan service. Professional one-stop hobby shop E2046.com has provided us with yet another figure of the busty, pink haired Nitroplus mascot; Sonico. As expected from the team, she looks gorgeous, and the piece is better crafted than ever (we can imagine why the artists spent more time on this one *nudge nudge wink wink*)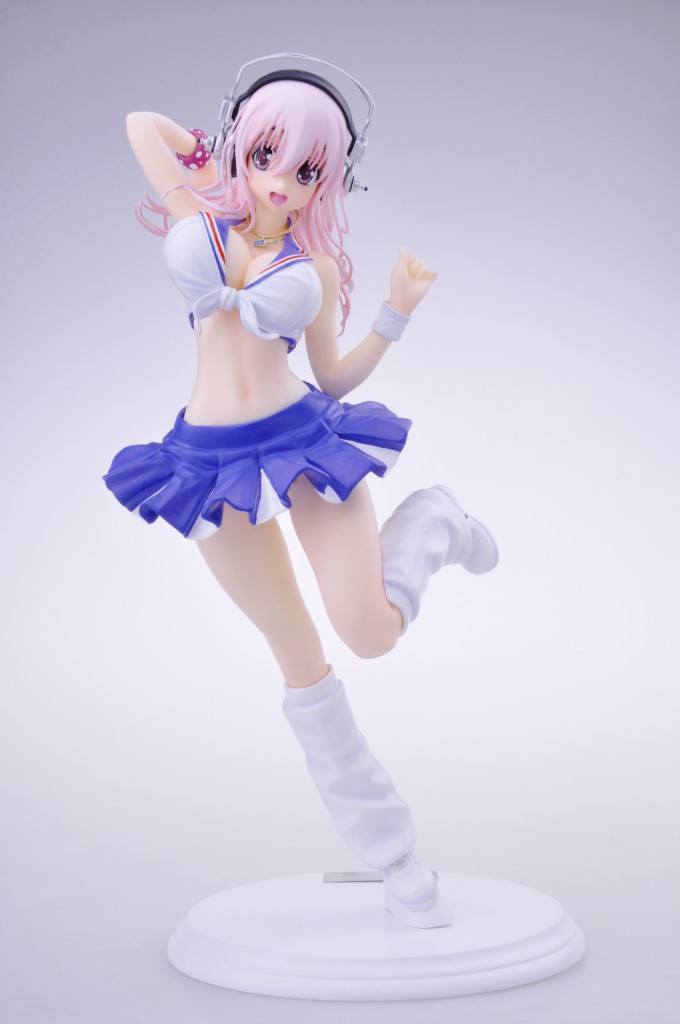 Sadly, she's wearing more than last time, but that doesn't mean one wouldn't be motivated to… you know… provide her with some… "polish". Yeah, polish, that's it. Jokes aside, she is dressed as a cheerleader and I can assure you, she's motivational alright! Tied-up shirt, knee-high platform boots and cheer skirt with detachable pom-poms and all, she's completely decked out in the standard cheerleader garb. Let's not forget her signature headphones!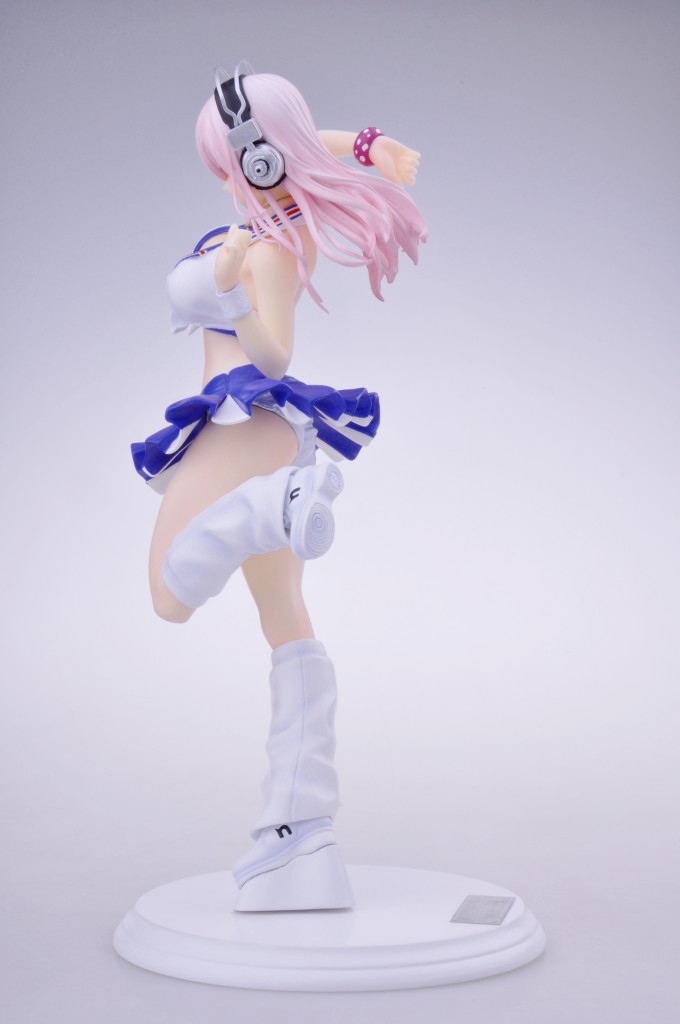 The cute pose she is in really brings out the character in the figure, as not only does it look adorable, but it fits the cheerleader image. What one really comes to appreciate upon closer inspection however is how detailed the ends of her hair and the streamers in the pom-poms are. Each individual strand in both her head and the pom poms are articulated to give a very realistic feel. One should be warned about how fragile they may be, however no complaints have been logged about breakage. Regardless, it is better to be careful with them.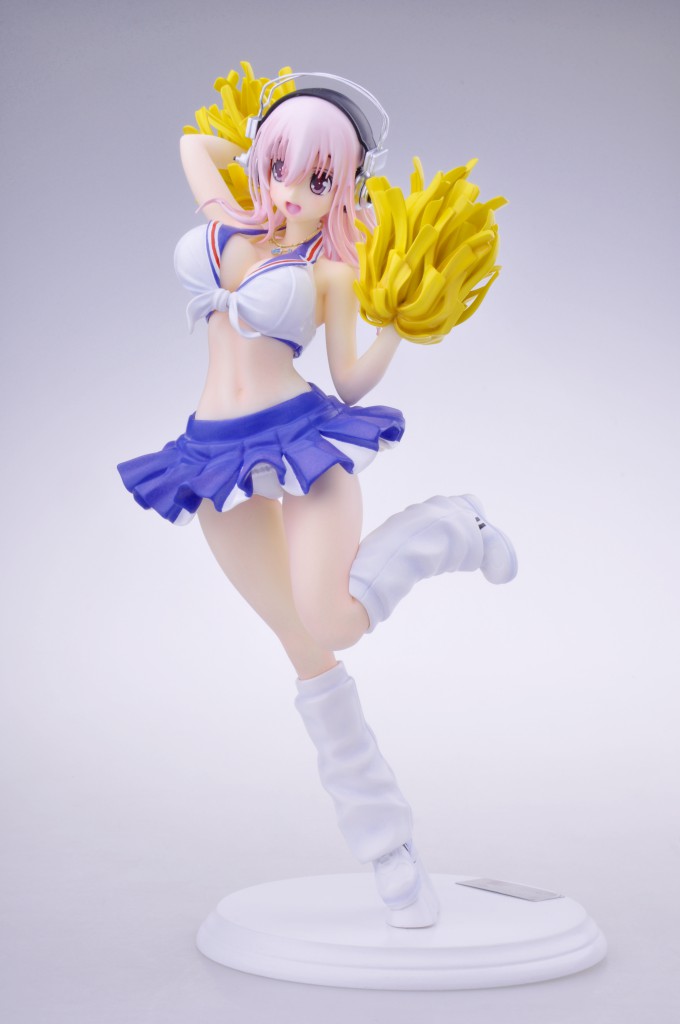 Without getting too carried away, let us take a look at the paint job on her body. She's been expertly handled (that sounds so dirty) and as a result, her slender waist, up to the clothes covering her voluptuous chest are well painted and detailed – the creases from the shirt being stretched due to her womanly mounds are visible. She has, as they say "curves in all the right places" and her face is just as pretty as one would come to expect. Her eyes are surprisingly detailed – in fact, more detailed than any other figures I have reviewed thus far. Color scheme is perfect, as is size and placement. These people know what they're doing!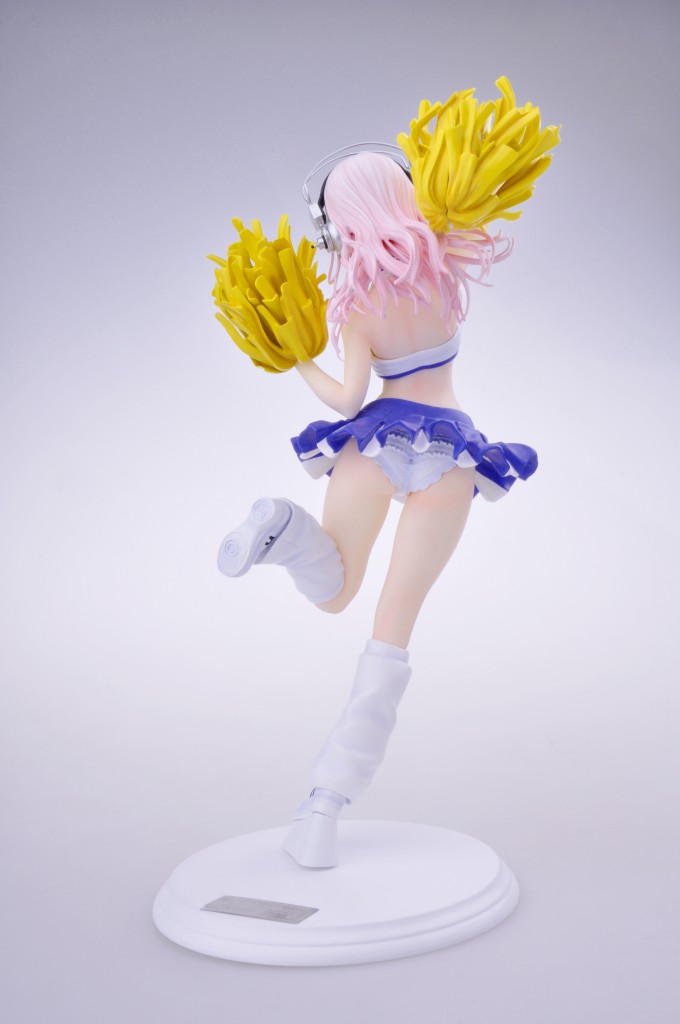 No matter which angle you look at this beauty from, she's absolutely dripping with that spunky allure a lot of us are so fond of. The term in Japanese being "genki", Sonico's expression and pose both capture the mood they were trying to portray excellently. Looking at her from behind is just as enjoyable. We did say she was more covered than before, but all that does is leave more to the imagination – we'd be lying if we said we did not try to sneak a peek up that little skirt of hers!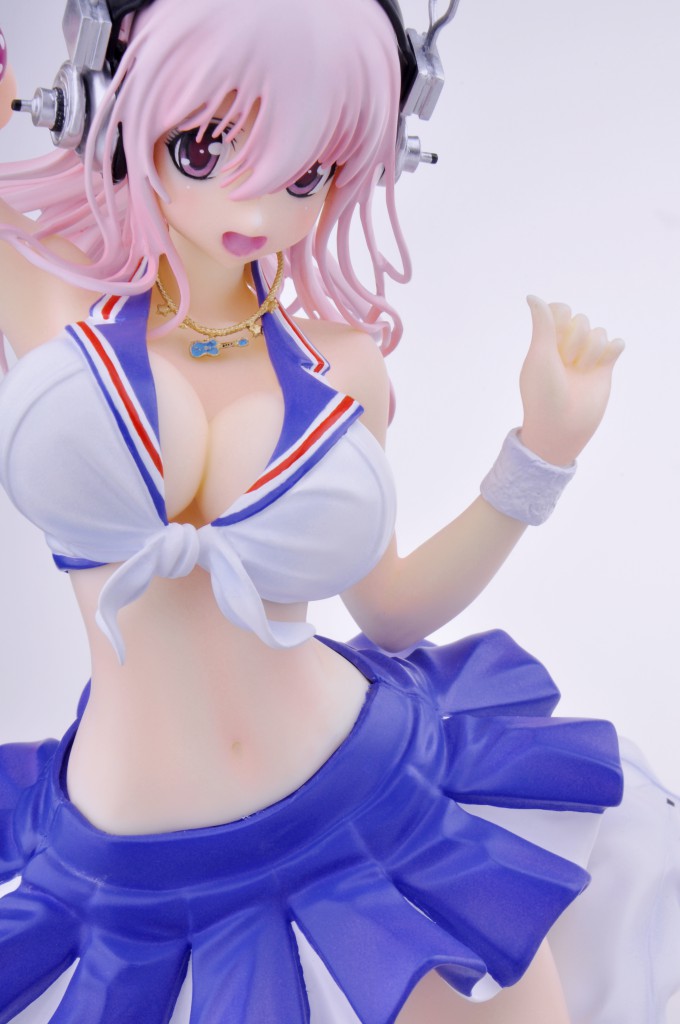 Standing at 32 centimeters and weighing a little over one and a half kilogram, Sonico comes with a stand on which to prop her cute little figure on to. Normally priced at over $220, she comes at a 25% discount, making her a much more affordable – $167. For those who did not know yet, Sonico shall also be starring in a new show of her own in the Winter 2014 season, so expect demand to rise. Get her while she's hot! (Well, she'll always be hot… But you know what I mean!) Order her here now and while you're at it, get yourself a box of tissues – you'll thank me later.