Being among the most underrated shows in recent times Gatchaman Crowds not only had an incredible, unique visual style, excellent message driven story, and diverse cast, but also had an amazing OP and ED. This current season seems as promising as the last but how do the opening and ending stack up? The OP: "Insight" by WHITE ASH is the track for this season. As it's by the same band as the first season's OP/ED, it follows the same thematic style of being an upbeat, funky track. It's likely to stick in the head of many folks just like the last one.
The animation is what wins me over however, as just with the first season's, it follows a very similar formula, but that formula leads to pure awesomeness. With use of filters and motion blurs that pit animated characters against live action backgrounds, it's an absolute visual treat, not to mention the beautifully rendered Gatchaman transformations. But enough of me, watch it below!
http://www.dailymotion.com/video/x2wmod0
While the ED of the first season will always hold a place in my heart, this season's ED is great in its own way. The track being "60 Oku no Tsubasa" by ANGRY FROG REBIRTH, it features brief heavy metal style screaming to accompany its fast paced punk rock theme. It's an amazing song, but it has quite a lot to live up to. Will this end up being hummed instead of the season 1 ED? The animation speaks for itself, watch below to see!
http://www.dailymotion.com/video/x2wmov0
The second season of the Gatchaman Crowds anime, Gatchaman Crowds Insight, began airing from July 3.
The new cast members are:
Kaori Ishihara (Azusa Azuki from Hentai Ouji to Warawanai Neko.) as Tsubasa Misudachi, a 16-year-old second year high school student from Nagaoka in Niigata Prefecture. She is also a new Gatchaman, and as a Gatchaman she is Hajime's new partner. She has an impulsive personality. When she's angry she slips into her home city's dialect.
Yuichiro Umehara (En Yufuin from Binan Koukou Chikyuu Bouei-bu LOVE!) as Rizumu Suzuki, a 19-year-old medical student at a famous university. A realist, he regards Crowds and Rui as dangerous, and starts a mysterious organization.
Kana Hanazawa (Kanade Tachibana from Angel Beats!) as Gelsadra, an alien who makes an emergency landing in a space ship in front of Tsubasa's house, and so becomes attached to Tsubasa. Gelsadora is a pacifist, and so is under the protection of the Gatchaman. A character named originally appeared in the 1978 anime, Gatchaman II.
Last May a new visual for the series was revealed: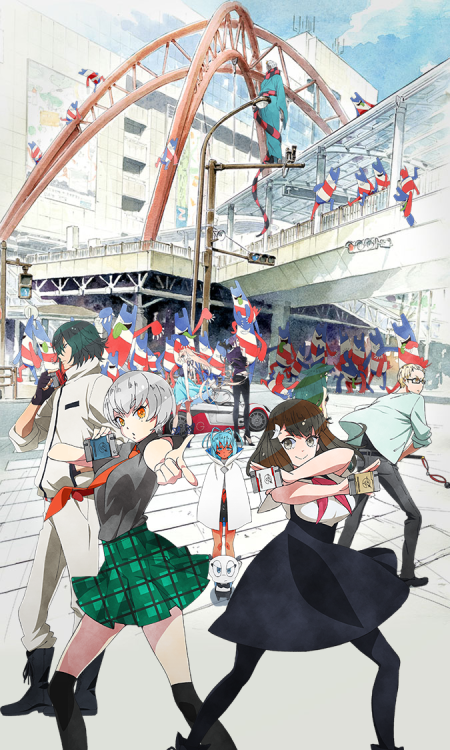 The main staff will consist of:
The first Gatchaman Crowds anime season aired from July 2013 in the Fall/Autumn 2013 anime season for a total of 12 episodes and starred:
Maaya Uchida (Rikka Takanashi from Chuunibyou demo Koi ga Shitai!) as Hajime Ichinose
Daisuke Namikawa (Rokuro Okajima in Black Lagoon) voiced Joe Hibiki
Ryota Osaka (Nagate Tanikaze from Knights of Sidonia) voiced the role of Sugane Tachibana
Aya Hirano (Lucy Heartfilia in Fairy Tail) voices Paiman
Mamoru Miyano (Rintarou Okabe in Steins;Gate) was voicing Berg-Katze
Kotori Koiwai (Renge Miyauchi from Non Non Biyori) played Utsu-tsu
Daisuke Hosomi (Souichirou Mikuni in C: The Money of Soul and Possibility Control) voicing as O.D
Ayumu Murase (Shun Aonuma from Shinsekai yori) as Rui Ninomiya
Gatchaman Crowds is one of the five anime adaptations based on the original 1972 anime series Science Ninja Team Gatchaman. The 12-episode anime aired on July 2013. It was directed by Kenji Nakamura (Mononoke, Tsuritama), licensed by Sentai Filmworks and streamed on Crunchyroll. Only few of the characters from the previous season were announced to play their roles in the sequel. (More information will be provided soon.)
Gatchaman Crowds Visual: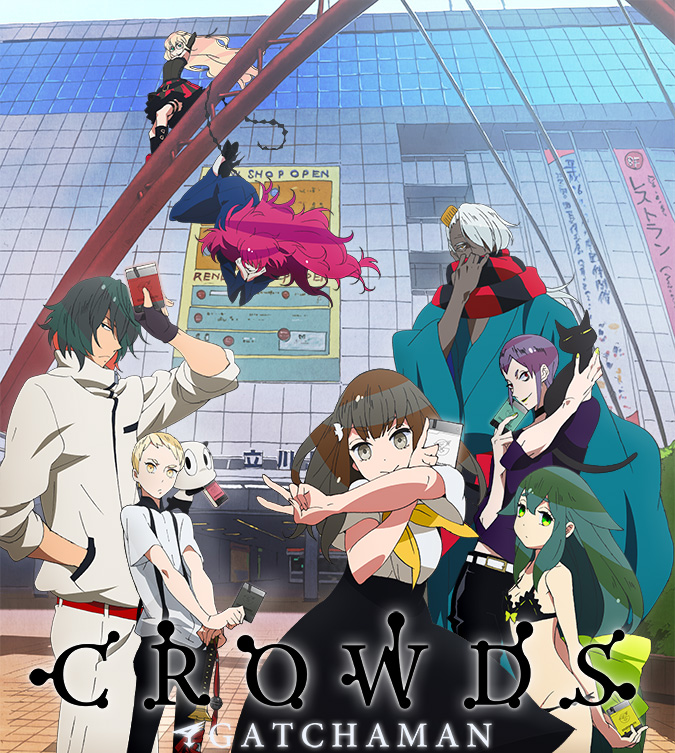 Synopsis of Gatchaman Crowds from Haruhichan:
The story is set in Japan in the early summer of 2015. 180,000 people live in Tachikawa City, the "second metropolis" of the Tokyo area. Among them are "Gatchaman"—warriors who fight in special reinforced suits powered by "NOTE," the manifestation of special spiritual powers in living beings. A council has scouted a group of individuals with latent powers to protect Earth from alien criminals. In recent years, the council has assigned Gatchaman warriors to deal with the mysterious entity known as "MESS."
You can visit the Gatchaman Crowds Insight website here: http://www.ntv.co.jp/GC_insight/
And follow their Twitter: @GATCHAMANCrowds