It was revealed in the September 2015 issue of Houbunsha's 4-panel Manga Time Kirara MAX magazine released on Saturday that the second season of Koi's Gochuumon wa Usagi desu ka? anime will be produced by White Fox (Steins;Gate, Hataraku Maou-sama!), who already animated the first season, and Kinema Citrus (Barakamon, Yuyushiki). The sequel anime titled as Gochuumon wa Usagi Desu ka?? will premiere on October 2015 as part of the Fall 2015 anime line-up.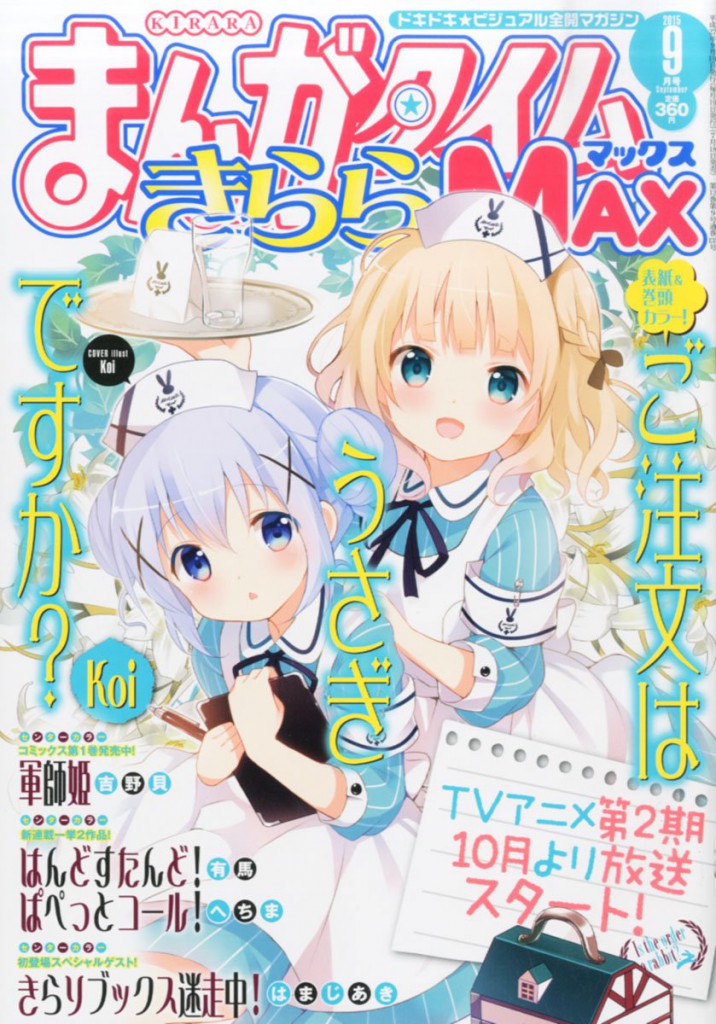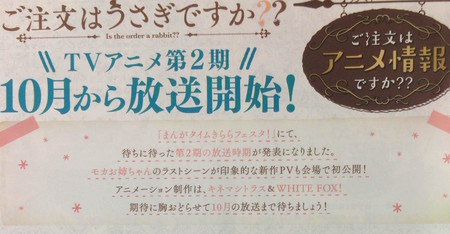 Main Anime Cast:
Inori Minase (Gakkou Gurashi!'s Yuki Takeya, Sora no Method's Noel) as Chino Kafuu
Ayane Sakura (Nisekoi:'s Haru Onodera, Boku wa Tomodachi ga Sukunai's Yozora Mikazuki) as Kokoa Hoto
Risa Taneda (Gate: Jieitai Kanochi nite, Kaku Tatakaeri's Rory Mercury, Kyoukai no Kanata's Mirai Kuriyama) as Rize Tedeza
Maaya Uchida (Charlotte's Yusa Nishimori, Chuunibyou demo Koi ga Shitai!'s Rikka Takanashi) as Sharo Kirima
Satomi Sato (Golden Time's Nana, Fairy Tail's Wendy Marvell) as Chiya Ujimatsu
Second Season Visual: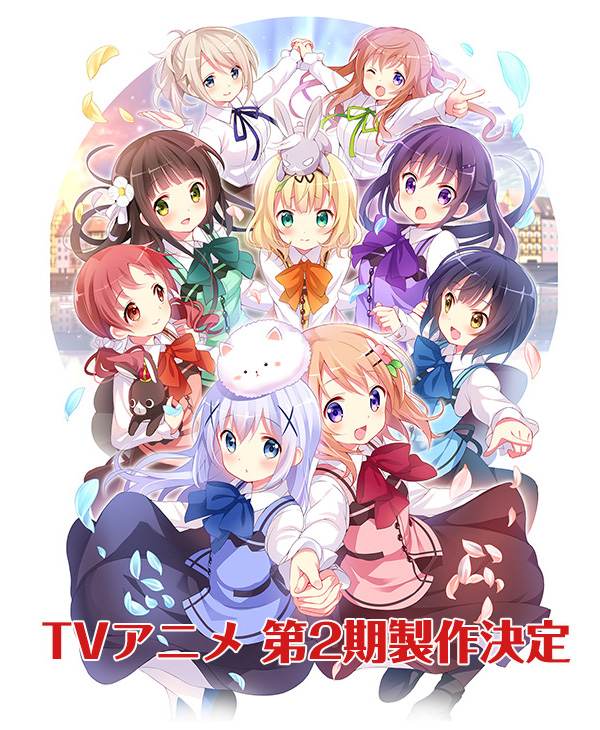 The manga was published under the said magazine since January 19, 2011. There are currently three compiled manga volumes and the fourth volume will be released on September 26, 2015.
Synopsis of GochiUsa's first season from Haruhichan:
Cocoa arrives at the cafe Rabbit House one day, excited for rabbits. She actually all but lives in that cafe. She meets lots of different girls there, including a tiny and cool girl named Chino, a tough and soldier-esque girl named Rize, a spacey and quintessentially Japanese girl named Chiyo, and the ordinary but dignified Sharo.
Source: ANN