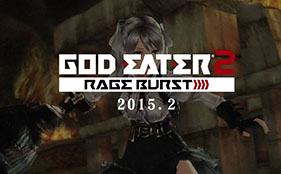 Bandai Namco began streaming a promotional video for the upcoming anime adaptation of their God Eater game series on Wednesday. The video reveals that the anime will begin broadcasting this summer.
The cast was revealed earlier and is as follows:
Director: Hirao Takayuki (Gyo, Death Note Episode Director)
Produced: ufotable (Fate/Zero, Fate/Stay Night 2014)
Character Designs: Shimizu Keita (Tales of Phantasia, ToHeart2)
Music: Shiina Gou (Kyousogiga, God Eater Games)
God Eater is an Action Role Playing, Hack n Slash game developed by Shift and published by Bandai Namco Games. The games are set in a dystopian future Japan, where large monsters called Aragami have destroyed most of mankind. In the games you play as a God Eater, a small group of soldiers whose sole purpose is to defeat the Aragami using weapons made from the Aragami's cells. A total of 3 games have been released since its start in 2010. The first game in the series released in Japan in February 2010 for the PlayStation Portable with an updated release titled Gods Eater Burst later in the year, where it also released internationally. A direct sequel to the game was published last year in Japan on the PlayStation Portable and PlayStation Vita. The game has been announced to be localised, but no date has been given yet. An anime adaptation by ufotable was announced earlier this year, the released date of the anime is still unknown.
God Eater synopsis from Haruhichan:
Anime adaptation of Bandai Namco's PSP action game series "God Eater."
Source: ANN