Importing video games and consoles from Japan just got exponentially easier, thanks to Amazon Japan introducing international shipping.
However, according to Gematsu, there might be a sprinkle of titles – including Capcom's Phoenix Wright: Ace Attorney 6 – that are unavailable for purchase overseas. This could be due to international shipping becoming a new concept for Amazon Japan, so it could only be a matter of time before locks on certain games are lifted.
Additionally, international shipping can only be applied onto purchases that are sold by Amazon, rather than being "fulfilled" by a third-party distributor. It's worth noting that only a select few consoles – including the PS4, PS3, PSVita, and Xbox One – are region-free. Thus, this means that to access titles on either the PS2, Xbox 360, Wii, Wii U, or 3DS, they must be played on a system of the game's respective region (i.e. JP, NTSC, PAL).
Signing up for an Amazon.co.jp account is mandatory to make orders, but is as easy as setting up any ordinary Amazon account. Nevertheless, here's a quick guide to get you started:
1. Under the search bar, right next to "Help," click the "In English" button.

2. Next, simply enter your basic information and create your Amazon account.
3. Slide your cursor over to the "Your Account" tab and click on "Your Account." From here, scroll down towards the Settings category  and click "Manage Your Address Book."

4. From here, click on "Add an International Address" and put in your information.
Congratulations, now you can get started on ordering imported consoles, handhelds, and video games, straight from Japan! If you're worried about international shipping costs, don't fret for shipping is affordable and nearly instantaneous. I decided to practice placing an order for Dead or Alive Xtreme 3 Fortune to receive an estimate, with the grand total coming out to an impressive $73 USD – in comparison to over $85 on Play-Asia or $110 through importers on Amazon US.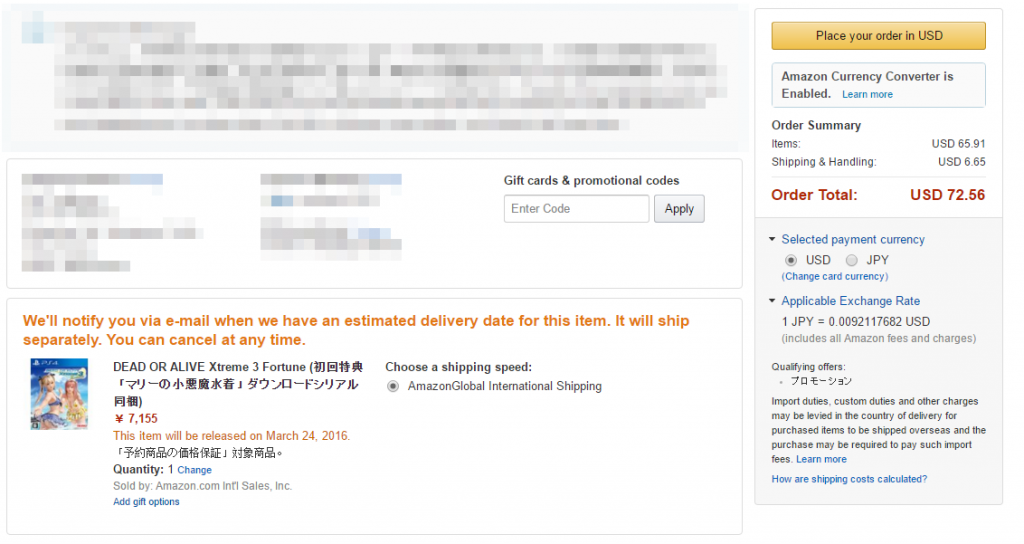 Source: Gematsu