The Korean pop group Apink kicked off their North American tour, Pink Memory on January 5th, in Vancouver Canada. The 2016 tour will hit the following four cities:
Vancouver, Canada

Dallas, Texas

San Francisco, California

Los Angeles, California
The tour spans from January 5th to January 8th, and the tickets ranged from $50 to the vip being between $215 in the United States, to $250 at the Canadian venue. Thankfully, there is no age limit to this event, so fans of all ages are able to join! Tickets went on sale November 28, 2015, and are currently still on sale. The VIP tickets includes a chance to win an autographed poster and a high touch pass with Apink members. The VIP M&G tickets (meet and greet) includes a guaranteed porto pass with the Apink members, as well as a high touch pass. Both Vip passes include early entry, and have limited quantities varying for each venue.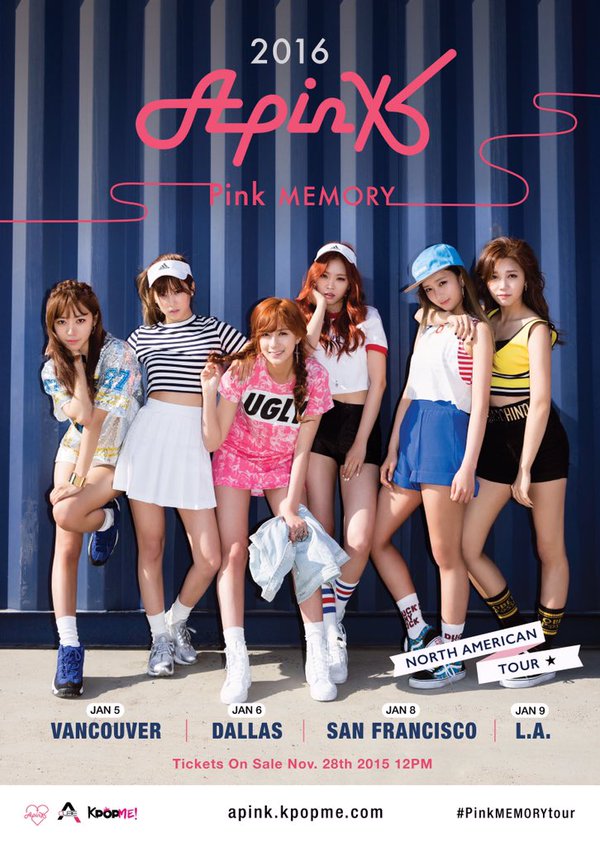 Here is the promotional video for the groups tour:
You can purchase tickets for Dallas, TX,  Los Angeles, CA, and  San Francisco, CA.                                              
If you are unfamiliar with some of their songs, here are a few of their songs that could be featured on the tour, and are also featured on their album:
Apink- Remember
Apink- Petal
Apink- Secret Garden
Source: kpopme