Konami, the publisher of such long-lasting franchises like Castlevania and Contra, have been making some conflicting statements as of lately. Despite the closure of Kojima Productions, an in-house game development studio for Konami, and The New Yorker reporting that Hideo Kojima has left the company, Konami, themselves, have gone on to say that Kojima is "on vacation."
The lack of transparency from Konami continues with an interview with Rika Muranaka – who worked as a composer on the Metal Gear Solid franchise – conducted by the Codec podcast's co-host Clayton Daley. According to an explanation from Daley, himself, in talks with YouTuber YongYea:
"The main reason for the falling out, at least in her opinion, is that Kojima gets paid a salary, and doesn't make any profit share on the game. He gets paid a certain amount no matter what, and he was spending so much money and delaying the project, and adding all these features and making sure the game was the biggest and best thing it could be, and Konami was unhappy with that because [delaying] has no effect on him. He was spending the budget on… upgrading the Fox Engine and then delaying further because the engine wasn't ready, and Konami wasn't happy with that because he gets his salary and he takes a more traditional "Japanese man" approach by not taking a profit share.
"In her eyes, Kojima's a fantastic creator, and probably the best creator of his time, but he doesn't have a strong business sense like Konami would like him to have. Where instead of, for example, cutting corners by lowering foliage resolution, he wants to make sure everything looks as good and polished as possible. She said they paid for her to write 30-40 songs that ended up not being used, and he'd tell her to write another one, then another one, then another one, because he settles for what he likes and has a good mind for what people want to see and what people want to hear.

"She's worked directly with Kojima for the music before so she does have some insight, and personally believes that the music has suffered in MGSV because she's not a part of it, because they couldn't afford her. So instead of paying her to go to all these people and recruit them for the music, they chose to remove her from the equation and go to the people directly."
Donna Burke, who worked on Metal Gear Solid V: The Phantom Pain as a singer, also said on Twitter that Kojima was, in fact, fired.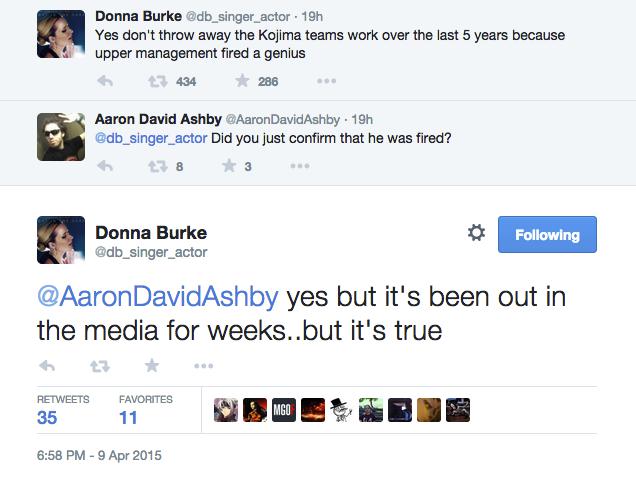 Rumors, at the time, were also surfacing in regards to "power struggles" within the company and Hideo Kojima to which Burke said were "accurate."

It's interesting to consider that both Burke and Muranaka are so in-sync with their testimonies, though, unsurprisingly, Konami was quick to squash those rumors. A representative for Konami reportedly told Videogamer.com that Burke's claims, in terms with Kojima's supposed termination, were "categorically incorrect." It was, then, revealed that Kojima would continue to work on Metal Gear Solid V: The Phantom Pain, though the current news circulating that Kojima has not actually left the company create even more confusion.
However, it seems as if the newly appointed CEO of Konami, Hideki Hayakawa, may be backpedaling his statement, from earlier this May, saying that "mobile is where the future of gaming lies." With a staggering five million units sold since its release on Sep. 1, Metal Gear Solid V: The Phantom Pain has grossly benefited Konami.
The entire debacle comes around full circle in today's Nikkei (thanks to Kotaku, 2ch), where Konami is said to be considering another Metal Gear Solid entry. Another quote from Nikkei states that, "when we start development, a large-scale investment will become necessary." Perhaps Konami is prepared, this time around, to appropriately allow Kojima and his team to realize their visions.
Sources: Niche Gamer, Kotaku, NeoGAF