Fancy yourself a diehard fan of Gen Urobuchi's acclaimed anime series Psycho-Pass? Have you ever wished to personally own an actual, functioning Dominator? Fortunately for you, Tokyo-based electronics manufacturer Cerevo is issuing out the handgun wielded by the Public Safety Bureau for consumers to purchase; sans the option to fire deadly, explosive rounds at random bystanders, of course.
As seen in the video above, however, the Cerevo-developed Dominator does come shipped with the feature where users can enable the firearm's iconic transformation between its non-lethal and lethal modes. Additionally, it will be accompanied with a companion app that will allow custom tweaking of the transformations. The level of care put into making a real-life Dominator is astounding with Psycho-Pass' director Naoyoshi Shiotani and fellow Nitroplus designer Makoto Ishiwata attached to oversee the production.
As if that wasn't enough, the Dominator has a built-in camera that works in tandem with the companion app to stream images directly to your phone — allowing the opportunity for you to see how naughty or how nice your friends have been this year.
While completely optional, consumers can choose between two separate versions of the Dominator for your liking. The Standard version will run you a hefty $799 USD with a synthetic resin grip while the Special Edition costs an extra $100, spicing it up with extra goodies such as 100+ voice clips provided by voice actress Noriko Hidaka and a polished, rosewood grip. It's confirmed that while Stephanie Young will not provide a secondary, English track for the Dominator, the companion app will be available in both English and Japanese.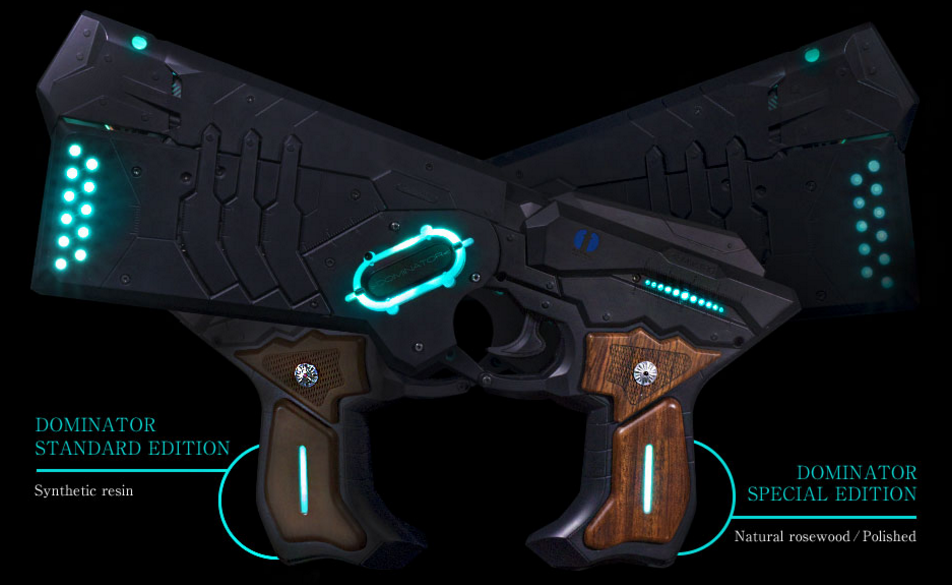 Those hopeful to get their hands on this one-of-a-kind collectible can go to Cerevo's official website to purchase either version of the Dominator, as well as a $129 protector case and a $99 display stand. If you've got the cash to afford such an extravagant item, this would make for an excellent addition to your Akane Tsunemori or Shinya Kogami cosplay!
Source: Siliconera