The second promotional video has been released for the anime adaptation of Yume Mizusawa's Ore, Twintails ni Narimasu. and will be airing this October 10 during the Fall/Autumn 2014 anime season.
The new promotional video also previews the opening theme "Gimme! Revolution (ギミー!レボリューション)" by Maaya Uchida.
Ore, Twintails Ni Narimasu. Promotional Video 1:
The anime's cast was also revealed a few weeks ago and are as follows:
Nobunaga Shimazaki (Haruka Nanase in Free!) as Shouji Mitsuka
Sumire Uesaka (Sanae Dekomori in Chuunibyou demo Koi ga Shitai!) will voice Shouji's transformation, Red Tail
Maaya Uchida (Rikka Takanashi from Chuunibyou demo Koi ga Shitai!) will be voicing Thouars
Chinatsu Akasaki (Shinka Nibutani in Chuunibyou demo Koi ga Shitai!) voices Erino Shinou
Mao Ichimichi (Kazumi Schlierenzauer from Gokukoku no Brynhildr) will voice Mikoto Sakuragawa
Yoko Hikasa (Mio Akiyama in K-ON!) voicing as Isna
Tessyo Genda (Kyuubi from Naruto) as Lizadgildy
Tetsu Inada (Ira Gamagoori from Kill la Kill) is voicing Draggildy
The production crew who will be working on the anime are as follows:
Director: Hiroyuki Kanbe (Oreimo, Viper's Creed)
Series Composition: Naruhisa Arakawa (Outbreak Company, Maoyuu Maou Yuusha)
Character Designer: Kazuaki Morita (Aoki Hagane no Arpeggio: Ars Nova, Persona 4: The Animation)
Animation Studio: Production IMS (Sora no Otoshimono Final: Eternal My Master, Inari, Konkon, Koi Iroha.)
Key Visual: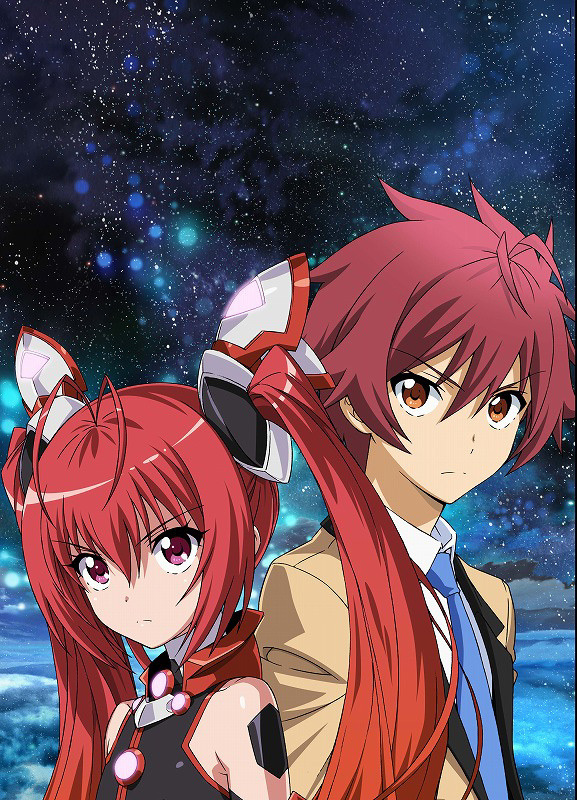 Ore, Twintails ni Narimasu. (I Will Become a Twintail) is a gender bending light novel series written by Yume Mizusawa, with Ayumu Kasuga illustrating the art and characters. The light novel was first created as an entry into Shogakukan's Shogakukan Light Novel Prize in 2011, where it won the judges prize. The first novel was first published by them in June 2012 and has a total of 6 published volumes to date.
Ore, Twintails ni Narimasu. synopsis from Haruhichan:
Mitsuka Souji is a first year high school student who greatly loves the "twintails" hairstyle. One day a beautiful girl, Thuearle, who comes from another world suddenly appeared in front of him and gave him the power to transform into the twintails warrior TailRed. Now Souji, with the help of his childhood friend Tsube Aika who can becomes the twintails warrior TailBlue, must fight in order to protect the peace on earth.