At the end of their two day long stream at the Persona Super Live 2015 in Nihon Budokan event, Atlus revealed almost three minutes worth of footage from the latest in one of their most popular series'; Persona. The fifth installation of the game boasts incredible new graphics, a brand new game design and more of the unique art/music blends that made the first four what they were. The video itself can be seen below.
One would almost immediately notice a similarity to another one of their games in terms of visuals – Catherine. This comes as no surprise and is in fact welcomed. Shots of menus, openings, cutscenes, and even gameplay itself across both school life as well as combat. The revamp looks exciting and much speculation is sure to be made!
The game is said to release some time in 2015 with a simultaneous release on both Playstation 3 and Playstation 4. While some stores may not have it yet – I would suggest you get your pre-orders in as early as possible because this one looks great!
In addition, first copies of the Persona 4: Dancing All Night game will come bundled with a Blu-ray containing footage from Persona 5.
Looking forward to Persona 5? What features excite you the most? Let us know in the comment's section below!
The staff also revealed the key visual: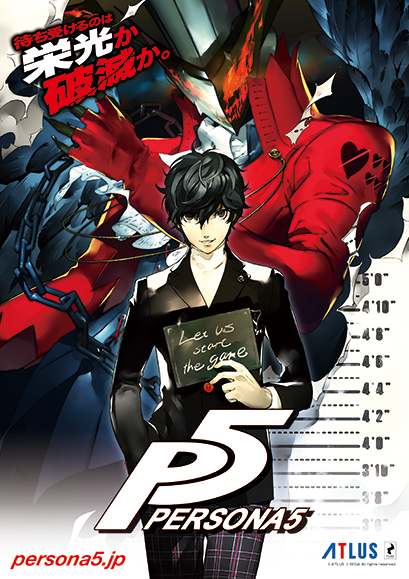 Persona 5 is an upcoming role-playing video game currently in development by Atlus for the PlayStation 3 and PlayStation 4. It is the fifth main title in the Shin Megami Tensei: Persona series, which is part of the larger Megami Tensei series of video games, and is scheduled for release in Japan and North America in 2015.
Source: Persona 5 official website, ANN, HadenVR