The official website for Pokemon Sun & Moon's TV anime teaser website opened on Thursday and posted a promotional video and visual.
The promo states that the Pokemon television anime "dives into a new series" with "big adventures in the Alola region!" They also mention that Ash (otherwise known as Satoshi in Japan) will go to school with friends in the series. In an earlier announcement for the anime it was noted that the series will follow Ash's school activities as he aims to graduate. Ash will also be using the new Z-Moves in battle in the anime, just as players will in the games.
The tagline in the visual reads, ""Let's go! Be your very best! Big adventures!"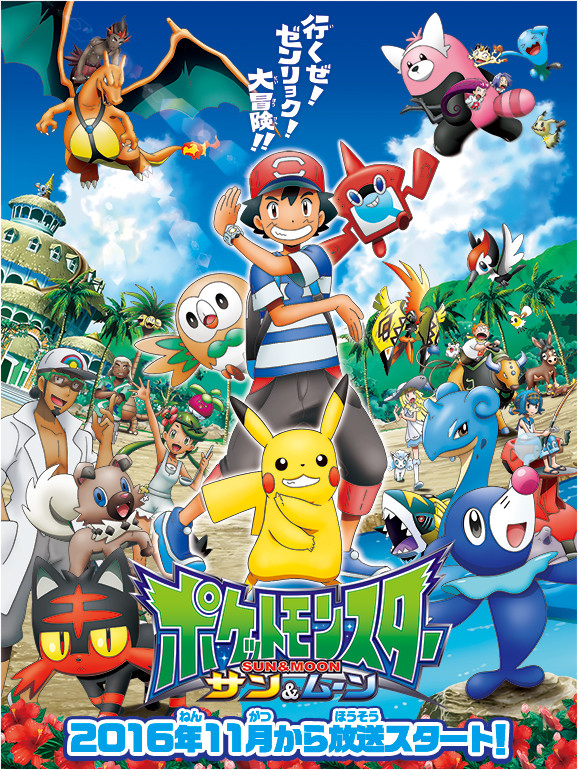 Of course, with every new region comes new places to explore and Pokemon and friends to meet. Ash will also encounter Kapu Kokeko, a god who protects the Alola region.
The TV anime inspired by the Pokemon Sun and Pokemon Moon Nintendo 3DS titles will premiere on TV Tokyo and its affiliated stations in Japan in November.
The Pokemon Sun and Pokemon Moon games will release in Japan and North America on November 18, followed by Europe on November 23. The games will be available on the Nintendo 3DS worldwide in Japanese, English, French, Italian, German, Spanish, Korean, and Chinese (traditional and simplified).
The games are also inspiring its very own manga adaptation by Tenya Yabuno (Inazuma Eleven, Digimon V-Tamer) titled Pokemon Horizon that debuted in the October issue of Coro Coro Comics on Thursday.
The currently airing Pokemon XY & Z television anime series premiered in Japan in October 2015, and then premiered in the U.S. on Cartoon Network on February 20.
Source: Anime News Network