EFP's official YouTube account have uploaded the first trailer for Urobuchi Gen's Rakuen Tsuihou: Expelled From Paradise film project. The new video gives us a preview of the ending theme Eonian by ELISA connect EFP.
The film stars Kugimiya Rie (Aisaka Taiga from Toradora) as the female protagonist, Angela, and Shinichiro Miki (Mikisugi Aikuro from Akame ga Kill) as Dingo a.k.a. Zarik Kajiwara. Hiroshi Kamiya (Arararagi Koyomi from Bakemonogatari) will voice Frontier Setter, a hacker from the computer world challenging real life. Additional cast members include Megumi Hayashibara, Minami Takayama, Kotono Mitsuishi, Aoi Inaba, Hisao Egawa, Noriko Uemura, Kenta Miyake, Daisuke Endou, Chika Anzai, Yûsuke Handa, Sota Arai, Ryōsuke Kanemoto, Ryohei Arai, Yukiko Morishita, Seira Ryū, Yuri Noguchi, Shintaro Ogawa, and Marumi Koike. Tohru Furuya will make a cameo performance.
The production cast includes:
Director: Mizushima Seiji (Fullmetal Alchemist)

Script Writer: Urobuchi Gen (Puella Magi Madoka Magica)
Character Design : Saitou Masatsugu
Main Conceptual & Visual Design : Uetsu Yasuyoshi
Mechanical Design : Ishigaki Junya
Sculpture Design : Apsy Masaki
Graphic Design : Kusano Tsuyoshi
Conceptual Consultant & Conceptual Design : Ogura Shinya
Storyboard : Mizushima Seiji / Kyoda Tomoki
CG Directors : Kaneko Tomoaki / Ao Naoki
Modeling Director : Yokokawa Kazumasa
Color Designer : Murata Eriko
Motion Graphic Artists : Miyahara Yohei / Sato Natsuko
Art Director : Nomura Masanobu
Composite Supervisor : Hayashi Kojiro
Editing : Yoshitake Masato
Sound Director : Mima Masafumi (Techno Sound)
Sound Effects : Kurahashi Shizuo (Sound Box)
Music : NARASAKI
Animation Producer : Yoshioka Hiroki
Producer : Noguchi Koichi
Animation Production : Graphinica
Rakuen Tsuihou: Expelled From Paradise was released in Japan on November 15th, 2014. It is planned to be distributed in 15 theaters across the US on December 13th, 2014 by Aniplex USA.
Rakuen Tsuihou: Expelled From Paradise Visual: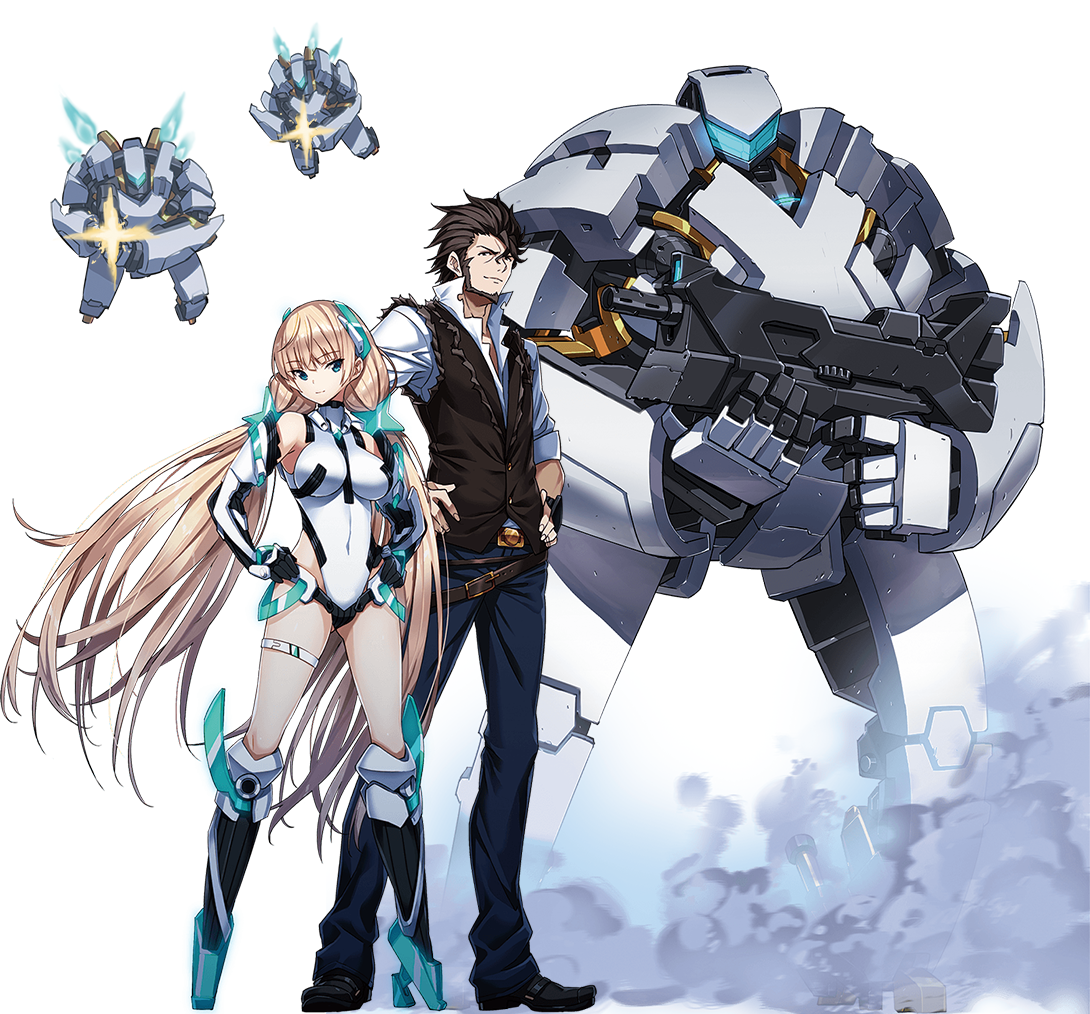 Rakuen Tsuihou: Expelled From Paradise synopsis from Haruhichan:
Expelled From Paradise follows Angela, a girl in her twenties, who was raised in a Matrix-like computer system on a space station orbiting a post-apocalyptic Earth. But after a hacker from the devastated planet below breaks into the system, she is tasked with finding and stopping the hacker in the real world. To do this, she is transferred into a clone body, given a mech, and told to meet up with Dingo, an agent living on Earth.
Thus begins her fish-out-of-water tale as she not only finds herself in a strange land she knows nothing about but also has to deal with a life trapped in a body that, unlike her digital one, requires food and rest. Together, Dingo and Angela travel across the frontier-like ruined Earth, trying to solve the mystery of the hacker's identity and his true goals.