It's been over a year since Shinra Technologies was revealed at the previous Tokyo Game Show, back in September of 2014. This initiative – pioneered by Yoichi Wada, former vice president of Square Enix – was created to help the aforementioned Square Enix expand their software to a cloud-streaming service.
Donning the name of the megalomaniac conglomerate from Final Fantasy VII – one of Square's earlier, most successful titles from 1997 – the company, Shinra Technologies, Inc., is headquartered out of New York City. Since its audacious reveal, the company is, in fact, so confident in its ability to dispel any disbelief and ambiguity in its platform that Shinra Technologies put their service through a live stress-test back in March at South by Southwest 2015. The platform has also already gone through beta tests in Kansas City and Texas, provided you were a subscriber to Google Fiber and Verizon FiOS.
With constant updates being posted on Twitter, via the account @Shinra_Tech, dating back only a couple days ago, the recent discovery that Square Enix has trademarked a logo for a "Shinra Game System" is mighty interesting. Looking through the European-based OHIM trademark-and-design database, you'll notice Square Enix filed for a trademark on the 16th of October on the title for this inquisitive, possibly standalone system operating underneath the Shinra Technologies umbrella. The nail in the coffin? A figurative trademark on the logo for said system on the 30th.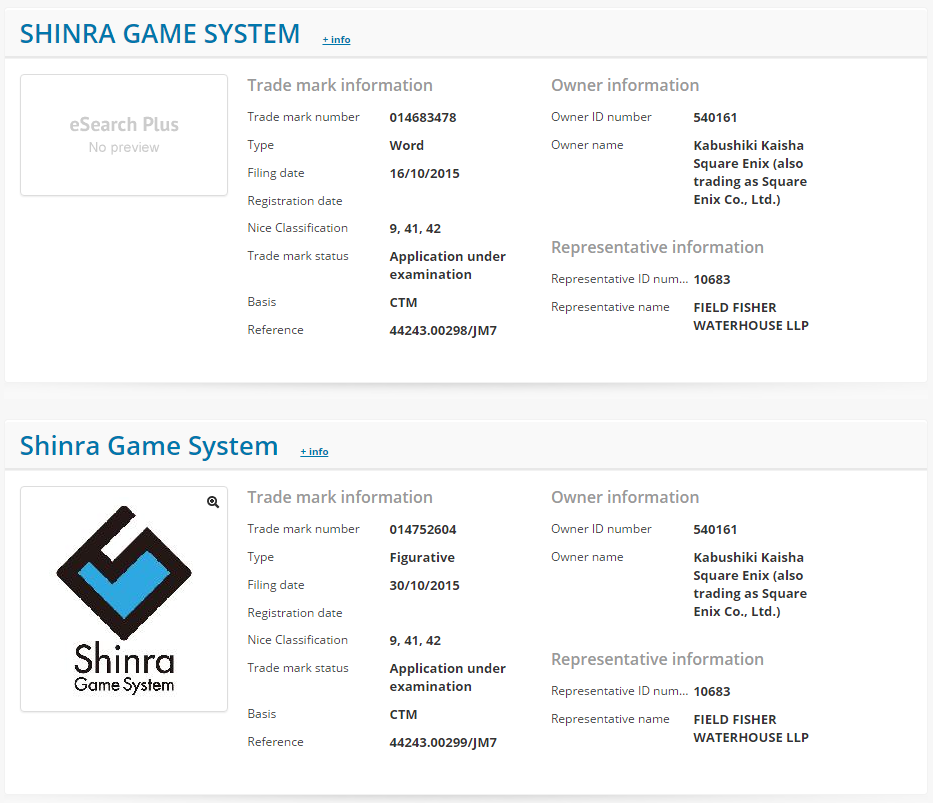 There's only so much to speculate until Square Enix makes an official announcement. However, with video-game companies like Sony also cannon-balling into the cloud-based ecosystem with PlayStation Now and Remote Play, it's exciting to see what Square Enix can bring to the table. For those interested, here's an entire view of the logo's trademark.
For more information about the service, visit their official website: https://www.shinra.com/
Source: Polygon, OHIM, All Games Beta