Fate/Grand Order is a popular mobile game where you can play events for rewards and collect special characters. One can even do a random draw for the more rare characters. In the new event starting January 20th, Sword Art Online's illustrator BUNBUN will be making an appearance by having drawn the event limited SSR card.
This event is called Saber Wars, and takes on a bit of a star wars theme. Featured servants include the game's previously introduced Sabers, Altera, Artoria Pendragon, Artoria Pendragon [Alter] (Saber), Artoria Pendragon [Lily], Okita Souji, Gaius Julius Caesar, Siegfried, Gilles de Rais (Saber), Chevalier D'Eon, Mysterious Heroine X, Nero Claudius, Fergus Mac Roich, & Mordred.
Here is the promo image for the event: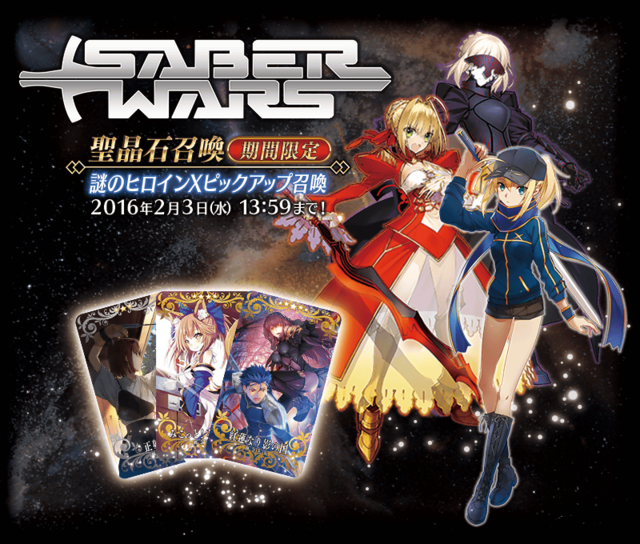 Here is a promotional video for the event:
Here is a promotional video for the new SSR cards noble phantasm:
The character Mysterious Heroine X is the SSR card for this events limited draw. Art for this character is provided by BUNBUN, the Sword Art Online illustrator along with ABEC. Both claim that they are just neighbors, but according to Kadokawa's Taiwan branch, they are both the same person despite their accusations.
During the limited summoning period, a new servant will be available for the first time. The new servant 5★ (SSR) Mysterious Heroine X art:
Here are some additional works that BUNBUN has done for Type-moon.
illustration of their light novel Fire Girl
Saber Alter from Fate/unlimited codes PORTABLE in TYPE-MOON 10th Anniversary Phantasm
Fate/kaleid liner PRISMA☆ILLYA Episode 2 end card
Gilgamesh in Fate/Extra CCC Extra Garden
Character illustrator for Alexander in Fate/Grand Order
That Fate/Grand Order Rider is Alexander as a young Macedonia prince, voiced by Maaya Sakamoto (Motoko Kusanagi from Ghost in the Shell):
Sources: Crunchyroll, Type-Moon Wikia, and Fate/Grand Order Cirnopedia.