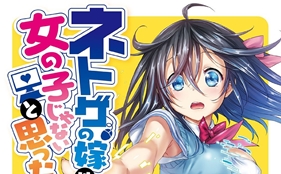 Kadokawa ASCII Media works has revealed for their Dengeki Bunko Autumn Festival 2015 event that the ecchi, romantic-comedy light novel Netgame no Yome wa Onnanoko ja Nai to Omotta? (And you thought there is never a girl online?) anime adaptation has been green-lit. The light novel series was illustrated by Hisasi, a famous hentai doujinshi artist known for Porno Switch and Koakuma Kanojo, and written by Shibai Kineko (nata no Machi no Toshi Denki!). More information about the anime such as cast and staff will be announced at a later date.
The event will take place at Akihabara UDX and BELLESALLE Akihabara on October 4, 2015. The admission is free.
Akihabara UDX Stage Program:
Netgame no Yome wa Onnanoko ja Nai to Omotta?'s stage event will be at 11:30-12:10 p.m.
Followed by Durarara!!x2 panel with a question and answer to the staff of the anime at 12:30-1:30 p.m.
Strike the Blood and information about the upcoming OVA this Winter at 1:30-2:10 p.m.
A sample dubbing and an early broadcast for Heavy Object at 2:30-3:10 p.m.
And gift tournaments, interviews and autograph sessions at 3:30-4:30 p.m.
BELLESALLE Akihabara Stage Program:
Web Radio and Public Recording at 11:00-11:40 a.m.
Hanae Natsuki and Kaito Ishikawa to appear at the special Heavy Object stage, 12:00-12:40 p.m.
Bandai Namco Entertainment to present Sword Art Online game with Yoshitsugu Matsuoka, Reki Kawahara, and so much more, 1:00-1:40 p.m.
Dengeki Creators panel with guests like Reki Kawahara (Accel World), Satoshi Wagahara (Hataraku Maou-sama!), Shibai Kineko (Netgame no Yome wa Onnanoko ja Nai to Omotta?), Kohaku Kuroboshi (Character designer of Sekai Seifuku: Bouryaku no Zvezda) and so much more, 2:00-2:40 p.m.
Dengeki FIGHTING CLIMAX IGNITION latest information panel at 3:00-3:40 p.m.
Mini-stage event by the voice actresses of Strike the Blood, Risa Taneda (Yukina Himeragi), Rina Hidaka (Nagisa Akatsuki) at 4:00-4:40 p.m.
*All times are in JST.
The light novel series was published on July 10, 2013 and currently has 7 volumes. The 8th volume will be shipped on August 8, 2015. The series also received a mangaadaptation published under ASCII Media Works' Dengeki G's Comic magazine since August 30, 2014. There is currently only one manga volume and it was released on March 7, 2015.
Anime First Key Visual:
Synopsis of Netgame no Yome wa Onnanoko ja Nai to Omotta? from MAL:
Our naïve protagonist proposes to a female character in an online game, only to find out that the player is actually a guy. Traumatized by that, he decides to never trust a girl online, but now, two years later, a female player is proposing to him. What will happen?
For more information, visit the event website here.
Source: Weekly ASCII
sevenpocky | Anime and Manga Enthusiast. Slice-of-life and Sports genre fanatic. Shoujo manga lover.
Oh, and I'm short and I love writing manga news.