This is wantei from WanAni.Me! bringing you the "Winter 2012-13 Anime Guide". This is my first post as an author here in HC so guys, please cut me some slack X3. So fellow anime lovers did you enjoy the fall season anime , well I did! BTOOM! is epic btw and so is Shinsekai Yori. If you missed the fall season and don't know what to watch, don't worry just read up on one of my older seasonal guides and it'll get you on the right track. OK, enough with the old and in with the new. This Winter 2012-13 Japan is throwing at us a huge variety of anime especially one of the most loved and awaited of the Bakemonogatari series, Nekomonogatari (Black). So without further ado i bring you this winter's anime lineup.
---

Nekomonogatari (Black) / 僕の妹は「大阪おかん」 (12 eps)
Links: Official Website | On Air:
Adaption of the 6th book in the Monogatari series, containing the Tsubasa Family Arc and featuring Hanekawa Tsubasa. One of the most awaited series this fall!

Boku no Imouto wa "Osaka Okan" / 僕の妹は「大阪おかん」 (12 eps)
Links: Official Website | On Air:
The anime adapts Chukei Shuppan's popular Osaka Okan Rule (Osaka Mommy Rules) and Osaka Rule books that offer a tongue-in-cheek guide to dealing with people from Osaka, particular the stereotypical Osaka mothers.
Kyousuke has been living apart from his younger sister Namika for ten years. One day, he begins to live with her, but she has turned into an energetic tsundere Osaka girl.

Saki: Achiga-hen – Episode of Side-A OVA's / 咲-Saki-阿知賀編 episode of side-A OVA (3 eps)
Links: Official Website | On Air: 24 December, 2012.
The final 3 episodes of Saki: Achiga-hen – Episode of Side-A.
The Achiga Girls' Academy in Nara once defeated regional mahjong powerhouse Bansei High School. It advanced into the national team semifinals but lost to the eventual champion, and the mahjong club was later disbanded.
Six years later, elementary school student Shizuno Takakamo befriends transfer student Nodoka Haramura. The two eventually enter Achiga Girls', but Nodoka transfers out of the school in the second year.
When Shizuno sees Nodoka on television the following year as the national middle school individual mahjong champion, she decides to revive Achiga's mahjong club.

Savanna Game / サバンナ・ゲーム (12 eps)
Links: Official Website | On Air:
The story follows a young man named Kazuya Shibuya who receives an anonymous email message out of the blue one day: "Won't you join the Savanna Game?" The message is an invitation to a state-sanctioned killing game — a deadly role-playing game designed to motivate the inhibited youth of modern Japan. Shibuya and his two friends Kotegawa and Kudou find themselves in bizarre battles that span the space-time continuum, with everything from dragons to the Shinsengumi force of the shogunate era.

Ai Mai Mi / あいまいみー (? eps)
Links: Official Website | On Air: 3 January, 2013
The anime adaption of the four-panel manga "Ai Mai Mi".
The story follows girls in a manga club — Ai, Mai, Mī, and Ponoka-sempai — who might be fighting evil invaders threatening Earth, facing off against rivals in tournaments, and dealing with other absurd situations when they are not drawing manga.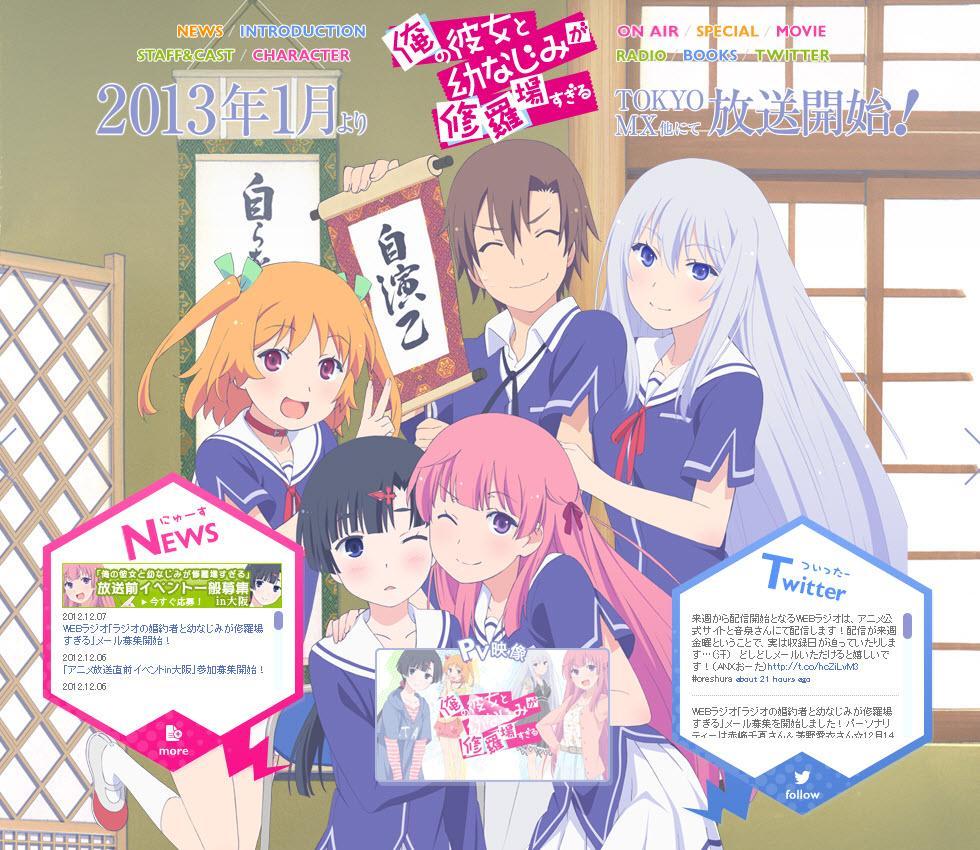 Ore no Kanojo to Osananajimi ga Shuraba Sugiru / 俺の彼女と幼なじみが修羅場すぎる (? eps)
Links: Official Website | On Air:
Eita enters high school aiming for the National University School of Medicine. Because of his parents' divorce—and his goal—he shuns anything to do with romance or love. One day Masuzu, the school beauty with the silver hair, who has just returned to the country, enters his life in a most unexpected way. Chiwa, his childhood friend since elementary school, will not let this go without a fight.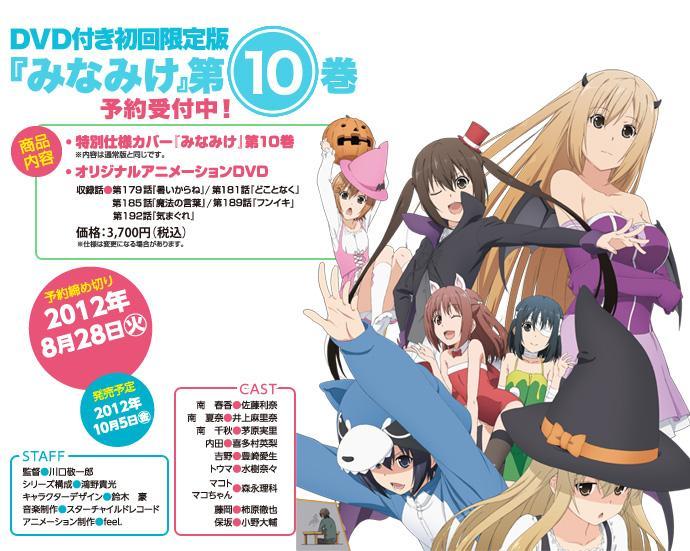 Minami-ke Tadaima / 俺の彼女と幼なじみが修羅場すぎる (? eps)
Links: Official Website | On Air:
According to Weekly Young Magazine No.29, the fourth season of Minami-ke was announced to be aired this winter.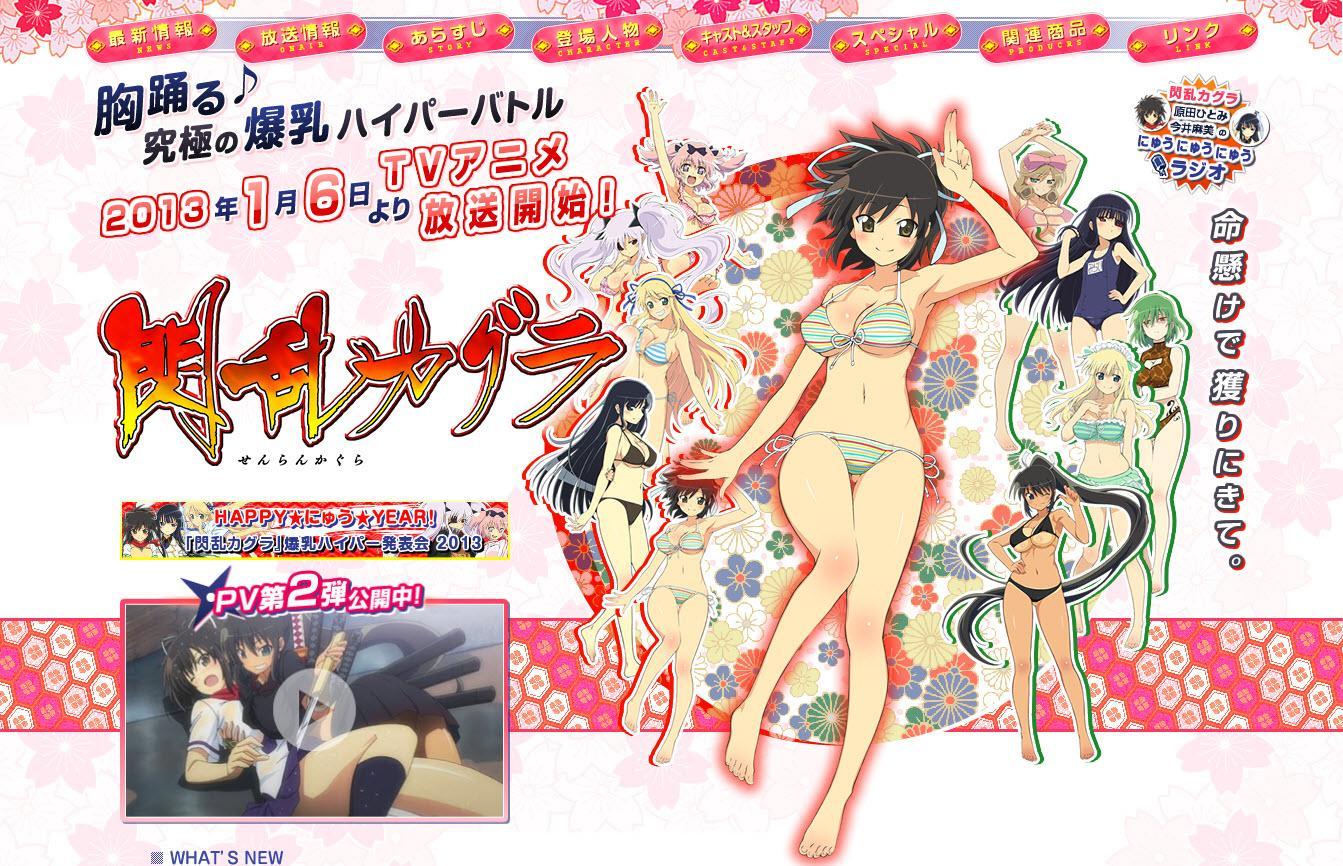 Senran Kagura / 閃乱カグラ (? eps)
Links: Official Website | On Air: 6 January, 2013
TV anime project of Marvelous AQL's action game series Senran Kagura.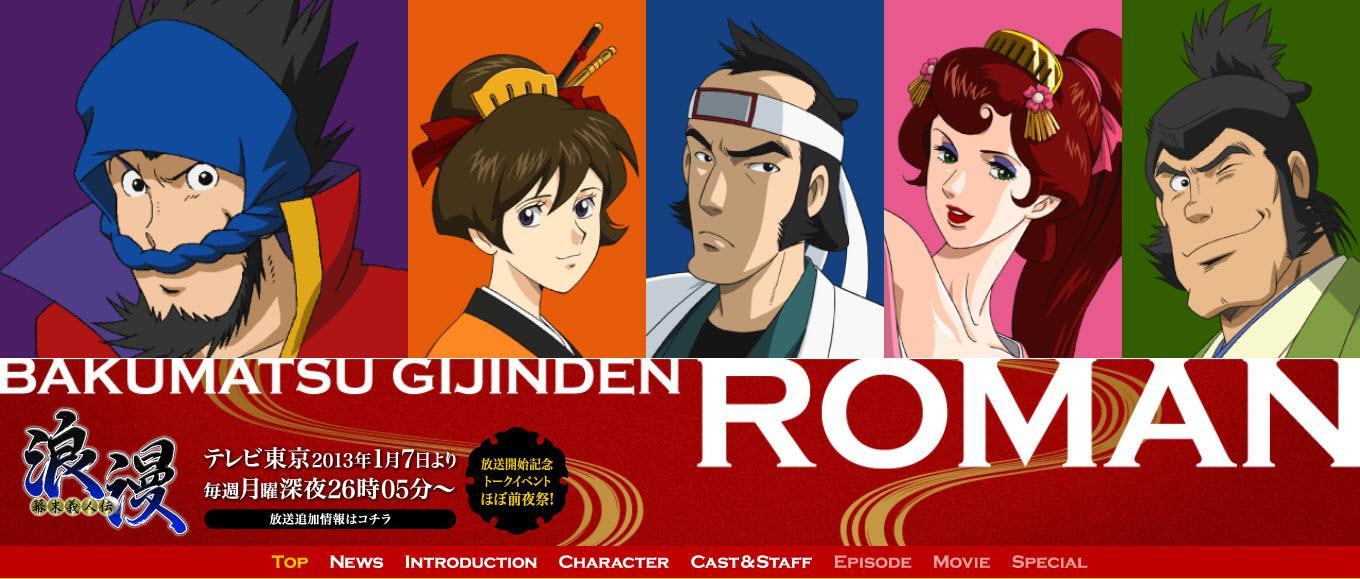 Bakumatsu Gijinden Roman / 幕末義人伝 浪漫 (? eps)
Links: Official Website | On Air: 7 January, 2013
The story takes place in Kyoto in the late 19th century. Manjiro has two faces. During the day, he works as a helper for people in Kyoto, but he also acts in secret to get back people's properties from the men in power. As the get-backer "Roman", Manjiro is getting involved in a nationwide conspiracy.
Zettai Karen Children: The Unlimited – Hyoubu Kyousuke / 絶対可憐チルドレン THE UNLIMITED 兵部京介 (? eps)
Links: Official Website | On Air:
An original spin-off series centering around Kyousuke Hyoubu.

Tantei Opera Milky Holmes Alternative TWO ~Kobayashi Opera to Koku no Ogarasu (? eps)
Links: Official Website | On Air: 9 December, 2013
Alternative TWO serves as a sequel to Tantei Opera Milky Holmes Alternative ONE -Kobayashi Opera to 5-mai no Kaiga- (Detective Opera Milky Holmes Alternative One: Opera Kobayashi and the Five Paintings). The spinoff specials are set in an alternate storyline in which the girl detectives do not lose the "Toys" that grant them special powers. They visit Opera Kobayashi in London, but as soon as they arrive, they are asked to solve a case of five paintings and confront the thief Moran.

Senyuu. / 戦勇. (? eps)
Links: Official Website | On Air: 8 January, 2013
Satan Rchimedes returns to the earth after being sealed for one thousand years by a hero. The King tries to seal Satan once again by dispatching descendants of the hero. However, it's troublesome to find the genuine descendants, the king chooses 75 hero-like people. This is an adventure of Alba, the hero No.45, and an his monitoring fighter Ross.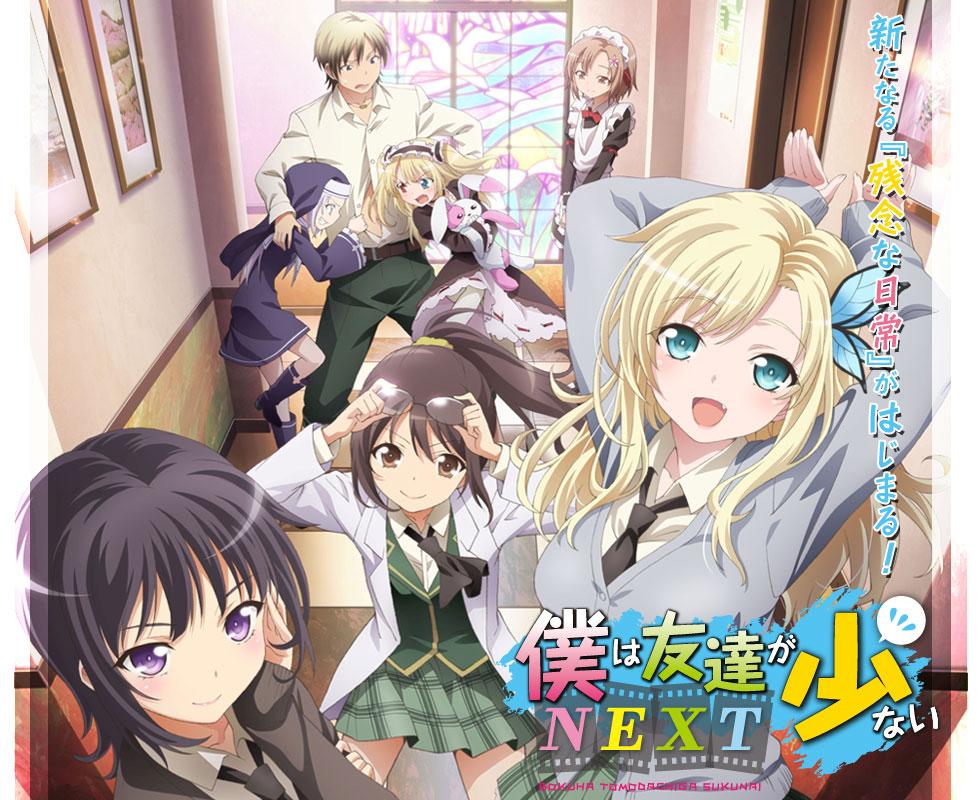 Boku wa Tomodachi ga Sukunai NEXT / 僕は友達が少ない NEXT (? eps)
Links: Official Website | On Air: 10 January, 2013
The second season of Boku wa Tomodachi ga Sukunai.
Hasegawa Kodaka has transferred schools, and he's having a hard time making friends. It doesn't help that his blond hair tends to make people think he's a delinquent. One day, he runs into his bad-tempered solitary classmate Yozora while she's talking animatedly to her imaginary friend Tomo. Realizing that neither of them have any actual friends, they decide that the best way to alter this situation is to form a club and start recruiting.
That is how "Rinjinbu" was formed, a club specifically designed for people who don't have very many friends. As other lonely classmates slowly join their little club, they'll try to learn how to build friendships through cooking together, playing games, and other group activities. But will this group of relationship-challenged misfits really be able to get along?

Links: Official Website | On Air: 10 January, 2013
The story follows a hikikomori named Sasami who is unmotivated about even changing clothes or eating. Her brother takes care of her, even though she despises his slave-like nature. Sasami spends her days viewing the outside world via a "Brother Surveillance Tool" on her computer. In the outside world, the three beautiful Yagami sisters and Sasami's brother are in the middle of relationships worthy of a romantic comedy.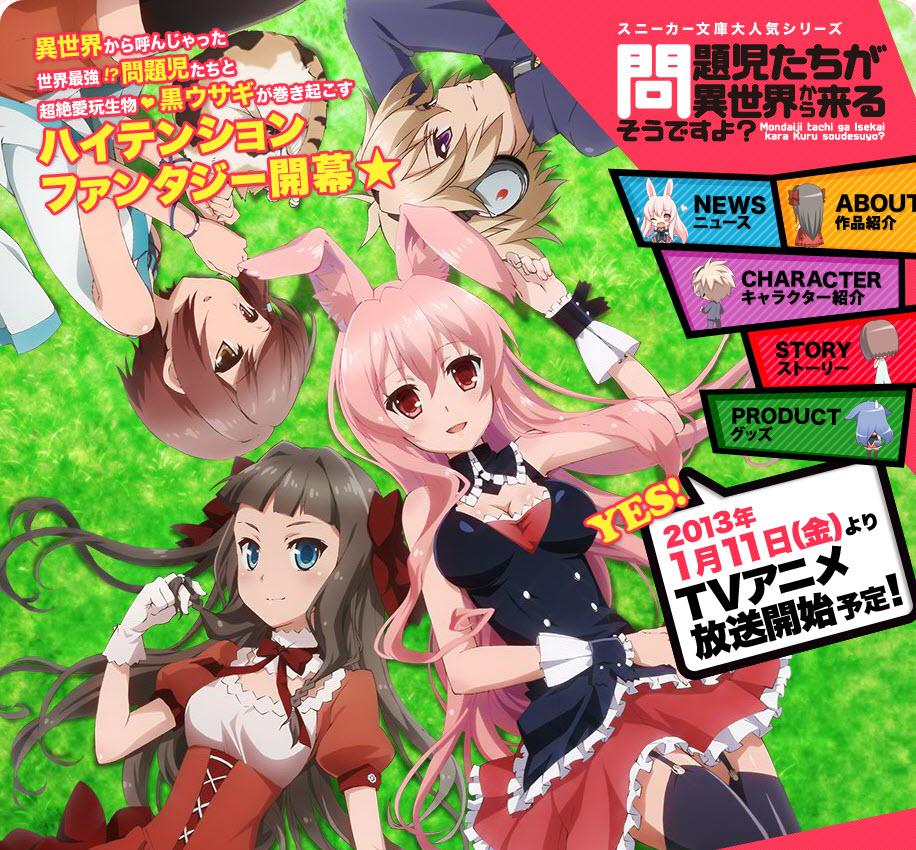 Mondaiji-tachi ga Isekai kara Kuru Sou Desu yo? / 問題児たちが異世界から来るそうですよ? (? eps)
Links: Official Website | On Air: 11 January, 2013
Izayoi Sakamaki, Asuka Kudou, and You Kasugabe have tremendous psychic powers and are bored with the regular world. An envelope arrives for each person, and when each opens their envelope, they are stunned to see the scenery around them change to a world they had never encountered before. They've been summoned by the Black Rabbit to help the community "No Name" to overthrow the Devil King.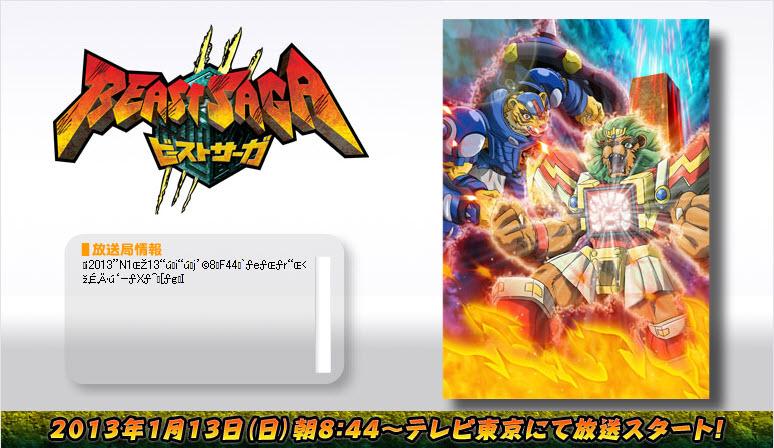 Beast Saga / ビーストサーガ (? eps)
Links: Official Website | On Air:
Beast Saga takes place on a distant planet in our galaxy called Beast where three beast tribes, the Sea Tribe, the Land Tribe, and the Sky Tribe, fight for their honor. Each of the tribes protect an infinite elemental power source called Godlot.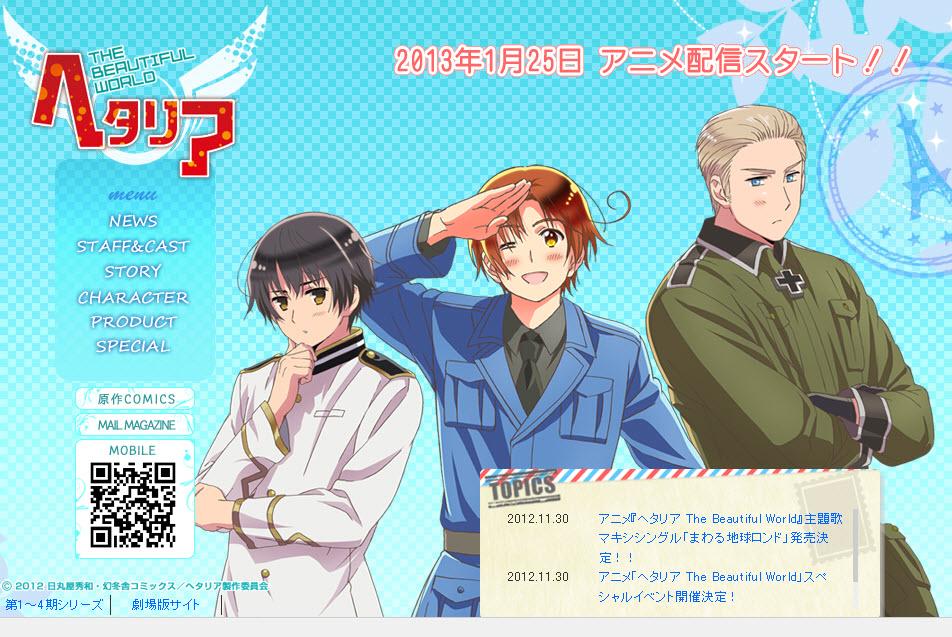 Hetalia: The Beautiful World / ヘタリア The Beautiful World (? eps)
Links: Official Website | On Air:
The fifth season of Hetalia.
Think of it like WWII, except every country is a pretty boy instead. A hilariously stereotypical pretty boy. America loves burgers, Russia is into the vodka, and China has pandas and a Wok.
It is centered mostly around Italy, who has both a North and South character. The Hetaria portion of the name is probably mocking Italy, as Hetare means 'Useless'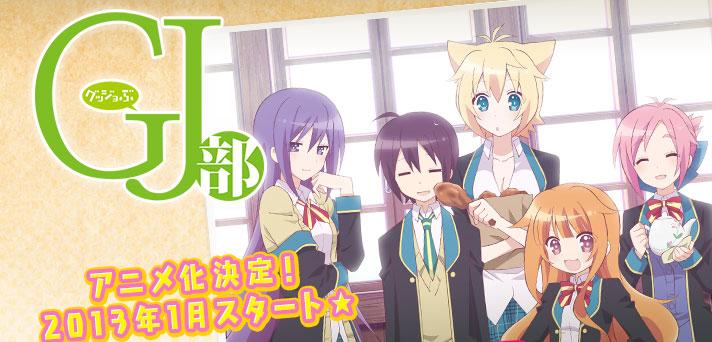 GJ-bu / GJ部 (? eps)
Links: Official Website | On Air:
TV anime adaptation of the GJ-bu moe light novel series, dubbed as the "first four-panel novel", where each story is only four pages long with illustrations.
Shinomiya Kasumi launches an undefined activity club "Good Job Club" in her junior high school imitating the same club in the high school, to which her brother was belong. In a small club room, she enjoys the school life with Seira, a sharp tongue beautiful girl, and Geraldine, a Canadian girl, who communicate using a white board.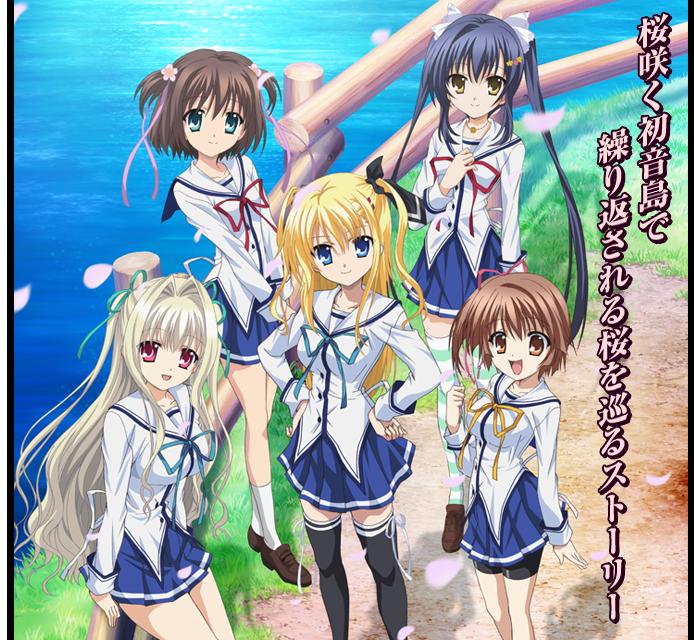 D.C. III ~Da Capo III~ / D.C.III ~ダ・カーポIII~ (? eps)
Links: Official Website | On Air:
Third season of Da Capo.
Every year the flowers bloom. Mysterious Cherry Blossoms blooming all over a crescent shaped island. That island is the island of Hatsune…
The main character who goes to Kazami Academy, Asakura Junnichi, has the power to see the dreams of other people in his sleep. He was also taught magic by an old lady that allows him to create sweets.
One day, Junnichi seems to have seen someone`s dream again while he was sleeping. Inside that dream, a girl who was a childhood friend of his appeared. But, he was woken up by his sister Asakura Nemu, forcing him to come back to his regular life. Nemu doesn`t actually have any blood relation to Junnichi but their bond is deeper than other real brothers and sisters. So deep that it gives the illusion that they`re lovers.
It was another peaceful normal day waking up early in the morning and going to Kazami Academy. Together with childhood friend Amakase Miharu, the academy idol Shirakawa Kotori, the two sisters Mizukoshi Moe and Mako who prefer eating nabe on the school roof for lunch. Going through their day as usual, their childhood friend, Yoshino Sakura, who they thought had moved to America suddenly appears. It was a surprise for Junnichi and Nemu. Sakura tells them, "I came to finish the promise we made during our childhood"…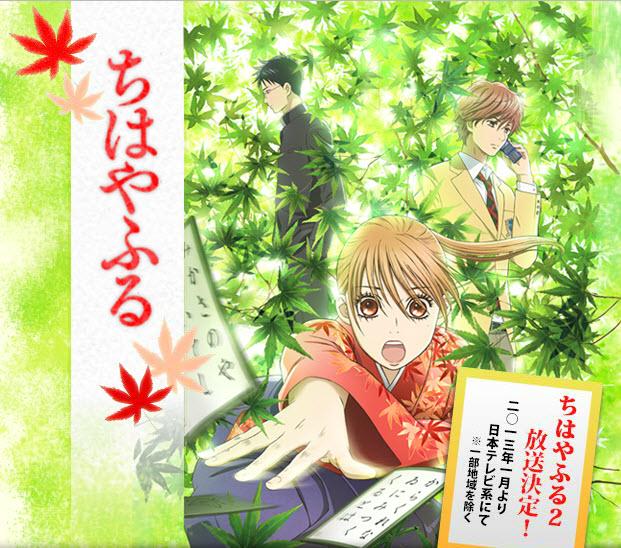 Chihayafuru 2 / ちはやふる 2 (? eps)
Links: Official Website | On Air:
The wraparound jacket band on the 17th volume of Yuki Suetsugu's Chihayafuru manga is revealing next week that a second anime season will launch.
This story, which follows a schoolgirl competing in the Japanese card game of karuta, won the second Manga Taisho (Cartoon Grand Prize). Chihayafuru also won the shōjo manga category in last year's Kodansha Manga Awards, and topped the female category of Takarajimasha's Kono Manga ga Sugoi! book listings the year before.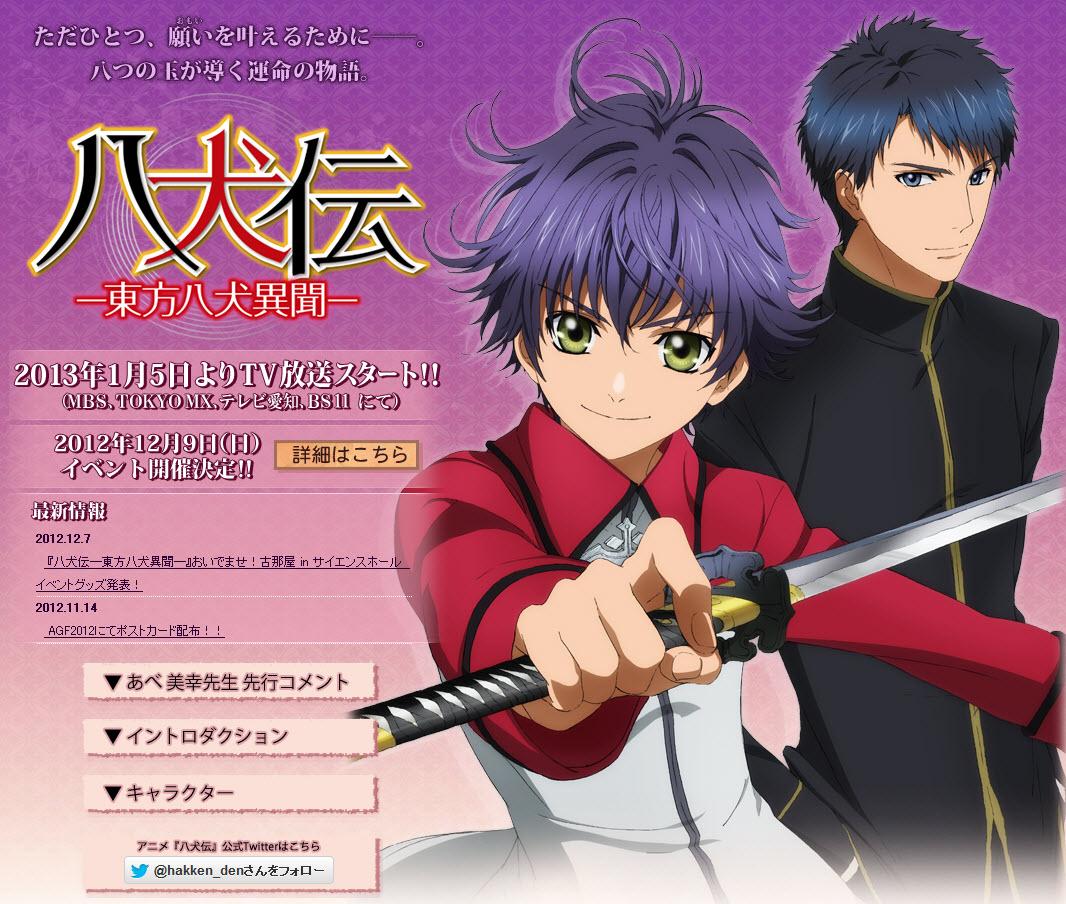 Hakkenden: Touhou Hakken Ibun / 八犬伝 -東方八犬異聞- (? eps)
Links: Official Website | On Air:
Five years ago, almost every villager of Ootsuka died due to a tragic plague. But mysteriously enough, three survivors: a girl and two boys, emerged. Now living in a church, the three live in isolation, hidden from those who may seek to find them. Shino, one of the survivors, has control over the power of Murasame, the blade of life. But when the imperial church seeks to take the Murasame for themselves, their peaceful life becomes a thing of the past…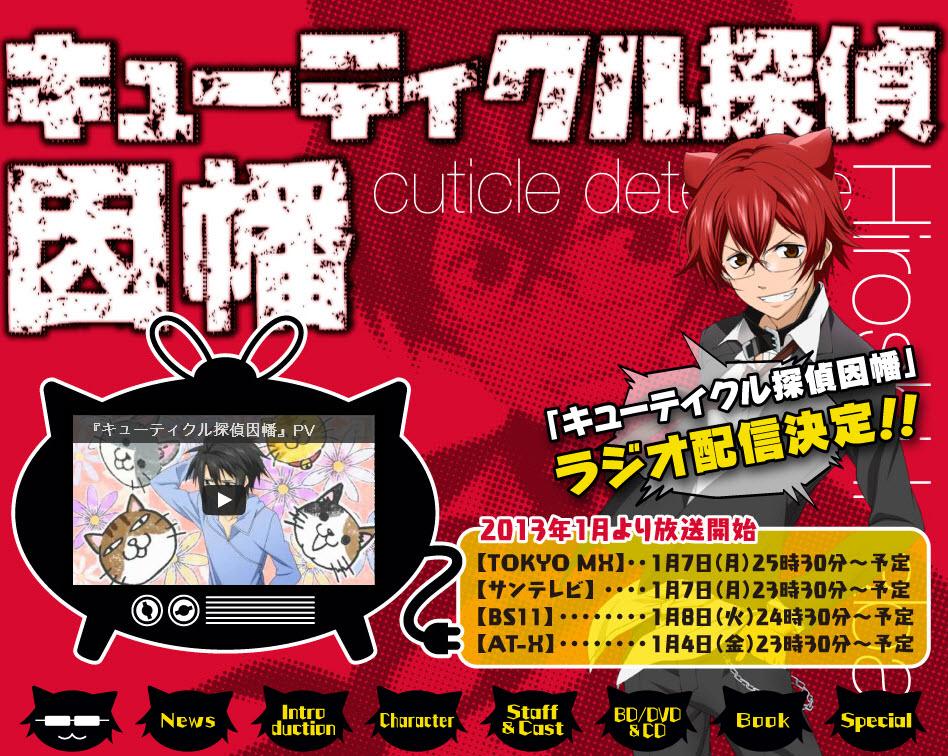 Cuticle Detective Inaba / キューティクル探偵因幡 (? eps)
Links: Official Website | On Air:
Private Detective Hiroshi Inaba is an artificially-created being, formed by splicing the genes of both a human and a wolf, who gains information by tasting and examining people's hair, and pretty much has a hair fetish. He can transform into a more wolf-like form, and also gain special powers and perform different attacks depending on the type or colour of hair he eats. Formerly employed by the police and partnered with an officer, he now runs his own private detective agency with the help of his sadistic, cross-dressing secretary Yuuta (often mistaken for a girl), and Kei (a *relatively* normal teenager working part-time at the office. Ogino, the officer formerly partnered with Hiroshi, also often helps out with cases. His arch-enemy is Don Valentino, an evil mastermind goat with a taste (literally) for money, and a variety of messed up but extremely devoted henchman, including gentleman samurai Laurence, who always wears a bag over his head. Most chapters are individual stories revolving around Hiroshi and his friends trying to arrest the Don, always failing miserably.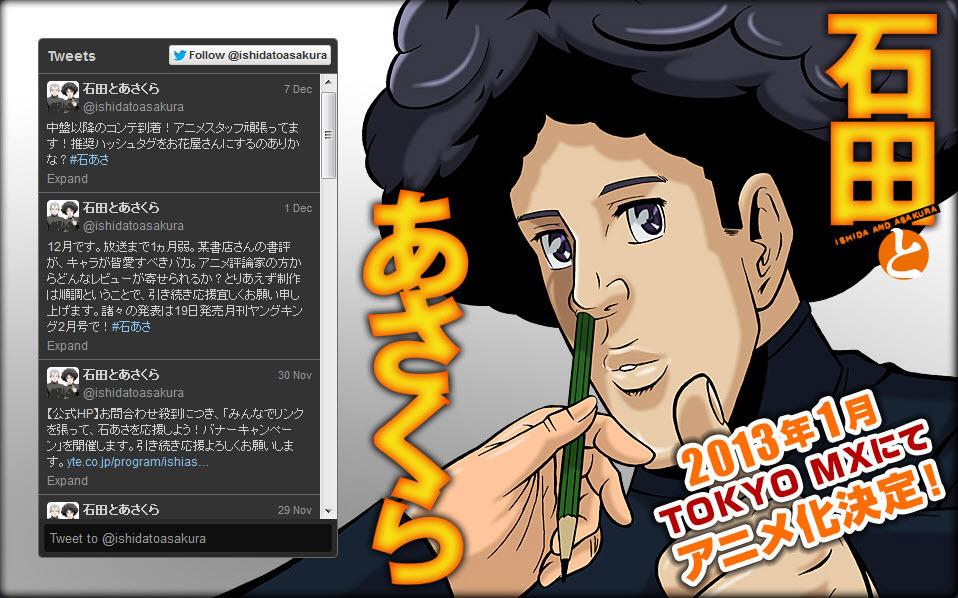 Ishida to Asakura / 石田とあさくら (? eps)
Links: Official Website | On Air:
Anime adaptation of the surreal gag manga about two high school boys, Ishida and Asakura.
Tamako Market / たまこまーけっと (? eps)
Links: Official Website | On Air:
Tamako is a mochi-loving high-school freshman whose family runs a mochi (rice cake) shop in a certain town's shopping district. She enjoys her high school life with her friends Midori and Kanna in the badminton club. She also helps out at her family's shop and develops new mochi.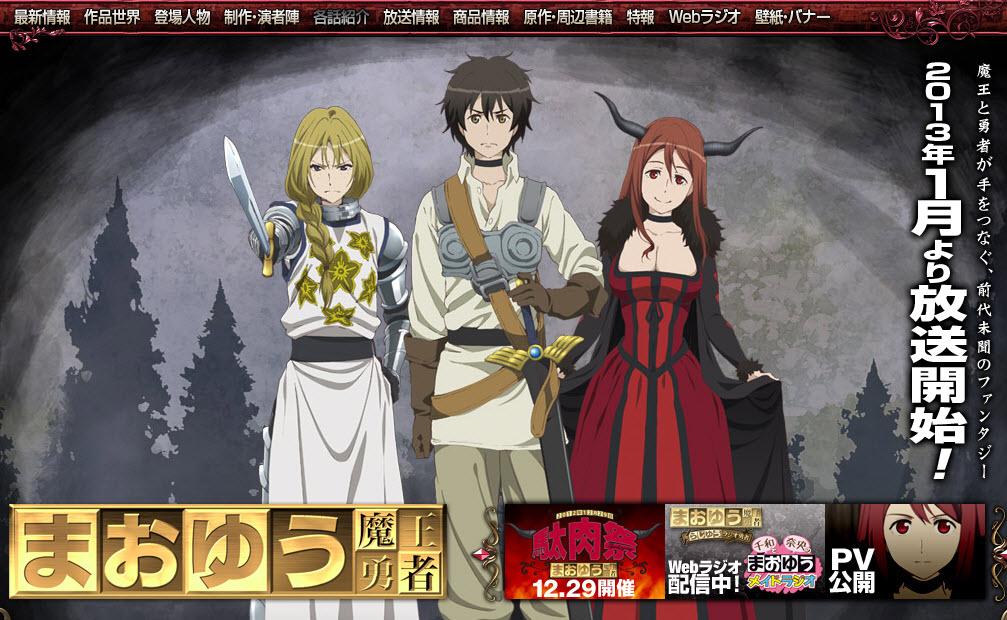 Maoyuu Maou Yuusha / まおゆう魔王勇者 (? eps)
Links: Official Website | On Air:
After a long and treacherous journey, our Hero finally arrives at the Dark Lady's castle only to find himself being asked for help. The Hero explains how the war that the demons have brought upon the humans have killed thousands and put more in misery. The queen of demons however argues that this war has made the human society band together as one and showed empirical evidence how it has increased population, increased production, boosted economy and improved society overall. Furthermore, she explains to the Hero that ending this war will result in a civil war that will produce more bloodshed than there ever was. The Hero, convinced that the only way to bring peace, relatively speaking, is to join forces with the Dark Lady, agrees to help with her plans!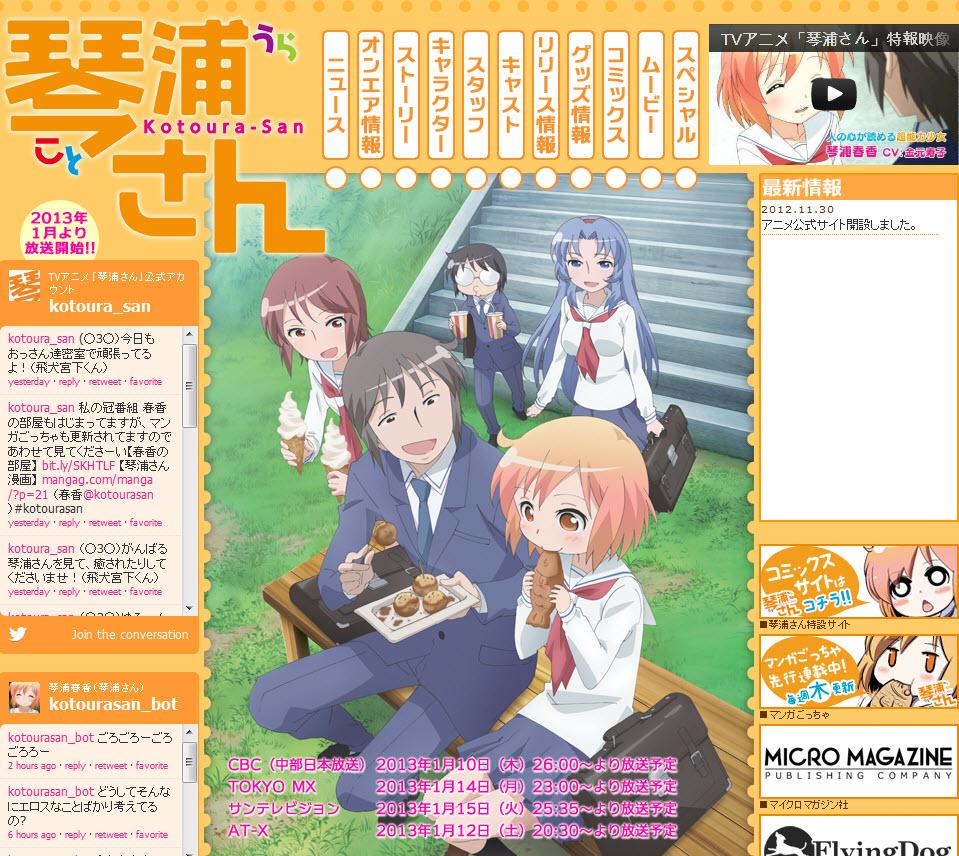 Kotoura-san / 琴浦さん (? eps)
Links: Official Website | On Air:
A school love comedy. Kotoura Haruka is a 15-year-old girl who can read people's minds. She has been suffering from troubles caused by her mind-reading ability, and her parents got divorced as a result. She moves to a new high school but tries to keep away from her classmates. Manabe Yoshihisa, one of her classmates, accepts and appreciates her ability and she begins to interact with her friends with his help.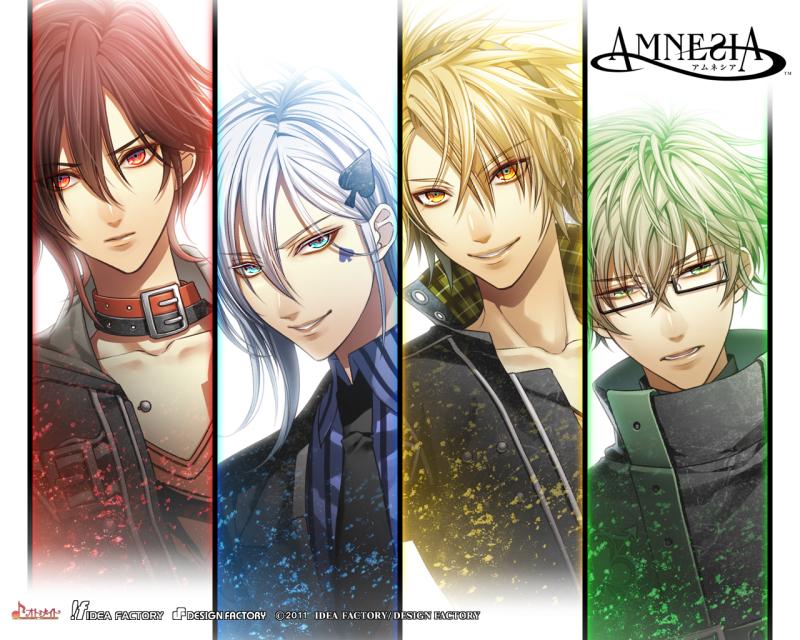 Amnesia / アムネシア (? eps)
Links: Official Website | On Air:
On the morning of August 1, the heroine wakes up and discovers she has absolutely no memories of the past. A boy appears before her, and introduces himself as a "spirit" named Orion. The heroine struggles to regain her memories under the guidance of Orion. She then gets a phone call, but she does not recognize the name on her mobile phone screen. She meets her apparent "boyfriend," despite not knowing his face.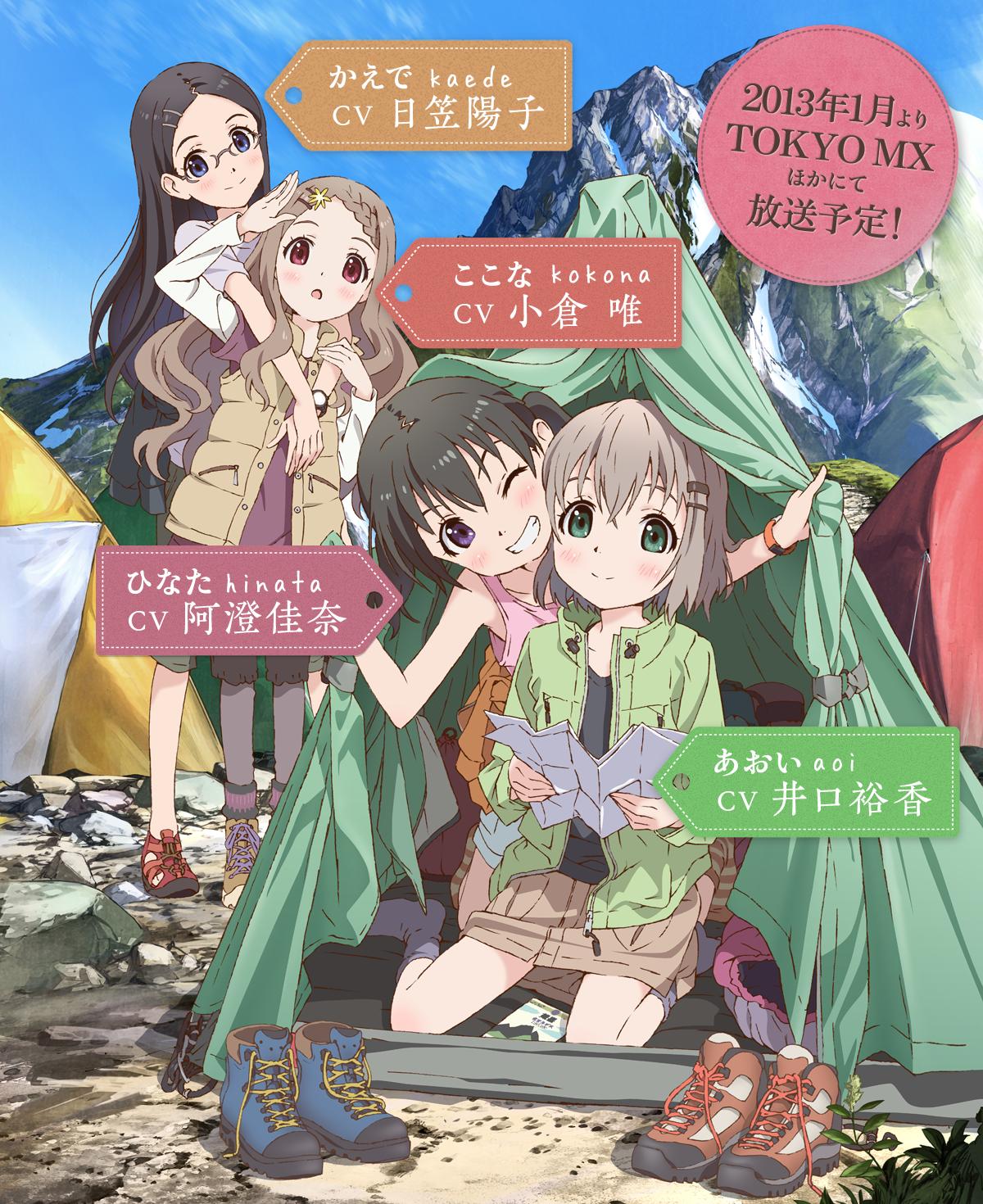 Yama no Susume / アムネシア (? eps)
Links: Official Website | On Air:
The title tells the story of the childhood friends Aoi, a girl who prefers staying inside and who has acrophobia, and Hinata, a girl who loves mountains. The two decide to climb a mountain in order to once again see the morning sun from its peak as they did when they were young.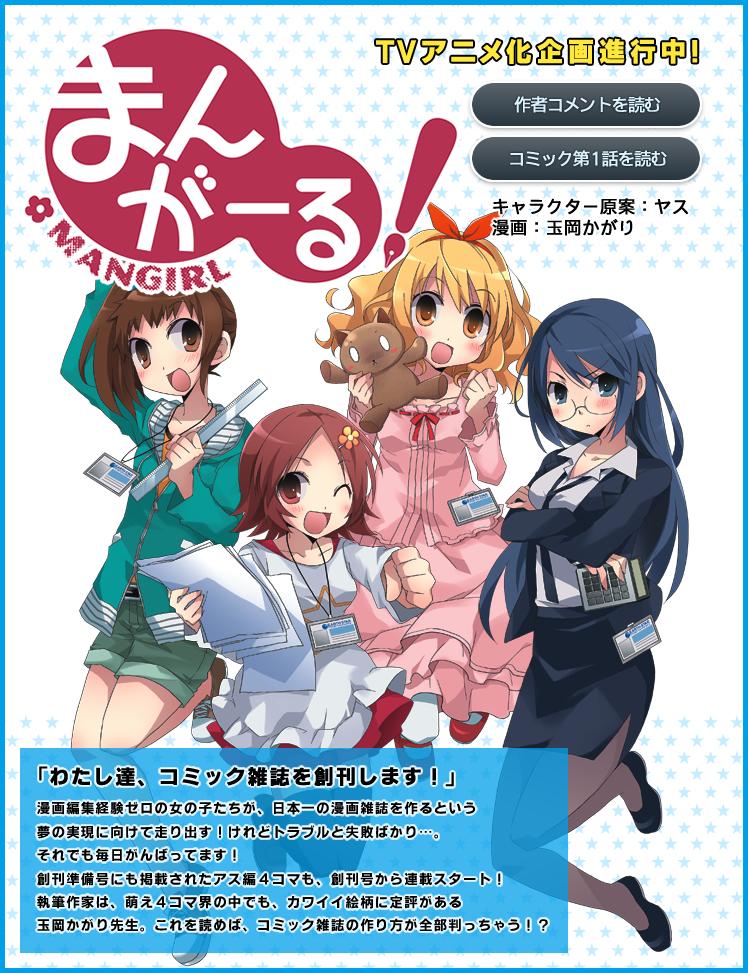 Mangirl! / まんがーる! (? eps)
Links: Official Website | On Air:
Girls without manga editing experience create a new manga magazine.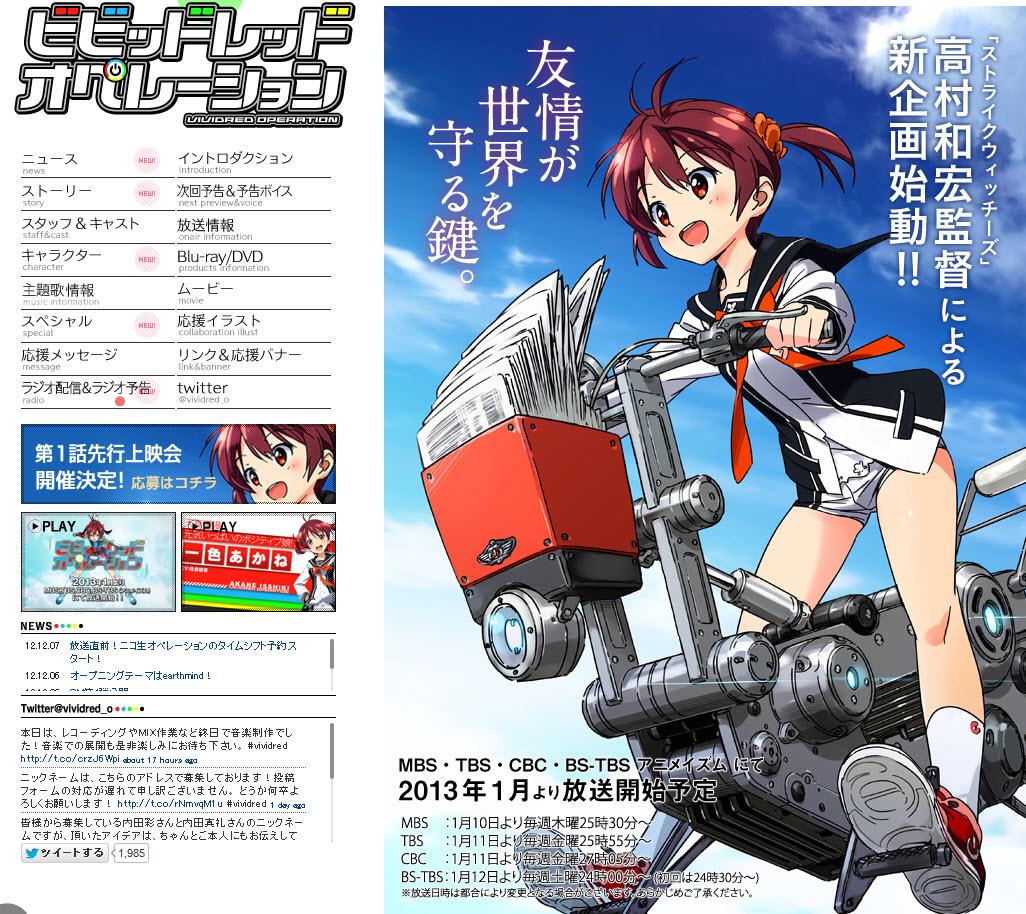 Vividred Operation / ビビッドレッド・オペレーション (? eps)
Links: Official Website | On Air:
An original sci-fi action anime featuring a 14-year-old girl. The story takes place in a peaceful island filled with nature and technology.
Love Life!: School Idol Project / ラブライブ! School idol project (? eps)
Links: Official Website | On Air:
An original sci-fi action anime featuring a 14-year-old girl. The story takes place in a peaceful island filled with nature and technology.
This post will be updated whenever we get more information about the series so stay tuned!