It has been revealed in this year's eighth issue of Shueisha's Weekly Shonen Jump magazine that Tomokazu Sugita (Gintama's Gintoki Sakata, The Melancholy of Haruhi Suzumiya's Kyon) will play Masato Kageura in the anime adaptation of Daisuke Ashihara's Sci-Fi World Trigger. Kageura is the leader of the B-class #2 unit called Kageura Unit.
The magazine also announced that Junichi Suwabe (Kuroko no Basketball's Daiki Aomine) will reprise his role of Masataka Ninomiya from the anime's first season. Ninomiya is the leader of the B-class #1 unit called Ninomiya Unit.
The magazine also revealed that the anime will feature the original manga's "B-Class Rank Battles" story arc, starting with the 64th episode on January 31. In the anime's story, Kageura and Ninomiya will face off for a chance for their units to become A-class.
The main cast of the anime includes:
Tomo Muranaka (Jolly from Arcana Famiglia) will voice the main protagonist Yuuma Kuga
Yuki Kaji (Eren Yeager in Attack on Titan) voices protagonist Osamu Mikumo
Yuuichi Nakamura (Kyousuke Kousaka in Oreimo) as the main character Yuuichi Jin
Nao Tamura (Ayuko Uehara in Aiura) voices the female lead character Chika Amatori
Hideyuki Tanaka (Doflamingo Donquixote from One Piece) will be voicing Replica
The production staff of the anime was also revealed and includes:
Director: Mitsuru Hongo (Seihou Bukyou Outlaw Star, Battle Spirits: Shounen Toppa Version)
Series Composer: Hiroyuki Yoshino (Accel World, Strike the Blood)
Anime Character Designer and Animation Director: Toshihisa Kaiya (IGPX Immortal Grand Prix, Haikyuu!!)
Music Composer: Kenji Kawai (Higurashi no Naku Koro ni, Fate/stay night)
Animation Studio: Toei Animation (Sailor Moon Crystal, One Piece)
Anime visual: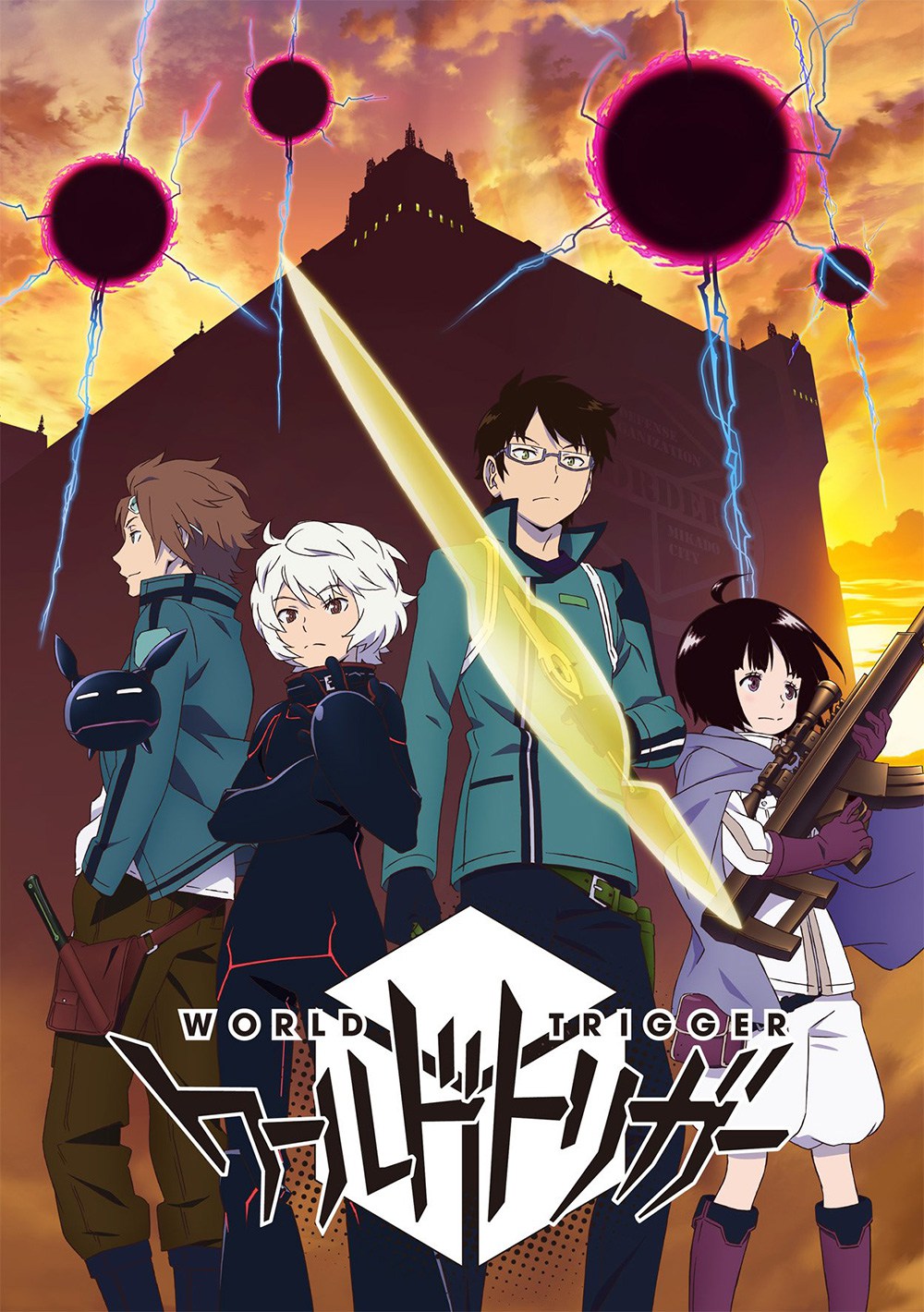 World Trigger is a Sci-Fi manga written and illustrated by Daisuke Ashihara. The series began early last year in Shueisha's Weekly Shounnen Jump magazine. To date there has been a total of 11 volumes released. The manga is also currently available on Viz Media's digital Weekly Shonen Jump. An anime adaptation of the series began in October 2014.
World Trigger synopsis from Haruhichan:
A gate to another dimension has burst open, and from it emerge gigantic invincible creatures that threaten all of humanity. Earth's only defense is a mysterious group of warriors who have co-opted the alien technology in order to fight back!
You can visit the anime's website here: http://www.toei-anim.co.jp/tv/wt/
Follow the official anime Twitter here: @Anime_W_Trigger
Source: ANN