TOHO began streaming a teaser for the upcoming Detective Conan Movie 19: The Hellfire Sunflowers which will debut in theaters across Japan on April 18, 2015. Kaitou Kid takes the spotlight in this 32-second teaser.
Auctioneer: Sorry to keep you waiting, folks! The showpiece of today's auction is Van Gogh's "Sunflowers!"
Kaitou Kid: I've taken this piece, just as I wrote in my notice. I won't let anyone get in my way. Tonight, I will take back the past that God abandoned.
Text: The suspect is
Kaitou Kid: Ladies and gentlemen.
Text: Kaito Kid
Conan: Why are you–?!
Kaitou Kid: It's showtime!
Conan: Detective Conan The Movie
Conan & Kaitou Kid: The Hellfire Sunflowers
Kobun Shizuno will return to direct the film and Takeharu Sakurai will write the script. Katsuo Ono will again to compose the music. Minami Takayama will reprise her role as Conan Edogawa with Wakana Yamazaki as Ran Mouri, Rikiya Koyama as Kogorou Mouri, and Kappei Yamaguchi as Kaito Kuroba/Kaitou Kid.
Visual: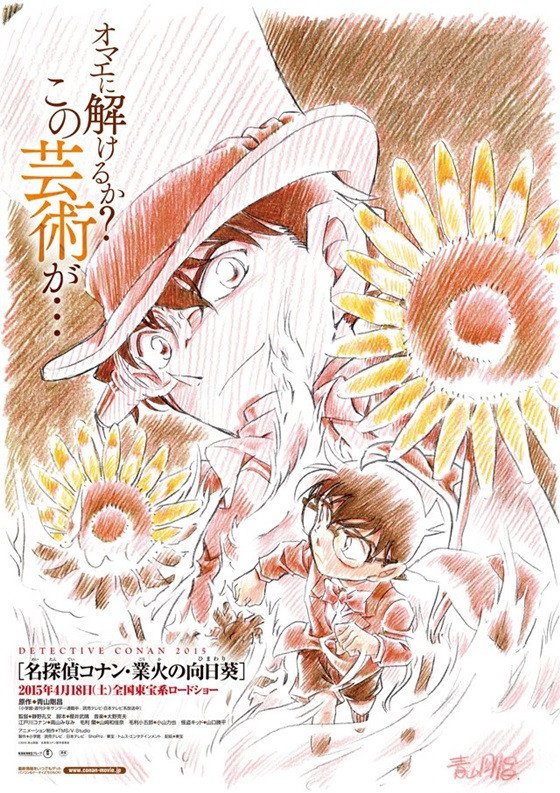 Detective Conan Movie 19: The Hellfire Sunflowers synopsis from Haruhichan:
Kaitou Kid and Vincent van Gogh's artworks feature heavily in the movie, according to an interview with Gosho Aoyama. The teaser preview at the end of Dimensional Sniper included references to van Gogh's "Sunflowers" series.
Source: ANN