The official website for the upcoming television anime adaptation of Grisaia no Kajitsu adult PC game has revealed lots of new information about the upcoming anime series that will debut this October and air throughout the fall 2014 anime season. Additionally, the first key visual of the anime has been released.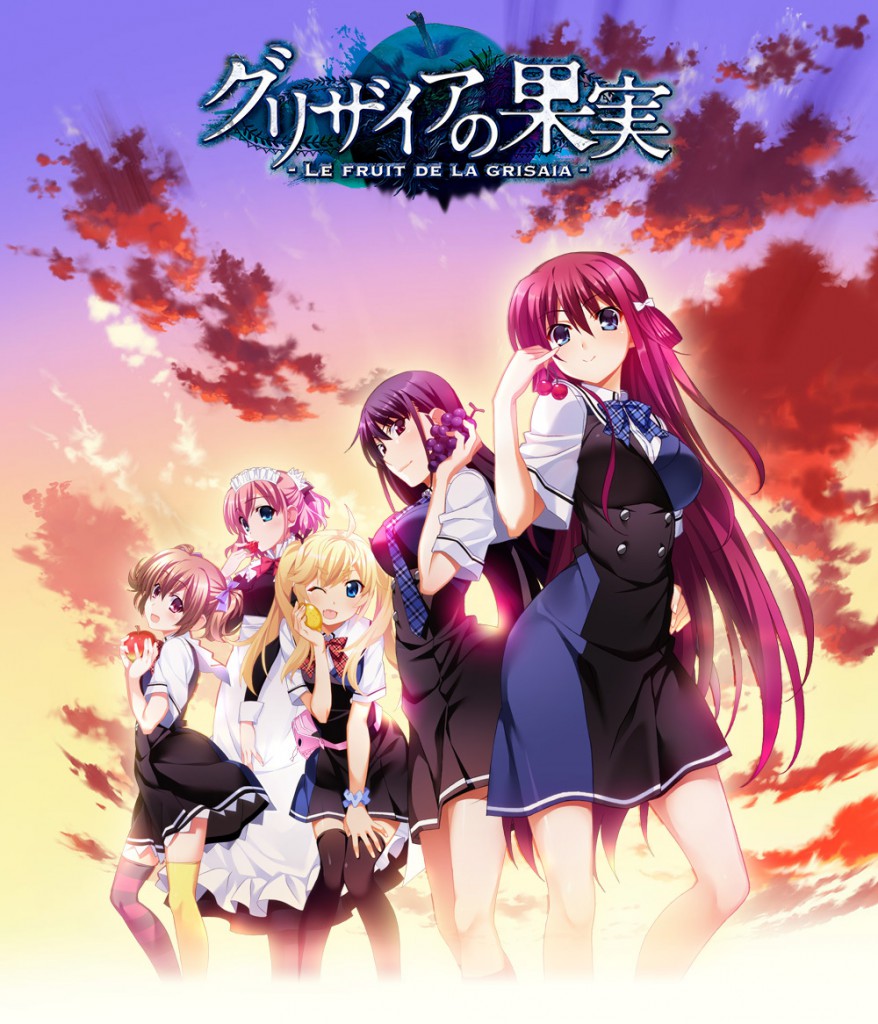 The anime's cast was revealed on the website, as well as the debut character designs and bios. The game features the return of the cast from the PSP version of the game that released last year. The main cast includes:
Takahiro Sakurai (Shougo Makishima in Psycho-Pass) voicing as Yuuji Kazami – the male protagonist. A foreign exchange student who transfers to Mihama Academy, his sister died in an accident when he was young, and his parents have also passed away. He has a very callm personality, but sometimes the things he says that seem out of place make him stand out.
Hiroko Taguchi (Miyako Miyamura in ef: A Tale of Memories.) will voice Amane Suou – a reliable young woman who often looks after others and is adored by those younger than herself. Also, she has beautiful proportions that have the ability to steal anyone's glance. In addition to being skilled at cooking, she has a tendency to dote on Yūji.
Ryouko Tanaka (Yuiko Kurugaya from Little Busters!) who will voice Yumiko Sakaki – the daughter of the headmaster of Mihama Academy. Yumiko holds a great importance on her own time and space, and hates those who ruin those for her. She is very wary of other people, and she will sometimes act outside of common sense.
Kaori Mizuhashi (Mami Tomoe from Mahou Shoujo Madoka Magica) as Michiru Matsushima – a girl who tries to be a tsundere (someone acting stand-offish, but is actually sweet) so much that she even dyed her hair blonde. Michiru herself thinks that she plays the part perfectly, but everyone around her already knows it's an act. For some reason, she always carries around ramune candies with her.
Tomoe Tamiyasu (Rin Natsume from Little Busters!) voicing Makina Irisu – a girl who opens up her heart to those she has spent quite a bit of time with. After she gets accustomed to Yūji, she begins to call him "big brother." She is usually in Amane's room, and it appears Amane is taking care of her.
Ai Shimizu (Mio Kisaki from Walkure Romanze) who voices Sachi Komine – a strange girl who wears maid clothes as her casual outfit. She is a class committee member, and takes on any request anyone gives her. She never catches on to jokes, and takes everything seriously
The anime's website also revealed the artists that will be performing the series' Opening and Ending themes. The Opening theme will be performed by Maon Kurosaki (Highschool of the Dead ED) and the Ending theme will be performed by Yoshino Nanjou (Love Live! School Idol Project OP and ED).
The anime's production crew was earlier announced and are as follows:
Director: Tanaka Motoki (Kiniro Mosaic)
Character Designer: Watanabe Akio (Bakemonogatari, Kami nomi zo Shiru Sekai/The World God Only Knows)
Series Composition: Kurata Hideyuki (Tokyo Ravens, Oreimo)
Animation Studio: 8-Bit (IS: Infinite Stratos, Tokyo Ravens)
Grisaia no Kajitsu: Le Fruit De La Grisaia is a visual novel by Front Wing that originally released on February 15 2011 for Windows. The novel features character designs from Akio Watanabe and Fumio (Tomoyo After ~It's a Wonderful Life~), scenarios written by Nachi Kio, Ryuta Fujisaki, Yoshigazu Kuwashima, and Kazuya, with Elements Garden (Mouretsu Pirates) composing the music. The visual novel won the 2011 Moe Game Awards grand prize, as well as various other awards for its scenario and music. Two sequels followed the release of the first, in 2012 and in 2013. The first novel was ported to the PlayStation Portable and PlayStation Vita last year. Additionally, a manga adaptation began serialization last February.
Here is a synopsis of Grisaia no Kajitsu from Haruhichan:
Mihama Academy—on the surface, a closed learning environment established to nurture students who find themselves at odds with the world around them; in actuality, an orchard-cum-prison built to preserve fruit that has fallen too far from its tree.

Whatever the circumstances behind its establishment, Mihama Academy is at present home to five female students, all with their own reasons for "enrollment." For better or worse, each girl has established a routine obliging of her current situation; life moves at an idle, yet accommodating pace within the walls of Mihama.

Yet with the arrival of the institute's first male student, the nearly preposterously opaque Kazami Yuuji, the students at Mihama begin to fall out of step with their predetermined rhythms. Will Yuuji prove to be the element the girls around him needed to take hold of their lives once more, or will the weight of their pasts prove too steep a wall to overcome?

And in the first place, just who is Kazami Yuuji? While the true nature of the "job" he is wont to alight to at the most haphazard of moments remains shrouded in secrecy, one thing is for certain—his encroachment upon the quiet orchard known as Mihama Academy will prove itself momentous in one way or another. And of course, one cannot discount the possibility that perhaps Yuuji himself carries the weightiest past of any of the students…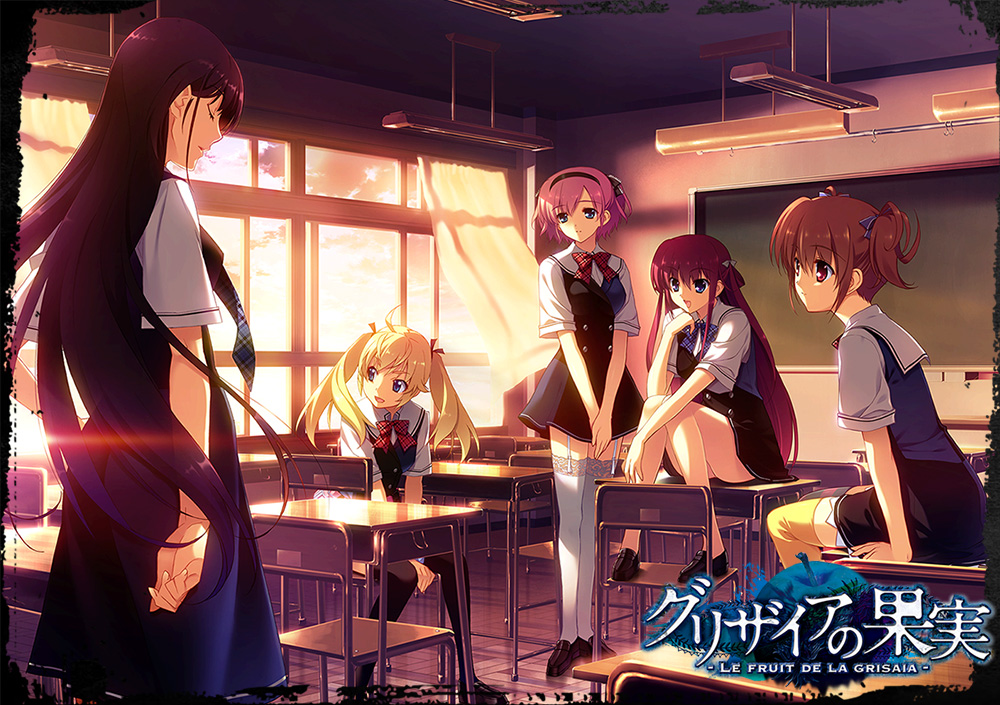 The Grisaia No Kajitsu anime will debut this October on Tokyo MX, during the 2014 Fall/Autumn anime season. More information about the series will release in the upcoming months.
You can find the anime's official website here: http://www.grisaia-anime.com/