The official website of the upcoming anime adaptation of Key and Visual Art's Rewrite visual novel has announced that the TV anime will debut on July 2nd with an hour long special. In addition, a new key visual was also revealed.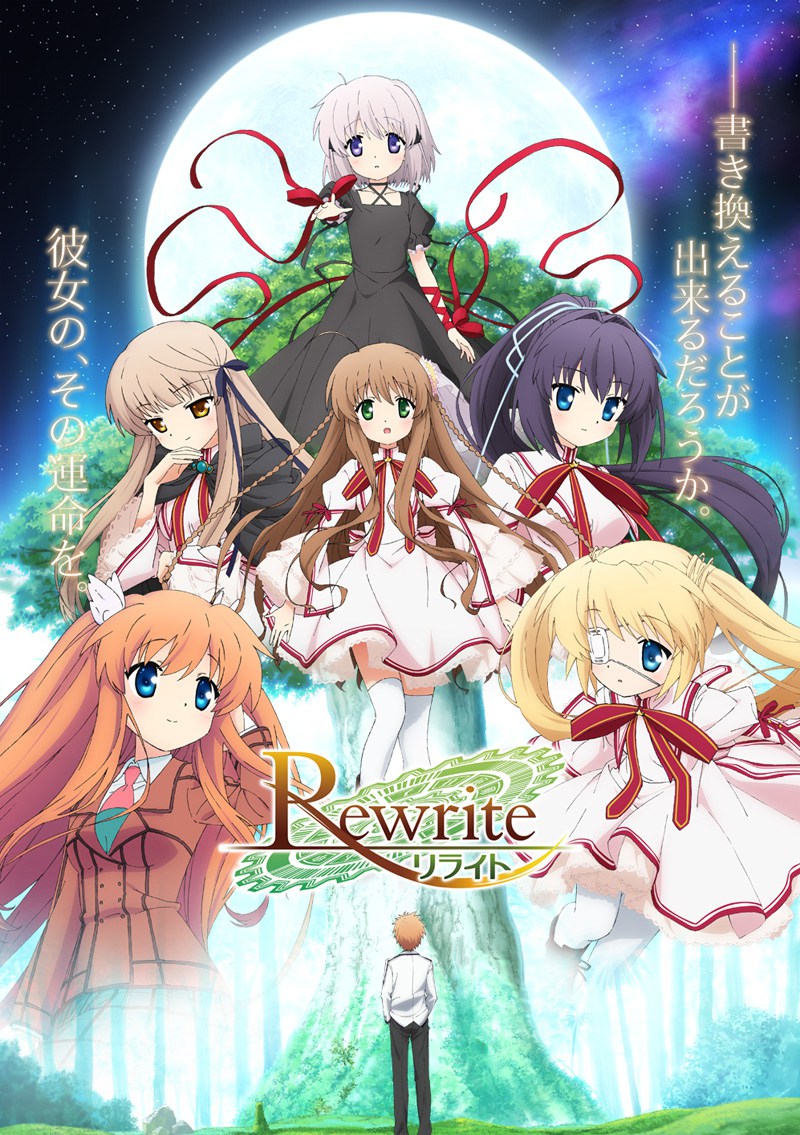 The first episode of the Rewrite anime will begin its broadcast on Saturday, July 2nd and will be 1 hour long. The hour long episode will air on Tokyo MX, Tochigi TV, GTV, MBS, and BS11. The time of the broadcast has yet to be revealed.
There will also be a pre-screening event for the first episode on June 25th in Tokyo, a week before the episode airs. It will be held at 2pm JST and will also feature a stage greeting with voice actor Masakazu Morita (Kotarou Tennouji), Series Composer Kai (ClannadScenario Writer, Kud Wafter Lead Designer), and Music Composer Shinji Orito (Clannad, Air).
The event will also be livestreamed on Niconico here: http://live.nicovideo.jp/gate/lv265251039
Previous anime visual:
The anime's official website has released the first set of character designs for the main cast:
Here's the new promotional video which was also revealed:
https://www.dailymotion.com/video/x41ci79
Here is the first official promotional video of the anime from Comiket 89:
https://www.dailymotion.com/video/x3jy6p9
The main staff of the anime includes:
Rewrite is a fantasy romance Visual Novel developed by Key and published by Visual Arts in 2011 for the PC. It is Key's 8th visual novel, following the success of Air, Clannad and Little Busters! Many key members of the staff return to produce the new game, including Itaru Hinoue (Air, Clannad) who once again helmed the project. Jun Maeda (Clannad, Angel Beats!) also returned to compose the music of the game, but did not write any of the scenarios. The novel also included new talent with Ryukishi07 (Higurashi no Naku Koro ni, Umineko no Naku Koro ni) lending a hand writing the game's scenario. Rewrite was also ported onto various other platforms, including the PlayStation Portable and PlayStation 3.
Here is the synopsis of the VN from MAL:
Rewrite is set in the fictional city Kazamatsuri where treeplanting and afforestation have caused the city to become overgrown with trees and flowers in much the same way that other cities are filled by buildings. However, while most of the city appears to be rural, there are many traditional city elements as well. While set in a modern setting, the city also gives off a strange sense of nostalgia.

Tennouji Kotarou lives here. He's a high school student who has the ability to rewrite his own body; he can become stronger and faster at any time he chooses. He investigates supernatural mysteries with five girls from his school.
A TV anime adaptation of Rewrite is currently in production and will air in Summer 2016. Additional information about the series will be revealed at a later date.
Visit the anime's website: http://www.rewrite-anime.tv/
And follow their Twitter: @rewrite_tv