Blizzard Entertainment, the developer behind such staple franchises as Diablo and Starcraft, will release Overwatch, their first foray into the frenetic FPS gaming genre, on May 24 according to a series of advertisements on IGN noticed by NeoGAF user, Sn4ke_911. No official announcement from Blizzard has been made as of yet, so it is believed that this ad campaign was leaked out ahead of schedule.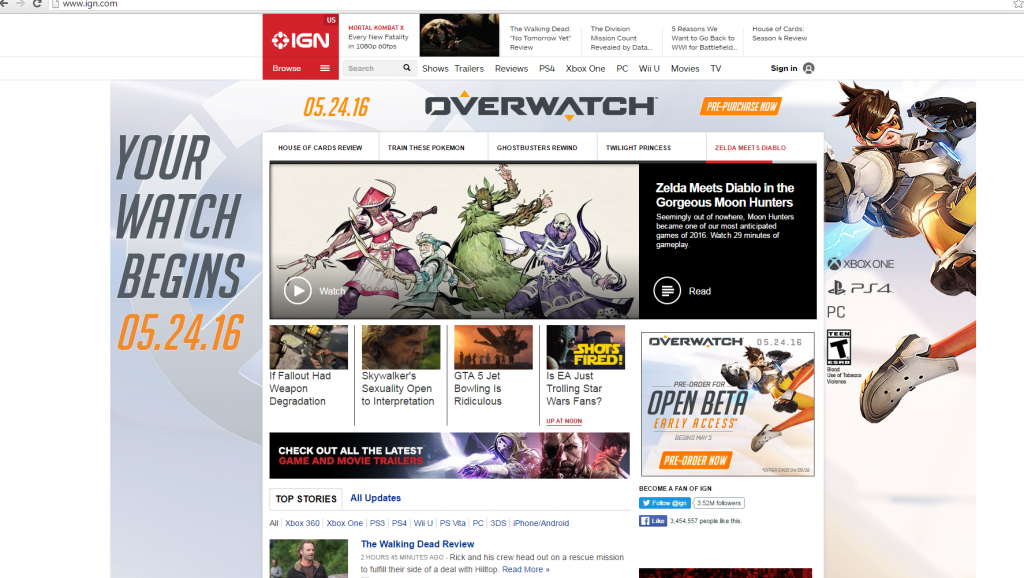 Whether you've already secured your pre-order for Overwatch or you're still on the fence, those who purchase their copy early will have access to an open beta, starting on May 3. This will be the first-time console players will be able to enjoy early access until its official release.
Players will have 21 unique characters to choose from in a six-versus-six arena to carry out objectives such as carrying a payload to its destination. Teamwork is essential to victory, more so than other competitive titles, as an abundance of one type of character or the absence of one can end in defeat. Thankfully, however, if one character simply isn't cutting it, players can swap at anytime to drastically change the flow of battle.
The story of Overwatch is as follows, as excerpted from the official website:
Soldiers. Scientists. Adventurers. Oddities.

In a time of global crisis, an international task force of heroes banded together to restore peace to a war-torn world:

OVERWATCH.

It ended the crisis and helped to maintain peace in the decades that followed, inspiring an era of exploration, innovation, and discovery. But after many years, Overwatch's influence waned, and it was eventually disbanded.

Overwatch is gone… but the world still needs heroes.
For more information, check out Overwatch's official website and YouTube channel! If you like what you see from the legendary masterminds over at Blizzard, you should consider pre-ordering Overwatch for PC, PlayStation 4, or Xbox One through our Amazon affiliate link!
To get an even bigger taste on what's to come, check out the latest gameplay trailer:
Disclosure: Haruhichan is not sponsored by Activision-Blizzard nor paid by the company to produce this article.
Source: Gematsu