We've seen the opening animation for the yuri of the season, Yuri Kuma Arashi and the opening animation which screams quality for Absolute Duo. Now it's time to sit back and relax and check out the opening animation for the TV anime adaptation of Tesuto Uesu and Nekosuke Ookuma's light novel series Shinmai Maou no Testament (The Testament of Sister New Devil) which may prove to be the ecchi series of the season.
Shinmai Maou no Testament is currently airing on Thursdays on Tokyo MX at 1:35am JST, the next episode airs on the 15th.
http://www.dailymotion.com/video/x2e7fju_shinmai-maou-no-testament-op-see-about-for-hd_music
If that isn't enough to convince you, here's a few gifs from the series itself:
Anime visual: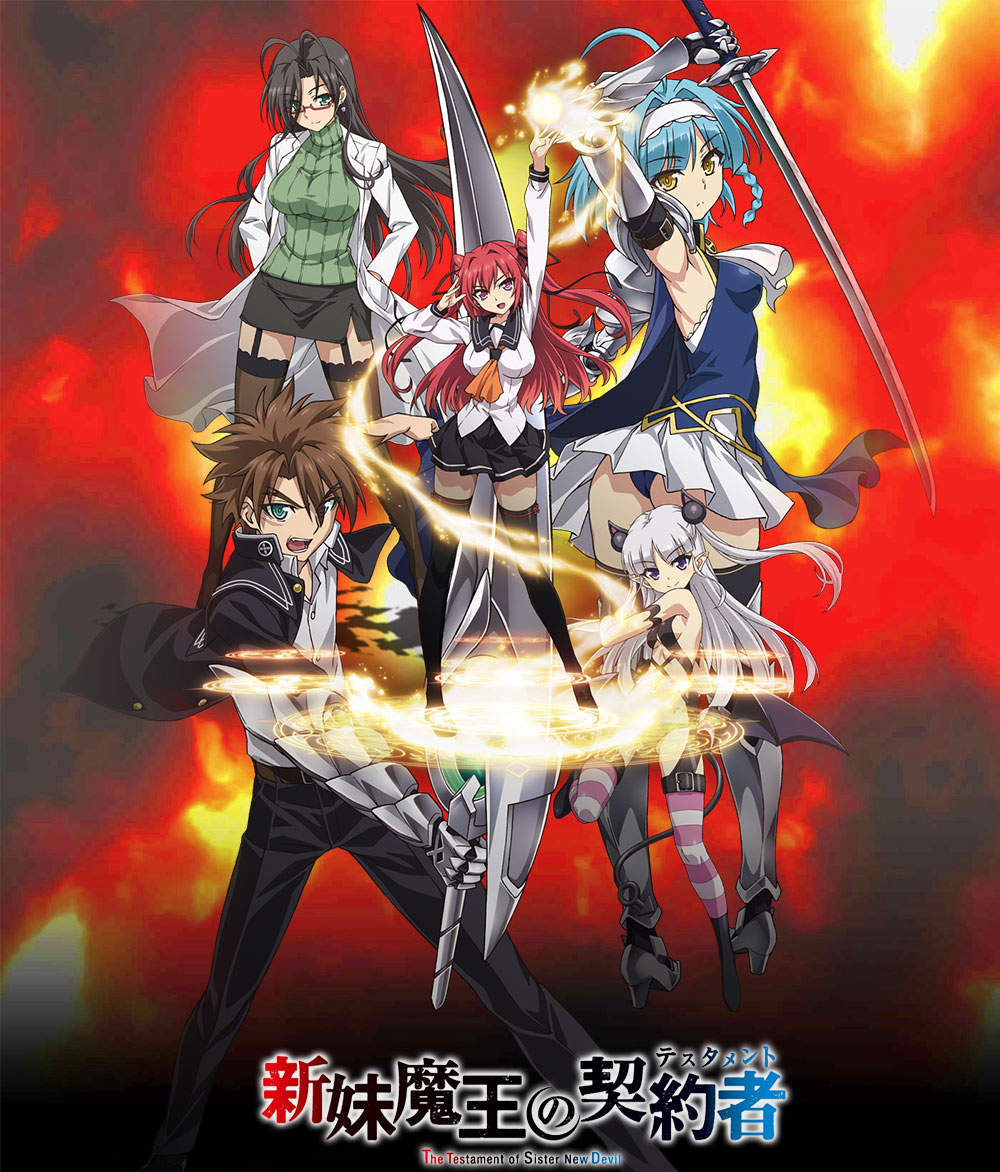 Tesuto Uesu's Shinmai Maou no Testament light novel series debuted in October 2012, and the latest fifth volume was released last March. Volume 4 ranked eighth of all light novels in its first week on the Oricon sales charts. Nekosuke Ookuma illustrates the series, which has also inspired two manga adaptations. Another of Uesu's light novels, Hagure Yuusha no Estetica, was adapted into a TV anime in Summer 2012.
Shinmai Maou no Testament synopsis from Haruhichan:
"Hey, you said you wanted a little sister, right?" First year highschool student, Toujo Basara, was suddenly asked by his father and fell into a state of panic. On top of that, the eccentric father told him he will be getting remarried.

He then departed overseas after bringing Basara two beautiful step-sisters. But Mio and Maria's true forms are actually the newbie Demon Lord and a succubus!? Basara was almost entered into a master and servant contract with Mio, but a "reversed" contract was formed by mistake, and Basara is now the master!? Moreover, Basara is being hit by one ecchi situation after another due to the contract, but Mio's life is being pursued by other demon tribes and hero tribes! The most powerful contractor's desire action drama begins!