Japanese visual novel computer software company Nitro+ and 5pb's acclaimed visual novel Steins;Gate will be making its way to Steam on September 8th (9th in Japan).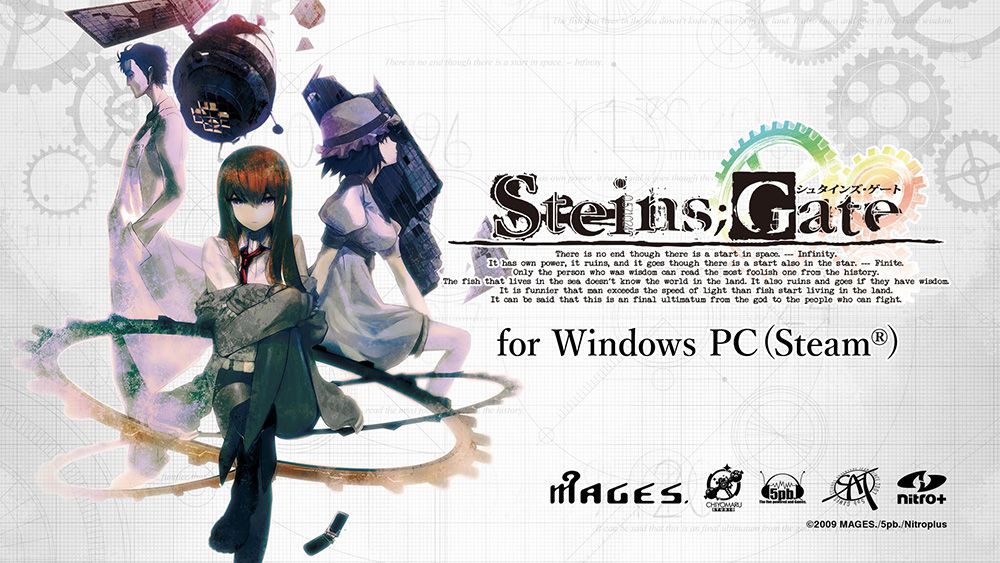 The Steam release will be released in full 1080p HD visuals, the first for the series. The game will be published by 5pb. and their parent company Mages inc., and no information about whether this will be a re-release of JAST USA's 2014 physical release of the game have been confirmed. Furthermore, the price and option to purchase the game have yet to be unveiled.
Here is the game's introduction from the Steam page:
-Decide The Fate Of All Mankind-
CAN YOU CHANGE THE COURSE OF FATE?
AND SAVE THE ONES CLOSEST TO YOU?

STEINS;GATE is the award-winning time travel science-fiction interactive visual novel developed by 5pb. and Nitroplus.
It is widely considered to be one of the finest Visual Novels ever made.

STEINS;GATE follows a rag-tag band of tech-savvy young students who discover the means of changing the past via mail, using a modified microwave. Their experiments into how far they can go with their discovery begin to spiral out of control as they become entangled in a conspiracy surrounding SERN, the organisation behind the Large Hadron Collider, and John Titor who claims to be from a dystopian future.

Interaction with the game takes place through the "phone trigger" system, where the player can receive calls and text messages and decide whether to reply to them or not, changing the outcome of the game's plot.
Here are some screenshots for the Steam release:
The Opening sequence to the game:
The game itself already released internationally on the PlayStation 3 and PlayStation Vita last year. The official sequel to the game,Steins;Gate 0, will be releasing on the PlayStation 4 and PlayStation Vita later this year.
Steins;Gate is part of the series of science adventure games, a collaboration between developers Nito+ and 5pb. The games play out similarly to modern visual novels but notably with the usage of the main character's device casually known as a trigger. All games focus heavily on scientific methods and theories and are incorporated into the game. The first game in the series was Chaos;Head, which released in 2008 for the PC. The next game, Steins;Gate released in 2009 and finally followed by Robotics;Notes in 2012. Steins;Gate originally released on the Xbox 360 before being ported to the PC, and all current generations, at the time, of consoles in Japan. An anime adaptation of the game was produced in 2011 that was directed by Hiroshi Hamasaki (Terraformars, Blade & Soul) and Takuya Satou (Selector Infected Wixoss, Ichigo Mashimaro) and produced by White Fox (Katanagatari, Jormungand). A sequel film to the anime was produced in 2013 and featured an original story. A sequel light novel titled Steins;Gate The Committee of Antimatter was also produced this year.
Here is the synopsis of the Steins;Gate anime from MAL:
The eccentric mad scientist Okabe, his childhood friend Mayuri, and the otaku hacker Daru have banded together to form the "Future Gadget Research Laboratory," and spend their days in a ramshackle laboratory hanging out and occasionally attempting to invent incredible futuristic gadgets. However, their claymore is a hydrator and their hair dryer flips breakers, and the only invention that's even remotely interesting is their Phone Microwave, which transforms bananas into oozing green gel. But when an experiment goes awry, the gang discovers that the Phone Microwave can also send text messages to the past. And what's more, the words they send can affect the flow of time and have unforeseen, far-reaching consequences—consequences that Okabe may not be able to handle…
The Steins;Gate visual novel will be coming out on Steam on September 8th (9th JST). You can visit the Steam page here: http://store.steampowered.com/app/412830/